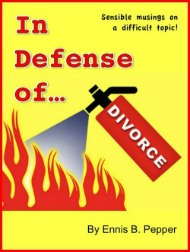 Why A Marriage
Should Never Be Saved
At The Expense
Of A Life
New book, In Defense of Divorce
, defends divorce from traditional religious ideas, extenuating the guilt and reserving emotional energy for solving practical issues going forward.
The book
explores such questions as:
Is divorce a sin or a solution?
Has religion over influenced public opinion on marriage, divorce and remarriage?
Did the Old Testament allow divorce?
What did Jesus teach about divorce in Matthew chapter five?
Does God really hate divorce?
How did Paul judge divorce matters?
And more.
Ennis Pepper, the author, experienced divorce first as a teenager when his parents broke up and later through other family members and friends. As a minister he witnessed the haranguing troubled couples experience when considering divorce and the rejection should they get one. And with a Bachelor of Biblical Studies degree and more than 25 years ministry experience he is able to address this topic confidently with both a biblical and practical perspective.

Most people think of divorce as something to shun, not defend, so Ennis' book title
raises questions at the start. And since the divorce rate is reaching all time highs there is no indication that the general population lacks the courage to initiate a divorce so why bother defending the issue? Read more
A Rush You'll Savor A Long Time
Coming to Durban? Don't miss the opportunity to take the big leap at Moses Mabhida stadium, the tallest swing in the world. It's scary but what a rush!
Skip to 1m50s to see my jump.

The numbers to remember:
106 Meters (347 feet): the height of the jumping platform.
88 Meters (288 feet): the length of the jump.
220 Meters (721 feet): the length of the swing arc.
352: the number of steps to the jumping platform.
Looking down on the stadium in person gives the best perspective but the numbers are impressive.
Jump Procedure
I was impressed with the professional and friendly manner of the Jump personnel. The video shows it all but the procedure is:
You're fitted with a full body harness in the Jump office.
You make your way from the office to the stadium arch.
You climb the steps to the Jump platform safely secured by a guide wire.
You are fitted with two safety wires before climbing down a short ladder to the Jump platform.
On the platform you are accompanied by two Jump managers who carefully connect you to the Jump cord – before releasing your safety wire – and gently guide you to the edge of the platform.
The Jump managers count "1, 2, 3, jump" and you leap into the chasm – after dispelling your one moment of doubt.
Once the swinging stops you're raised to the Jump platform and reconnected to the guide wire.
Reverse the steps till you're back in the Jump office.
You even receive a certificate proving you made the Jump and once framed, it gives you bragging rights for years to come.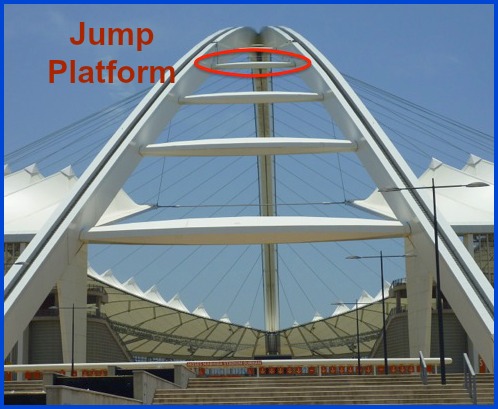 You can see more great pics in the slider at the bottom of this page. Address, contact details and directions follow. Read more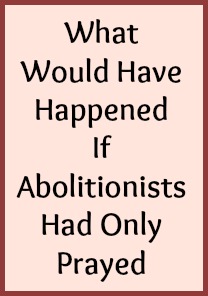 The following is guest posted by Tim Pepper – single father to one, brother to one, friend to many, master of biotechnology, writer of over 100 songs and singer of many more.
Fear Causes Inaction
It Doesn't Excuse It
Fear. "Fear will establish the limits of your life." That statement really resonates with me. I think it's because I have experienced the limitations that fear can place on a person. Not all fears are bad but I don't think our lives are meant to be characterized by fear. Furthermore, I don't think it's healthy to live in fear and I don't think a persons actions ought to always be determined by fear.
The counterbalance to fear is apparently Faith. But faith in what? Faith in God? That's all very well but what is it about God that I'm supposed to have faith in? Am I to have faith that I will inherit a million bucks? Am I to have faith that I will experience no loss or disappointment or difficulty? The things I grew up believing are these: God is good. God is kind. God is loving. God is my father and friend and master. God has a plan. God has a partner for me. God has a purpose for me.
It is hard for me to understand or know exactly what all of that means. I don't know if I believe anymore that God has a partner for me. I want to believe it but I find it hard to do. As for God's plan; I don't know what to believe about that either.
I think about all the problems in the world. Difficult things like idiot countries with idiot laws that oppress their people. Difficult things like people who rape and murder other people. In a world where these things exist it's difficult to understand how God's plan is taking shape.
I think about God's purpose for me and I wonder if I'm right in the middle of that purpose right now? I don't want to believe that mostly because I don't really like where I'm at right now. It's not what I want. But I pray and pray and pray for things to change and nothing changes. So I wonder if I'm supposed to actively try and change things or if I'm supposed to just try and accept what is happening in my life.
I don't know the answer to that but I think about things like slavery and medicine and wonder what would have happened if the abolitionists had only prayed? What would have happened if a few people hadn't stowed away some Jews under the Nazi regime? Where would we be if doctors and nurses hadn't studied and hadn't administered treatment and had instead only prayed? Would we be here at all?
If you have certain heart conditions you can reduce your chance of having a heart attack by taking half an Aspirin every day. If you simply make the choice to eat right and exercise you can possibly prevent yourself from getting those heart conditions.
There are actions that people take that change the course of their daily lives and even sometimes change the course of history. Sometimes those actions are as easy as taking an Aspirin but I imagine it wasn't that easy to abolish slavery and I imagine it was fairly fearful to have Jews hiding in your attic when the Nazis came knocking on your door.
People do these difficult (and sometimes easy) things because something in their being tells them that they have to do them. Something tells them that what they are doing is the right thing to do. So they do them despite the difficulty and despite the fear. They do them because they believe in that thing that is talking to their conscience. They have faith. Read more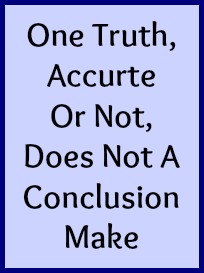 Conclusions Drawn
On Vibrant Perspectives
Must Be Tempered
By Caution
Unfortunately, discovering one truth or fact – here to fore unknown – is not the end of the journey.
Truth never stands alone. One piece of truth, like digits on a hand, form only a part of the picture. A finger does not a person make, so it is difficult to draw conclusions based only on one truth or even two or three separate truths.
For example, if you found an unclaimed finger on the sidewalk and reported it to the authorities their first response would be to answer several questions, the most important one being, "who does it belong to?" You couldn't know for sure without further investigation. It's not an easy question to answer. More detail is needed.
Getting a finger print would help but only if the person's print is in the system and in the case of mutilations the print might not be so clear.
If the person's print isn't in the system the DNA is probably missing also, so there may be no help there.
Even with a witness there is no guarantee. The value of the witness is determined by how well they knew the victim, if they knew them at all, and/or how accurately they remember what they saw. Assuming, of course, they are willing to come forward.
I think you get the point.
One truth is not an answer or a conclusion. It is nothing more than one truth. You can make up a "missing finger" story and use that to guide your search for other truths but until you have more detail you can't draw conclusions. Your hypothesis remains unproven.
But that's not all. Read more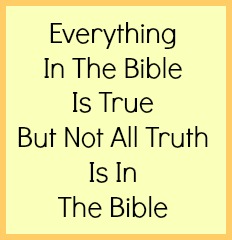 The Bible Focuses On Eternal Truth
It was many years ago but I remember the statement like it was yesterday. I was in Bible college and sitting in the class of one of my favorite teachers.
I loved his nature. He was a straight shooter, never mincing words. If he believed something was true there was no flinching. Everything was absolutely right or wrong and I identified with that mindset. I wanted a clear line demarcating all the good from the bad. But don't get the wrong idea. Though adamant, he was gracious. And in his usual quiet but straight forward way he made the following remark, which made a lasting impression on me.
All the Bible is true and all truth is in the Bible
I love words especially when used to make a point rhythmically so his remark stuck. But that wasn't the only reason it resonated. I was emotionally in tune with this statement. It was a very bold line drawn between everything in the Bible and everything else. It was a buy-in for me.
All of that happened a very long time ago – I won't say how long. Since then I've grown, matured, learned a few things and done a lot of thinking so I'm no so sure about the accuracy of that statement anymore.
Don't get me wrong. I still believe everything in the Bible is true but realize now that not every truth can fit in the Bible. All the most important truths are there, that ones that influence eternity, but there just isn't enough room in any one book to include every possible truth.
Not All Types Of Truth Are Equally Important
Just a quick glance at the many kinds of truth and you realize they aren't all equal. Each types is important, yes, but they aren't all equal. For example:
Individual truth (I have blue eyes)
Temporary truth (It's a sunny day)
Moral truth (Its wrong to gossip, lie or steal)
Psychological truth (people prefer short reading lines but read longer
lines faster)
Medical truth (diet effects your health)
Mathematical truth (2 plus 2 is 4)
Physical truth (law of gravity)
Historical truth (Israel inhabited Canaan after the Exodus)
Eternal truth (God is love, heaven is real)
The Bible does make statements that broadly relate to each type of truth and what it says about each issue is true but that is very different to saying it records every truth.
It talks about the remarkable way each person is created – we are individually distinct – but it says nothing about my blue eyes.
The Bible records variations in weather patterns (Noah's flood) but says nothing about today's forecast.
The Old Testament is filled with laws that imply an understanding of medical issues but it says nothing about open heart surgery or different blood types.
The Bible includes a lot of ancient history and influenced the way in which modern history unfolded but provides no historical details following the first century AD.
If you're curious and would like to read further, Dr. S. I. McMillen has written a great book, None of These Diseases
, which shows how Old Testament law reflected a very advanced understanding of many medical issues without actually stating every individual truth associated with each condition. The book can be purchased very inexpensively at Amazon.
God has paid humanity a great compliment by not giving us every piece of truth and every answer to every question. Realizing that leads us to another truth implied in the Bible but not clearly stated. The truth that God created us with an insatiable desire to understand more truth and the tools to pursue it.
It may feel disloyal to say "not every truth is in the Bible" but once you realize that every truth is God's truth wherever you find it and that God has gifted us with the art of discovery it begins to make a lot of sense. And remember. Finding a truth is much more rewarding that having it handed to you on a platter.
Making And Managing Money
Is Spiritual
Everything is spiritual all the time, even very earthy things, and nothing illustrates that truth as clearly as money, otherwise known as filthy lucre. Let me explain.
When I was a kid my mother always made me wash my hands after handling money. "You never know where it has been" she would say, and over time I learned what she meant. Money is passed from one person to another (clean hands or not), kept in unhygienic places, even falls on the ground and stays in circulation anywhere from 18 months to several years. During that time it never gets washed. I never really understood how filthy money could be, however, till I moved to South Africa and discovered all the places people hid the stuff to keep it away from thieves. I won't elaborate. You can imagine.
It isn't difficult to make a spiritual connection here since cleanliness is next to godliness. Right?
But I also learned from an early age that money can be enticing. Read more