Promotional Price of $0.99
Or FREE On Kindle Unlimited
It's been a long wait but Tithing For Today: Why Tithing Is Good For Everyone In Every Era
is finally live on Amazon, in Kindle format, and at $0.99 is priced to sell.
You'll be glad to know the book doesn't take a demanding tone or attempt to shame anyone into tithing but instead is sufficiently exegetical, pointedly philosophical and, though not a how-to book on managing finances, encourages the use of copious amounts of practical wisdom in the discipline of handling money. The book also takes a decidedly more patient tack toward those learning to incorporate this practice in their regular budget.
Because "Tithing" enjoys a long history in Scripture – Genesis to Hebrews – it deserves serious consideration by every thoughtful individual and Tithing For Today
provides the rationale to answer such questions as:
Did Jesus (and Paul) eliminate tithing or reinforce it philosophically?
Did Jesus eliminate the "Law" or just the curse?
Does corruption countermand tithing?
Should our giving be by budget or whim?
If we tithe on net income which "net" are we talking about?
And more. The author's hope is the book will give you plenty to think about.
Air Frying Is In
Pan Frying Is Out
The Philips Air Fryer
does exactly what it says, no more, no less.
It won't cook a meal large enough to feed ten. In fact, four is a stretch, but it is great for cooking a batch of pork chops or chicken pieces or – my favorite – french fries large enough to feed 4 or 5.
We bought our fryer on special for under $150 for Mother's Day (2013) and have used it weekly – conservatively speaking – ever since. It still works like a charm. We've never been disappointed.
Does it cook french fries 100% evenly? No, particularly since we cram the cooker basket full, but the fries get more than sufficiently golden and crispy to satisfy the need for visual appeal and texture.
Does it cook entirely oil-free? No, but most of the olive oil I drizzle on our fries, which is very little, goes into the drip pan. And olive oil is a healthy choice!
I give the fryer 10 stars out of 10.
A Coffee Drinker's
Best Friend
I've tried several different grinders in my search for a great brew but none have been as reliable as my KRUPS GVX212 Coffee Grinder
.
My Krups is over two years old and I grind enough coffee each day for at least 12 cappucchinos. It's still going strong.
It comes with two settings: one for quantity (2 to 12 cups) and one for coarseness of the grind. The hopper holds enough beans to last us about a day and a half.
I've enjoyed mine so much I recently bought one for my son's family but I had ulterior motives. It was as much for me as them. His cheap multipurpose grinders made our visits a constant irritation.
He now loves his Krups and wonders why he didn't upgrade sooner. Even His friends enjoy it.
Would I recommend it. Absolutely! I give it 6 out of a possible 5 stars!!
For several years the price has remained under $60.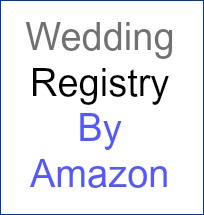 Register Your Wedding
And Save
Amazon makes wedding planning easy and cost effective. Create an Amazon Wedding Registry
and you will save 10% on Amazon purchases following the event up to a total $100.
Other benefits include:
Amazon offers the largest selection of gift items.
It's universal. Use the universal button to add items from other sites.
Remember. Your family and friends want to contribute to your important occasion. Having an endless list of gifts and a convenient way to shop makes it possible.
Here's hoping your wedding wishes all come true!!
Jesus Made The Church Simple
Humans Complicated It
When a person first becomes a Christian they simultaneously develop an interest in church. Not traditional church. Not denominational structures or buildings but gathering.
With a new heart comes a strong sense of belonging and Christians naturally gravitate to church, wandering blindly into different settings not really knowing what to expect.
New believers aren't looking for the historical church or traditional church or formal or modern or liberal or conservative church. Mega or mini isn't the issue. It's church. It's a place to gather. They go, and often find themselves fitting in somewhere.
The churches to which they attach can be quite different but there are basic qualities that should be evident wherever they land. This post lists several.
The following ideas are taken from Matthew 18:15-25 which you can read here. Read more
American Football Appeals
To Analytical Minds
Everywhere
My friend, David, was born and raised in South Africa (and very naturally lives and breathes rugby) but through American friends was introduced to American football. He's now a football believer and follows the game more closely than most Americans. He's also got a very keen analytical mind (he's in the law profession) and remembers everything he reads or hears.
Fortunately, he's also a Jaguars fan so at the end of the 2014 season I asked for his thoughts on how the head coach, Gus Bradley, was doing. Following was his response. Read more