Promotional Price Of $2.99
Or FREE On Kindle Unlimited
It's been a long wait but Tithing For Today: Why Tithing Is Good For Everyone In Every Era
is finally live on Amazon, in Kindle format, and at $2.99 is priced to sell.
You'll be glad to know the book doesn't take a demanding tone or attempt to shame anyone into tithing but instead is sufficiently exegetical, pointedly philosophical and, though not a how-to book on managing finances, encourages the use of copious amounts of practical wisdom in the discipline of handling money. The book also takes a decidedly more patient tack toward those learning to incorporate this practice in their regular budget.
Because "Tithing" enjoys a long history in Scripture – Genesis to Hebrews – it deserves serious consideration by every thoughtful individual and Tithing For Today
provides the rationale to answer such questions as:
Did Jesus (and Paul) eliminate tithing or reinforce it philosophically?
Did Jesus eliminate the "Law" or just the curse?
Does corruption countermand tithing?
Should our giving be by budget or whim?
If we tithe on net income which "net" are we talking about?
And more. The author's hope is the book will give you plenty to think about.
You Can't
Stereotype Faith
In Luke 18 Jesus shared an interesting story about a widow.
The widow had been cheated and was attempting to get justice through the legal system, but things weren't working out so well. Her appeals were being ignored by a judge whom Jesus referred to as unjust.
We aren't given any more details. We don't know who cheated her or how severe the offense was, but as it turns out that information isn't important.
The point was, as a widow, she had about as much clout as a dead tree. Widows were on society's bottom wrung, and the judge, who didn't care about God or people, wasn't interested in her problem. She was an inconvenience, a gnat to be swatted away.
But she never gave up. She knew the law and she knew her cause was just, so she did the only thing she could. She hounded the judge repeatedly.
And it worked.
He finally realized that processing her legal matter, though inconvenient, was far less bothersome than repeatedly listening to her complaint.
In spite of being marginalized by the system, she found a way to assert her cause.
And Jesus used her as an example. He shared her experience to teach the disciples persistence in prayer. But that explanation leaves us a bit curious. The parable never mentions this woman praying.
In the end of the parable Jesus referred to her as an example of faith and He wondered aloud if that kind of faith would still exist when He returns.
Since prayer and persistence and actions can all be expressions of faith, and that was at least a strong sub point of the parable, we can make several observations about faith. Several of these of these points don't square with convention.
For example: Read more
A Genuine Change Of Mind
Produces Change In Life
The language de Kock uses is different (regenerative theology) but the meaning is very similar to what we've come to know as spiritual formation.
But for de Kock it is more than a theoretical discussion. It's personal. He lived regeneratively and shares his experience in Out of My Mind
.
In this great read, life and theology come together. It combines biographical material – de Kock's experience of transformation – with theology and history. The theology is modernist with an Apartheid flavor and the history focuses on the recent transformation of the South Africa society.
But all that changed. De Kock's transformation parallels that of South Africa and the book gives a brief account of both.
One of my favorite words in the book is re-minding. It is another way of saying repentance and de Kock's case illustrates what that really means.
Because the book contained theology, it was a little dry in places but overall an insightful read.
The book is available in both hard cover and Kindle.
THINK!AboutIt
Alternative History, No
Alternative Interpretation, Yes
Origins by Mark Henrikson is Sci-Fi with a twist. It is written from an alien perspective but is based on historical record (the biblical account of the Exodus).
It comes in two formats: paperback and ebook. Both available through Amazon. I received my copy free through BookBub.
The story's timeline spans some three thousand years (plus/minus) beginning with the period just before the Exodus and extending into the present. The narrative oscillates between the two ends of that period and follows four plot lines: aliens in Egypt, an alien (Hastelloy) visiting a psychologist in the present, an NSA agent (Mark) attempting to interfere with NASA's deployment of communication devices and archeologists researching Egypt's pyramids.
The book also makes reference to thousands of years prior. The lead character, Hastelly, is 25,000 years old. Read more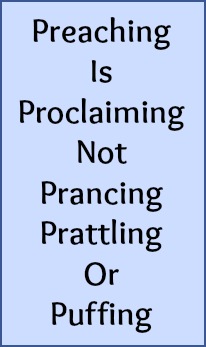 Primitive Methods Don't Suit
Today's Technologically
Rich Enviroment
Today, reading and writing are common. Letter writing happens daily and book publishing isn't far behind.
Even the blind and deaf have the means and skills to write out their thoughts, and technology makes it possible for them to communicate those ideas easily.
For most of human history that wasn't true.
Writing has been around for a long time but the earliest format, engraving on stone, was restrictive to say the least. Just ten commandments required two stone tablets. Tom Clancy's latest book would require a mountain of rock.
Even when lighter materials like papyrus became popular copies could only be reproduced by hand making it very difficult to circulate documents widely.
If you are of the opinion that following the old paths means eschewing technology, you'll need a truck to carry your Bible to church each Sunday. You'll struggle to flip to the book of Psalms too.
Not to worry, though. Since reading wasn't as widespread in the Old and New Testaments as it is now reproduction and circulation weren't issues.
But, these facts do raise an obvious question. If written documents couldn't be shared easily, and many couldn't read or write anyway, how were community-relevant ideas communicated.
The answer to that question is quite primitive. The most popular form of communication throughout most of human history was the spoken word and the best way to spread important news quickly and widely was through public proclamations.
These proclamations were made by specially designated people in high-traffic locations like the city gates or the courthouse steps. The people appointed for the task were known as the Town or Public Criers and they were clad in special clothing to single them out. It was all very official.
Even as far back as the time of Esther (5th century BC) the King's official proclamations were communicated to 127 provinces by couriers and criers. It took several months to get the message out but considering the geography and the lack of technology, that's not bad.
Criers were the interface between governments and the communities they governed. When information needed sharing, criers would ring a loud bell and cry "hear ye, hear ye" – or something similar. Once they had everyone's attention the crier would then state or read the announcement.
Those who heard the announcement would pass it along mouth to ear, mouth to ear, mouth to ear and so on, but it all started with a public proclamation.
Education, democracy and technology have made criers obsolete. Education makes reading, writing and thinking skills common. Democracy encourages the sharing of ideas publicly. Technology makes it possible for those ideas to spread quickly.
There's really no comparison between the media of the New Testament and the media of today. Resonant penetrating criers of yesteryear are easily drowned out by today's most mild mannered tweets.
This brings me to the topic of this post: Preaching. Read more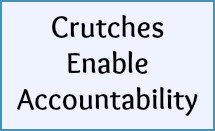 Crutchless Living
Is Not Possible
There are several words associated with religion, some of which are complimentary and others not. A few can be taken both positively and negatively.
A good example is the word school. Church is a place of learning so we call it a Sunday School. That can be good or bad.
Some kids love school and some hate it but most adults regret not taking advantage of the opportunity when they had it.
In other words, they've learned to love what they used to hate.
But there are other words which aren't so easy to work around. They are used as insults when referring to the church and believers take it personally. One such word is Crutch. Read more