Can Time Replace Money for Tithes?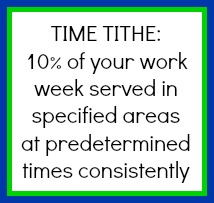 Anyone Can And Should
Give Their Time To God
But Is That A Tithe
A person's time can qualify as their tithe but under what conditions? Can anyone do this? Would all time-served qualify?
Just off the top of my head I came up with a few thoughts on the matter. You be the judge but keep this in mind. For time to qualify as a tithe it must add value to the organization.
Churches are not aimless. God commissioned them to do many good things in this world and, large or small, they need some kind of structure to get the job done. Tithe money is the resource for funding the effort so if time and service are to qualify as a tithe then following are some possible ideas for gauging the effectiveness of a person's time.
If you're jobless or work part time, the conditions that qualify your time as a tithe are:
You serve the same amount of time regularly.
You serve in a pre appointed time slot each day or week.
You serve in a capacity you can handle.
You serve reliably.
You serve cooperatively and under the direction of the organization.
You serve the equivalent of one tenth of a work week – 4 hours.
Sounds like an employment contract and it should. Giving your time as a tithe instead of
money should work very much like a job. Employees work at a designated time and perform specified functions for which they are paid, usually by the hour.
If they don't show up when needed or perform as required they are warned and eventually fired if nothing changes. They also aren't paid for the time they miss work. The time you serve in church shouldn't be any less demanding and the individual giving their time for a tithe should want it to count for the absolute most.
The difference is the person tithing their time to the church instead of money won't be paid.
THINK!AboutIt?
In Tithing
, Douglas Leblanc provides much more than a narrow discussion on a traditional issue. He doesn't repeat the same worn out arguments the same boringly technical way.
Instead, and probably because he admits to being "no theologian or exegetical writer," Douglas has found an intriguing way to cut to the real heart of the issue. He shares the experiences of eleven different couples and one lone Monsignor, all of whom practice tithing for a very similar reason: selflessness.
Comments