God Has The Power
To Save Us
And Keep Us Saved
Just to be clear "Eternal Security" is a teaching that says:
Once a person is saved they can never lose their salvation. Or in other words, there is no sin they can commit that will cancel out God's saving grace.
Or to say it more succinctly: Once saved, always saved.
Some people believe that and some people don't. I am one that does.
But when you promote this idea one of the first objections involves "what-if" questions. "What if a person does this or that terrible thing?" The assumption is there must be a point beyond which either God's ability or willingness to save ends. For example:
What if a person commits serial murder, e.g., Ted Bundy?
What if a person commits genocide, mass murder – e.g., Hitler?
What if a person traffics in slavery?
I admit that a salvation you don't need to work to keep sounds too good to be true. It runs counter to human experience. It seems a little bit too easy and those who disagree, or have serious insecurities about it, throw out the above questions.
No Pat Answers
Admittedly, the questions are good ones but there are no pat answers. I nor anyone else can give you a quick hit that resolves the issue just like that. Read more
Only Two Possibilities:
Eternally Secure
Or
Eternally Neurotic
Eternal security is one of those issues you can't ignore.
It involves salvation and, more specifically, whether or not you can count on it when you need it most, at death.
Some people believe once you're saved you're always saved. You can never lose it so there is no need to worry about keeping it. Others think there is no guarantee. It can be lost by any qualifying misstep, although there is debate as to where that line is drawn.
Settling the issue isn't easy. You can throw out a few verses to prove whichever side you take but for every verse you quote there are plenty of reinterpretations to confuse things.
So I've decided to come at this from a different angle. I think much of the confusion can be cleared by taking an analytical/philosophical approach and that is the point of this post. I want to ask and answer pertinent questions. What you learn from this process is that once you ask one relevant question it opens the door to another and then another and eventually you have an avalanche of un-answerables.
When you do this for both sides you realize that one side fairs much better than the other.
Those of us who believe in "once-saved-always-saved" (yes, I'm one of those people) are very happy that it's true. Those who don't believe it have a lot of questions to answer most of which are not directly addressed in the Bible.
That fact alone should give you pause. If you have questions about how to keep your salvation intact – a very serious issue indeed – but you don't have specific answers, then how can you be certain?
It doesn't make sense that God would give us a salvation we could lose and then refuse to give us very clear, obvious, easily accessed and straight forward instructions on how to keep it.
Living with that uncertainty everyday would be enough to induce a nervous breakdown. Would a loving God be so cruel?
Thankfully, the opposite, eternal security (once saved, always saved), is a lot easier to live with and enables more productivity. You don't need to worry about keeping your salvation so energy can be channeled into better less selfish pursuits.
You're secure. You can relax. God will take care.
Sounds too good to be true, I know, and it doesn't parallel life as we experience it but we are talking about something that doesn't claim to parallel life. It is impossible without God. Every theory about salvation is too good to be true. Eternal security just happens to be the most rational choice.
But, as I said, thinking you can lose salvation raises many questions that the Bible just doesn't answer. Let's take a look. Read more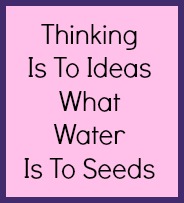 You Either
Think Outside The Box
Or Repeat What Everyone
Already Knows
As the story goes Sir Isaac Newton sat in his mother's garden and observed an apple fall from one of her trees.
Legend says the apple fell on his head. We can't verify that with certainty but there is good reason to think it might be true.
Apples had fallen from his mother's tree many times before so this wasn't new but on this occasion the apple really caught his attention and it stimulated a life long pursuit.
In light of his response, a hit on the head seems likely.
Newton was puzzled. The experience provoked many questions and being the curious person he was, he did what all inquisitive people tend to do. Read more
PicMonkey Does
Everything You Need
If a picture is worth a thousand words then it only follows that blogging is improved manyfold by the inclusion of a few images.
And because that is true smart bloggers will do everything they can to reinforce their blogging points with pics.
It also makes sense to use your own photos or screenshots. The pics you buy or borrow from online portals usually come with conditions, which make me nervous. Take your own pics or borrow them from friends without condition. That works.
The problem is pictures aren't always internet friendly, even the good ones. They're often too big and occasionally the exposure or clarity isn't the best. Solution? Edit the pic online. Read more
Rewards And Consequences
Two Sides
Of The Same Coin
This post is part 2 in the discussion of rewards, the fourth of 4R's in the series on Good Parenting and focuses on the natural law of cause and effect. What our kids do is a cause. Good parents will help them appreciate the effect.
You can find part 1 here.

Rewards Counterbalance Consequence
You can't really develop a concept of rewards and ignore consequences and vice versa. One effects the other. They are two sides of the same coin. If we do away with one, rewards or consequences, it is only logical to eliminate the other.
The two ideas need balance. Eliminating or under emphasizing one creates an imbalance and it can work both ways, with rewards or consequence. over emphasizing consequence can be just as damaging as over emphasizing rewards. Maybe more so. Read more