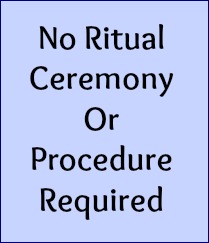 Anyone
Anywhere
Anytime
One question people often ask is, "Where Is Jesus?"
It's a good question that deserves attention but I need to expand on the idea a bit.
To do that I'll ask a few more questions:
How is it that people make a connection with Jesus? What are they thinking and feeling?
What exactly is happening to make the connection? Is something special being said or done?
Where are these connections usually made? Is geography a part of the formula?
When are these connections likely to occur? Young, old, before, after – what?
These are even better questions but the most common answers don't agree with the facts.
Let me clarify. Read more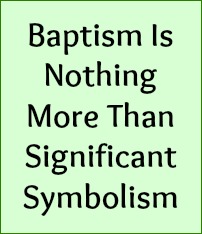 This Is Intended
To Promote Thinking
Not Fighting
A friend recently posted a question on Facebook about infant baptism.
It seemed like he was genuinely asking, not saying, or baiting. He addressed his question to "scholar" types.
The essence of the question was:
When the Bible mentions baptizing an entire family (household) when the head of the house is baptized, does this imply infant baptism?
It's a good question. The Book of Acts does record two incidents when one person – the head of a household – believed and was baptized. Lydia was one and the other was the superintendent of the city jail.
The interesting thing is, in both cases, all the family members were baptized at the same time.
It doesn't specifically say each family member confessed or believed but the idea that faith comes before baptism is so well established in Scripture it doesn't need to be repeated ad nauseam.
Both incidents occurred in Philippi and you find the details in Acts 16.
The question naturally arises:
Does this imply infant baptism?
The short answer is "no it doesn't" but that isn't much of an argument. There are many churches that baptize infants – I was sprinkled as an infant in a Presbyterian Church – so the question can't be easily dismissed. It is an established practice.
Here are my reasons for thinking infants were not involved: Read more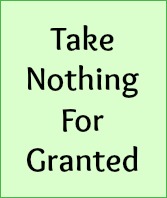 A Quick Search
Revealed The Solution
I recently noticed some unusual click-thrus on my site, and being the curious person I am, I investigated further.
The clicks were actually a redirect, which means people were attempting to navigate to one page but instead being taken to a completely unexpected page, a page that had nothing to do with anything on my site: x.vindicosuite.com.
The last time I checked, that URL delivered a blank page.
I did a search and found several posts explaining what was happening. It involved Sitemeter, a visitor tracking service for websites. Any site that had their code installed was vulnerable to the redirect.
The bad news is, even though Sitemeter was notified well over a year ago, they've done nothing about it.
I only discovered the problem in May 2015 so there is no telling how many visitors this glitch has run off. Frustrating! Read more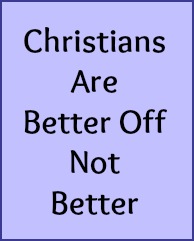 Gospel Leaflets Don't Correspond
To Growling Stomachs
Strategy is often treated with ambivalence by Christians.
It isn't difficult to understand. Strategy simply refers to the plans we make for reaching specific goals. A good strategy keeps you focused and efficient. We all understand that. It's a good idea.
The rub comes because we worry that planning on a human level may be at odds with planning on a divine level, and we don't want to interfere.
So I let's take a look at the concept of strategy and answer a few questions:
Should we be strategic?
Is being strategic the same as being biblical?
Is being strategic spiritual or is it just mechanical?
Is human strategy by nature in conflict with divine strategy?
The short answer is make a plan and work it as well as you can without forcing it. Circumstances have a way of guiding us through the process.
But the answer needs more detail and to find it we need look no further than the Apostle Paul. Read more
You Can't
Stereotype Faith
In Luke 18 Jesus shared an interesting story about a widow.
The widow had been cheated and was attempting to get justice through the legal system, but things weren't working out so well. Her appeals were being ignored by a judge whom Jesus referred to as unjust.
We aren't given any more details. We don't know who cheated her or how severe the offense was, but as it turns out that information isn't important.
The point was, as a widow, she had about as much clout as a dead tree. Widows were on society's bottom wrung, and the judge, who didn't care about God or people, wasn't interested in her problem. She was an inconvenience, a gnat to be swatted away.
But she never gave up. She knew the law and she knew her cause was just, so she did the only thing she could. She hounded the judge repeatedly.
And it worked.
He finally realized that processing her legal matter, though inconvenient, was far less bothersome than repeatedly listening to her complaint.
In spite of being marginalized by the system, she found a way to assert her cause.
And Jesus used her as an example. He shared her experience to teach the disciples persistence in prayer. But that explanation leaves us a bit curious. The parable never mentions this woman praying.
In the end of the parable Jesus referred to her as an example of faith and He wondered aloud if that kind of faith would still exist when He returns.
Since prayer and persistence and actions can all be expressions of faith, and that was at least a strong sub point of the parable, we can make several observations about faith. Several of these of these points don't square with convention.
For example: Read more