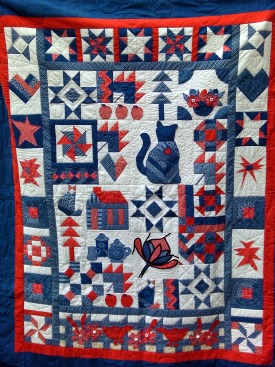 When I began my second quilting class, for intermediates, I wanted to use the traditional African fabric that is readily available here in South Africa, known as Shwe Shwe (Shway Shway).
The original brand, Three Cats, is only available in the traditional indigo blue, red and brown. I chose to use only the red and blue for my quilt. When South Africans see this quilt they usually think, "Oh, red, white and blue, for America." But, other than the colors it is more African than American.
In this class we learned many new blocks and techniques such as:
Dresden Plate
Kaleidoscope
Drunkard's Path
Log Cabin
Folded Bow Tie
Churn Dash
Maple Leaf
Folded Star technique
Appliqué
Stained Glass
Seminole Strips
Friendship Braid
Paper Piecing
Flying Geese Trees
And Schoolhouse Block to name a few.
All of these blocks, with the exception of Dresdan Plate, were used in the quilt shown in this post. Read more
So, about my first quilting class. We had six sessions, one every two weeks.
Each week we were taught a new block or technique. We used the class time to make one or two blocks and then we were to use the time between lessons to practice making more of the same block.
This picture shows the assortment of blocks we made. It was great fun! I learned a lot and really enjoyed the classes.
I am the type person that learns best by observing and then trying something for myself. I usually prefer to do it alone, and by trial and error, so taking a class was a really big step for me. Read more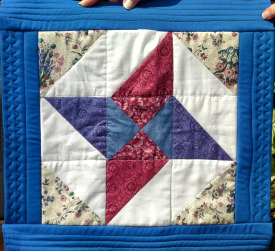 When I was about 13 my family moved from the "country" to more of a suburban setting. Our new neighbors had four daughters. Two of them were a bit older than me, one was about my age – maybe a few months younger – and the fourth was quite a bit younger. The girl about my age was also named Becky and we became good friends.
My family began going to the church started by their "uncle-in-law". I spent a good deal of time at their house either at Youth Meetings or just hanging out.
Becky, her oldest sister, Carol, and their Mom were all great seamstresses. One of them was forever sewing something. They didn't do crafty things, just clothes and I would sit for hours and watch them.
I did not have a sewing machine but I took Home Ec. in school for 3 years which was one of the most frustrating things I have ever done. Class time was about fifty minutes so by the time I got started on a project it was time to stop and pack things away till next class. The teachers always measured us and told us what pattern size to buy and then nothing ever fit quite right.
If it had not been for the fact that I watched my friend and her family sew and actually produce wearable clothes I might have given up before I ever got started. Read more
My other grandmother had lots of quilts. She was not a quilter but her sister was. I suspect that granny set herself a challenge to see how many quilts she could put on one bed. Granted we lived in Tennessee and it did get cold in the winter but I do believe that there is such a thing as too many quilts on one bed. I remember feeling weighted down, I could hardly turn over because of the weight of those quilts.
When I finally managed to get out from under the load I remember looking at them. I have always loved color and I was fascinated by all the colors and shapes. I couldn't quite figure out how they were put together. Now that I am a quilter I am still fascinated by the way all those pieces come together, one piece at a time joined to another and then another and then another until you have the desired design. Read more