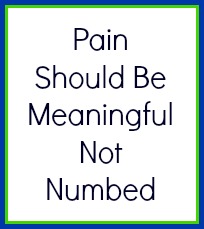 Don't Run From Pain
Or Wish It Away
God May Be The Author
It is quite normal to find God in church but that isn't the only place we can expect to find Him. God is a little bigger than a church service (omnipresent) and I'm sure He is active more than one hour a week so we should expect to find Him mingling in all of life and by "life" I mean everything outside of church.
Since He created life for us, and us for life, we shouldn't be surprised to find Him tagging along when we leave church.
Church does serve an important purpose but a very limited one. It is only a classroom and offers only theory. Life offers what the classroom can't, experience. It is the lab where we learn to apply the theory and God is involved in both places. He instructs us in one and mentors us in the other.
God Isn't On Emergency Standby
Most people do invoke God's presence in their daily living but more as a protector or body guard or shield. He gets called for emergencies only.
Life can be hard and we don't like "hard." We much prefer easy and convenient. The ideal job is one in which productivity smoothly moves along and the people we work with are always agreeable but who has a job like that.
If you have a boss, and most people with jobs do, he or she is constantly expecting performance quotas to be met. Even if you work for yourself, bill collectors are there to remind you of the same.
And if you are fortunate enough to achieve financial security – that is you don't have to work – you find you must still work hard and smart to maintain the value of your resources, whether they be investments or savings.
You can't really get away from it. There is constant pressure and that pressure sometimes produces pain. Jobs aren't the only source of pain but it one common to us all.
And the question is, where is God when the pain comes? In our thinking God and pain can't be reconciled. Pain is a problem and God is the solution.
Well, Unfortunately, God is not Vicodin or a magic wand and Life, which can sometimes be painful, is His training ground. Read more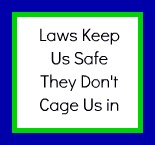 How Much Of The Law
Did The Cross Invalidate
Good question!
Christians are taught that the New Testament affords a long list of benefits for today's believers which Old Testament saints did not enjoy and one of those benefits is complete deliverance from the law or at least that's the impression you get. The New Testament is riddled with statements that seem to reinforce this idea:
A man is justified by faith without the deeds of the law.
You are not under law but under grace.
You have become dead to the law by the body of Christ.
We are delivered from the law.
Christ is the end of the law.
Man is not justified by the deeds of the law.
If righteousness comes by the law then Christ is dead in vain.
All these apparent denouncements of the law beg the question, "What do these statements really mean?" and "How far can we stretch the liberation concept?" Read more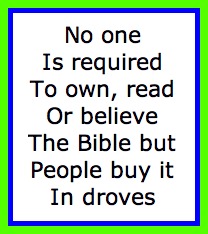 The Bible Sells Best Because
It Is Universally Desired
And
It Is Living And Powerful
The Bible is often said to be the world's best sold book but search the best seller lists and you won't find it anywhere, top to bottom. It makes you wonder. If it is a best seller why isn't it listed? Well, the answer is simple. The annual sales figures for the Bible are so high, averaging between $425m and $650m, repeatedly – year after year – that it dwarfs the sales of all other books. The best any other book can hope for is second place and a very distant second place at that.
A list of "best sellers" is interesting only if the top spot is up for grabs so the real best seller had to give way to all the rest.
The Harry Potter series, which has enjoyed high volume sales in recent years, is a good example. According to The New Yorker even books with Harry Potter stature don't compete well with the Bible. Not only is the Bible the best seller of all time it continues to be the best seller every year even when compared to the astounding sales figures of a series like Harry Potter. Read more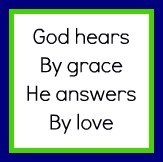 How Do We Know
When God Really Answers?
Everyone prays but they don't all get what they ask for. That isn't because God doesn't respond. He hears every prayer and like the father who takes joy in giving children what they want, He too looks for opportunities to grant our wish.
But, He's not indulgent. Your every wish is not His command. Our prayers and His responses are tools that help us develop sensibilities. Prayer changes "things" because it first of all changes us. The need never changes and God never changes. The person praying is the only variable.
His answers make things possible not convenient or easy. Prayer is part investigation, negotiation and activation. It was never intended to be a ceremony. Prayer at its most basic is conversation and the primary purpose is communication.
So, the question is what makes prayer effective? And the answer is: Read more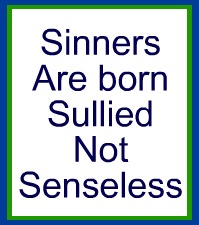 The Devil thinks Calvinism is a great idea!
And why not? One of his tricks is to make people think they can't get saved, so anything that encourages doubt works right into his hands.
But, even though he thinks Calvinism is a good idea he doesn't believe it.
In case you're not familiar with the tenets of Calvinism it is a philosophical concept – nothing theological about it, although some would argue otherwise – that says God selected certain people to be saved and consigned everyone else to hell. His choices were made in eternity past and are fixed. No appeals allowed.
Yes, if you are a thinking person the logical inference is any individual not chosen for salvation IS chosen for hell. Offensive thought, hey? Calvinists think so too and have responded with long drawn out discussions designed to camouflage the reality. They even came up with a term for it, "double election."
Google it and read for yourself. One post admits to the offense and suggests ways to soften it, without admitting any error, of course. I won't take time to explore it here.
But, getting back to my original thought, the Devil doesn't buy it. Not only does he focus on EVERY person – not just the elect or non-elect – he also works to blind them all to the truth of the Gospel – a condition Calvinists suggest is already existing and is curable only by a special, mystical, enabling by God.
Instead, however, the Bible says the following: Read more