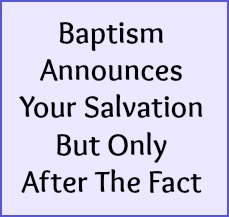 Is Form More Important
Than Heart
Should you get baptized or should you not? That's one question.
Another question, and one that is a little more difficult to answer is if you do get baptized, which baptism is best?
Those are important questions because Baptism is a Christian basic. It's universal. It applies to every believer but there are differences of opinion on this practice.
Some believe baptism saves or at least puts one in the right place to be saved. Others believe it has nothing to do with salvation.
Some believe infants should be baptized. Others believe they shouldn't.
Some believe baptism can be administered by pouring or sprinkling. Others believe full bodily immersion is required.
Some believe baptism can only be administered by qualified individuals. Others believe any Christian can baptize any Christian candidate.
Some believe only their denomination's baptism is legitimate. Others believe that's an unnecessary restriction.
Some believe the form is all important – only immersion is allowed. Others believe the heart of the individual is more important than the form.
Like belief, the decision to be baptized is individual. Unlike belief, you can't fake it.
Probably no Christian basic has been debated more than baptism and the debates weren't lighthearted. History records much feuding over this issue even to the point of drawing blood.
The Bible says much more about belief (faith) than baptism but what it says is important. Here are the facts:
John the Baptist initiated the tradition of baptism.
The high number of baptisms was evidence of John's effectiveness.
Jesus was baptized by John, even though John questioned this.
Jesus first disciples were baptized by John.
Jesus taught his followers to continue the tradition of baptism.
From the Day of Pentecost onward disciples new believers were baptized. The practice stuck.
Paul taught that baptism symbolized the death, burial and resurrection of Christ.
From these facts we can isolate several takeaways: Read more
Friendships Are Deepened
Through Trouble
Friend is a happy word. It makes us feel safe. It evokes a sense of support, love, security, connection and more.
If you have a good friend you're better for it. It's a comfortable place to be, or so the thinking goes, and the Bible makes statements that support these flowery ideas:
A friend loves through all kinds of weather – Proverbs 17:17 (MSG).
This is the very best way to love. Put your life on the line for your friends – John 15:13 (MSG).
Two are better than one, because they have a good reward for their labor – Ecclesiastes 4:9 (KJV).
Better is a neighbor (friend) that is near than a brother far off – Proverbs 27:10 (KJV).
A sweet friendship refreshes the soul – Proverbs 27:9 (MSG).
But these verses represent the ideal. They describe friendship at its best. Can we really expect that? Is any friendship 100% no fault? Or does reality send another message? Read more
God Uses Illness
To Heal Us
In Different Ways
Mention John chapter 11 and most people think of Resurrection. No surprise there. The chapter records Jesus raising Lazarus from the dead and most sermons on that chapter focus mostly on that event. It's the dominant topic. It's hard to study the chapter and not think about resurrection but it's also obvious. Maybe there is something else in the chapter we should look for.
If we poke the context a little, other lessons might surface. Read more
Clarify The Question
Before You Answer
I've had many discussions about eternal security and the conversations often migrate to "what-if" questions, the philosophical nuggets that get thrown in after all the verses have been dissected without reaching a resolution.
Eternal Security is, again, the topic here and I mention it because the "what-ifs" unwittingly open the door to some very interesting questions:
Here's how it works. Read more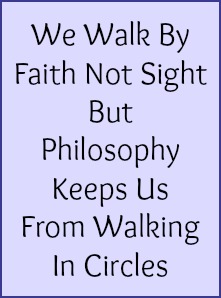 Dogma Tells Us
What To Do
Philosophy Tells Us Why
I frequently take a philosophical approach to the Bible. I wasn't taught to do this, it just came naturally, but it isn't thought of as the right approach so some take offense.
Hand slaps aren't unusual.
I've been called both liberal and unbelieving but there are many reasons why philosophy can be very useful in Bible interpretation. I've listed several below.
And I'm philosophical about it. Read more