Making And Managing Money
Is Spiritual
Everything is spiritual all the time, even very earthy things, and nothing illustrates that truth as clearly as money, otherwise known as filthy lucre. Let me explain.
When I was a kid my mother always made me wash my hands after handling money. "You never know where it has been" she would say, and over time I learned what she meant. Money is passed from one person to another (clean hands or not), kept in unhygienic places, even falls on the ground and stays in circulation anywhere from 18 months to several years. During that time it never gets washed. I never really understood how filthy money could be, however, till I moved to South Africa and discovered all the places people hid the stuff to keep it away from thieves. I won't elaborate. You can imagine.
It isn't difficult to make a spiritual connection here since cleanliness is next to godliness. Right?
But I also learned from an early age that money can be enticing. Read more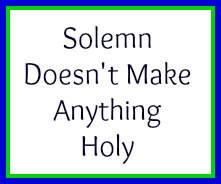 Marriage Is Holy
Ceremony Or Not
I don't like the word "holy." Just hearing it gives me the creeps but don't read too much into that.
I know the word is in the Bible, and I appreciate that, but the way it is used doesn't always agree with how it is represented in the Bible. The application is very narrow. In fact, I'm not sure you could relate it to everyday life. Let me explain.
The word "holy" is associated with synonyms like sacred, hallowed, revered, sanctified and consecrated. Another word distantly related is "solemn." These are not commonly used words. They are religious terms and not just normal everyday religious terms. They are "inner sanctum" words. Institutional religion didn't coin these words but it definitely owns them.
And the ominous nature of "holy" is compounded by the way it is used. When any ceremony – I don't like that word either – is referred to as holy or sacred you get the idea that smiling or relaxing or enjoying the occasion is not allowed. These words are spoken only in a serious tone of voice and accompanied only by actions that are very guarded. Well arranged. Scripted. If something is solemn or sacred or holy it is usually done very mechanically. The following wedding video illustrates the point. Scroll to the 53rd second if you're in a hurry: Read more
Life Can Be Unpredictable
But Preparing To Win
Requires A Schedule
In the mid 1960's The Rolling Stones recorded a song titled "Time Is On My Side." It was one their first recordings and it was a big hit.
In the song Mick is philosophizing about a wayward girlfriend. She's running around instead of staying faithfully by his side but instead of expressing hurt feelings Mick patiently waits claiming that "time is on my side." And he confidently asserts that "She'll come running back to me."
Now, you might be wondering what a song about wayward girls sung by one of Rock N Roll's most prominent bad boys has to do with winning. Well, the context of the song isn't important but the refrain is.
The main issue in the song is "Time" and Mick repeatedly says it is on his side. In fact, at the end of the song he builds to a crescendo with: Time, Time, Time is on my side.
But there is good reason to think Mick may not be correct. Time can be on your side but there is no guarantee.
And that brings us to Tom Coughlin and the book he wrote. The title of Tom's book is:
Earn The Right To Win
And it's worth reading because it makes some universally valid points about winning. Read more
Preparation Is Winning
I just read Tom Coughlin's book, Earn the Right to Win
, and gleaned some valuable insights. Insights anyone can appreciate. This isn't just another book written by a popular icon to entertain the masses and make a few bucks.
Although the book includes plenty of anecdotal material it isn't a bio of the NY Giants or of Tom. This is Tom telling us how he won the most coveted prize in football, the Super Bowl, and he assures us, even in the title, that the principles he used can be applied to any field of work. Tom is very intentional in his coaching, his book tells us how he does it and it illustrates the point that a lot of thinking went into his approach to football.
If that's true for one of the most physical sports around then it is probably true for anything else one might do.
Tom does have impressive credentials. He began his coaching career at Rochester Institute of Technology, starting the schools football program from scratch. He also served in several assistant coaching positions before taking the head coaching job at Boston College and was eventually hired as the head coach for the new NFL franchise in Jacksonville. At every level and in every position he established himself as a no nonsense leader who won games. How he accomplished this winning tradition is what his book is about.
I was impressed enough with the book to think it deserved more than just one short review. Since Tom is the kind of man who can start with nothing and eventually reach some lofty goals, He's also a man to whom we should listen. If you're looking for inspiration and how-to advice, Tom's your man.
This post is just the beginning and will be followed by more.
It becomes very clear in the book that Tom is very deliberate. I was actually surprised at how much of a thinker he is and the overall theme of the book, preparation, illustrates the point. Everything Tom led his teams to do was his way of preparing them to win. Every detail of the preparation was well thought out. Winning was the goal and detailed preparation was his way of getting there. He introduces the "preparation" theme in the subtitle:
How Success in Any Field Starts with Superior Preparation
He elaborates on preparation in his introduction and then expands on it in every chapter that follows. He uses sports to illustrate his points but his illustrations can easily transfer to any other sphere of endeavor. He argues his points well. Read more
Part 1 Is Biographical
Part 2 Is Technical
Read Part 1
So, back to my dilemma.
At the age of 21 I was fully recommitted to Christ but I didn't know what that commitment looked like. One question I struggled with often was:
"How much should I give to God and how often should I give it?"
It wasn't an easy question to ignore. The offering plate was passed in every church service and since I attended every one of those services I was constantly wrestling with a compulsion to give without knowing specifically what to do.
I was hesitant. I wanted to do the right thing but knew there had to be a limit where "right" ended and "irresponsible" began. Should I just pass the plate along, wave a hand over it like I was putting something in, actually put in a little change, give a chunk or what.
The one thing I couldn't do was avoid it.
To motivate people to give, the minister would mention the financial burdens of the church and then pray for the offering. What sincere Christian could be unmoved. I wanted to do my part but wasn't sure exactly what my part was.
To make things even worse, my Dad, a hybrid Baptist/Methodist from way back and a Presbyterian during many of his last years, was constantly accusing the Baptist of only wanting money. He didn't like me attending a Baptist church and he was even less impressed with me giving them money.
In this case, however, I was 21 years old and responsible to make decisions for myself. And to be smart I decided to do some research. That is where my friend Nancy came in.
She was a mature Christian and had much more knowledge of the Bible than I so I decided to broach the question with her.
I didn't, however, expect what I got. Read more