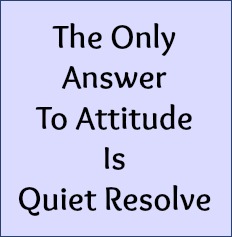 Jesus Acted With Urgency
Not Aggression
Jesus wasn't any more inflated by the people who cheered Him on than He was deflated by the people who opposed Him.
He was secure.
Jesus knew who He was. He was convinced that the world needed what He had to offer, whether they understood that or not, accepted it or not.
Jesus said what He needed to say. He did what needed to be done. He didn't consult with the religious leaders, His family or His disciples. He spoke up. He acted.
Consensus in this situation was the same as asking permission to save a life. He came to save those who were ready, not argue with those who weren't.
When people didn't understand what He was doing, and that often was the case, He didn't respond with frustration. When they argued against His teachings, He didn't become defensive.
He didn't try to explain what He really meant. He didn't use the but what about this and don't you think that arguments.
Jesus showed us that the only answer to attitude is quiet resolve. But it takes a very strong, secure person to live by that rule.
He was secure in Himself. He didn't answer every contrary response. He expected us to figure it out.
His own disciples doubted almost His entire ministry. Read more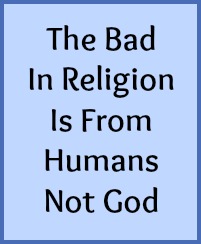 Don't Stop
At The Foundation
This is the first post in a series on Christian Basics. By Basics I mean essential issues, issues that apply to everyone.
Five such basics are: Belief, Baptism, The Lord's Supper, Organization and Purpose.
These are more than foundational. They form the superstructure of Christianity as well.
A house is never just a foundation or slab.
Start a discussion around any one of these topics and the conversation either becomes heated or confused. Neither the glazed-over look nor frustrated response is unusual.
But these are basics. Simplicity should be the rule.
There are only so many issues to consider and there are only so many questions to ask.
The problem is the more we ask, the more complicated the answers become. They expand. They grow. And they become proprietary as well. Read more
Quilters Turn Scraps
Into Winter Time Gold
A little over a year ago (October 2013) my wife heard about an interesting project involving quilts.
She loves all things quilts so her natural response was to look further and find out what was going on.
As it turns out the project is spearheaded by Sheila van Dyk and is quite ambitious. Sheila aims to recruit as many quilters as possible to build the world's largest quilt verified, of course, by The Guinness Book of Records.
Ultimately the project is for charity, not fame. The large quilt will be constructed by sewing 11,000 single bed sized quilts together, which will then be separated and donated to charity. Read more
You Can Counter
Bad Qualities
With Good Ones
You Can't Eradicate Them
Have you ever wondered why people act out? I'm talking about the good people, the ones who usually appear quite decent, no foul language or anti social behavior.
Why do these people get caught in lies or found stealing or worse, unexpectedly?
Sounds horrible, I know, and we don't like talking about it but it does happen.
But the real question is this. Have you ever wondered why Christians sometimes act badly, worse even than many non-Christians?
We consider that an anomaly.
Christians are the ones who adamantly oppose wrong and hassle those who practice or promote it. They also claim to be the best and there is good reason to believe they should be.
So when a Christian does something out of character with the image they project, we get caught off balance. Makes you scratch your head and wonder what went wrong.
It can also make Christians feel a little insecure.
If it happened to them, can it happen to me?
It's a different story for non-believers. In fact, the stubbornly non-believing are almost gleeful when Christians color outside the lines. It's all nonsense anyway so misstep is all the proof they need to cry hypocrisy.
Less damning unbelievers entertain the same thoughts but are a bit more gracious. They don't assume hypocrisy.
Hypocrisy might apply in some cases but is that the only reason Christians act badly?
Are there other factors to consider? Read more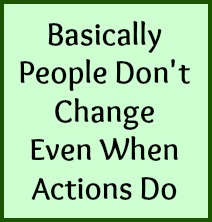 If We Could Change
Our Nature
By Acting Differently
Why Would We Need Jesus
If I were to say the old nature couldn't change many people might agree.
By "Old Nature" I mean the sinful nature, the flawed one we're all born with.
But, if I were to say the old nature couldn't get worse, which is what this post will try and prove, many might balk.
On the face of it, that statement isn't easy to accept.
We know people can deteriorate morally. They can do terrible things on one day and then commit worse crimes later. It's a process of change and it's for the worse.
We've all seen it happen. One step downward creates a spiraling momentum that's hard to stop. Inertia, once moving, doesn't halt easily.
But there are reasons to believe this change doesn't effect a person's nature. Read more