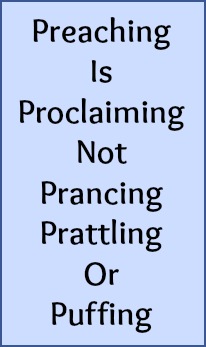 Primitive Methods Don't Suit
Today's Technologically
Rich Enviroment
Today, reading and writing are common. Letter writing happens daily and book publishing isn't far behind.
Even the blind and deaf have the means and skills to write out their thoughts, and technology makes it possible for them to communicate those ideas easily.
For most of human history that wasn't true.
Writing has been around for a long time but the earliest format, engraving on stone, was restrictive to say the least. Just ten commandments required two stone tablets. Tom Clancy's latest book would require a mountain of rock.
Even when lighter materials like papyrus became popular copies could only be reproduced by hand making it very difficult to circulate documents widely.
If you are of the opinion that following the old paths means eschewing technology, you'll need a truck to carry your Bible to church each Sunday. You'll struggle to flip to the book of Psalms too.
Not to worry, though. Since reading wasn't as widespread in the Old and New Testaments as it is now reproduction and circulation weren't issues.
But, these facts do raise an obvious question. If written documents couldn't be shared easily, and many couldn't read or write anyway, how were community-relevant ideas communicated.
The answer to that question is quite primitive. The most popular form of communication throughout most of human history was the spoken word and the best way to spread important news quickly and widely was through public proclamations.
These proclamations were made by specially designated people in high-traffic locations like the city gates or the courthouse steps. The people appointed for the task were known as the Town or Public Criers and they were clad in special clothing to single them out. It was all very official.
Even as far back as the time of Esther (5th century BC) the King's official proclamations were communicated to 127 provinces by couriers and criers. It took several months to get the message out but considering the geography and the lack of technology, that's not bad.
Criers were the interface between governments and the communities they governed. When information needed sharing, criers would ring a loud bell and cry "hear ye, hear ye" – or something similar. Once they had everyone's attention the crier would then state or read the announcement.
Those who heard the announcement would pass it along mouth to ear, mouth to ear, mouth to ear and so on, but it all started with a public proclamation.
Education, democracy and technology have made criers obsolete. Education makes reading, writing and thinking skills common. Democracy encourages the sharing of ideas publicly. Technology makes it possible for those ideas to spread quickly.
There's really no comparison between the media of the New Testament and the media of today. Resonant penetrating criers of yesteryear are easily drowned out by today's most mild mannered tweets.
This brings me to the topic of this post: Preaching. Read more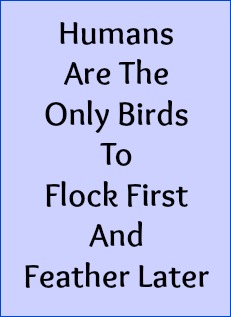 Dogma Has A
Short Shelf Life
In the movie, Hoffa
, starring Jack Nicholson, Danny DeVito and more, one of the opening scenes has Nicholson and Robert Prosky firebombing a laundry in retaliation to the owner's refusal to join the union.
Unfortunately, the bombing goes badly wrong and Prosky's character, Billy Flynn, is caught in the flames. Dying in the hospital, Billy is coaxed to confess by the attending priest. That could be tricky for two reasons.
Billy is convinced he was acting justly, which doesn't require confession, and more importantly a confession might possibly lead to the conviction of Hoffa and his new sidekick played by DeVito.
Billy's response is surprising and unexpected.
He looks at the priest, breaths an expletive and then makes an unforgettable quote.
Never let down. Never let up. Never forget.
I don't know if that really happened but I don't doubt people have expressed that kind of devotion in the face of life and death situations. I also don't doubt that Hoffa was able to elicit that kind of devotion.
But here is the point. Devotion is not always what you think.
Generally, we view devotion as an honorable thing and devoted people as committed, reliable and good. In fact, devotion is a popular topic in religious circles and the truly devoted are among the best religion has to offer.
But is that completely accurate? According to Hoffa, devotion can apply to less principled types.
Devotion has a moral sense that doesn't fall within the boundaries of traditional thinking. People frequently commit themselves to causes, groups and ideologies that are questionable at best. It happens all the time.
And once established, devotional connections are difficult to dislodge, regardless how right or wrong they may be. According to a Michigan study, devotion becomes more resolute in response to challenging facts. The followers of Hoffa didn't let the law get in the way.
In reality, devotion is just devotion. It's neither good nor bad, and it has many dimensions to consider. You find it everywhere, even among the unsavory.
Based on that thought we could make some interesting observations about devotion. Read more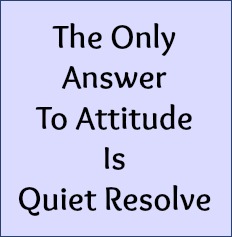 Jesus Acted With Urgency
Not Aggression
Jesus wasn't any more inflated by the people who cheered Him on than He was deflated by the people who opposed Him.
He was secure.
Jesus knew who He was. He was convinced that the world needed what He had to offer, whether they understood that or not, accepted it or not.
Jesus said what He needed to say. He did what needed to be done. He didn't consult with the religious leaders, His family or His disciples. He spoke up. He acted.
Consensus in this situation was the same as asking permission to save a life. He came to save those who were ready, not argue with those who weren't.
When people didn't understand what He was doing, and that often was the case, He didn't respond with frustration. When they argued against His teachings, He didn't become defensive.
He didn't try to explain what He really meant. He didn't use the but what about this and don't you think that arguments.
Jesus showed us that the only answer to attitude is quiet resolve. But it takes a very strong, secure person to live by that rule.
He was secure in Himself. He didn't answer every contrary response. He expected us to figure it out.
His own disciples doubted almost His entire ministry. Read more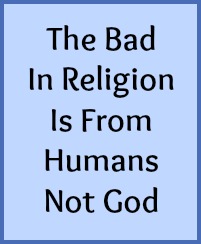 Don't Stop
At The Foundation
This is the first post in a series on Christian Basics. By Basics I mean essential issues, issues that apply to everyone.
Five such basics are: Belief, Baptism, The Lord's Supper, Organization and Purpose.
These are more than foundational. They form the superstructure of Christianity as well.
A house is never just a foundation or slab.
Start a discussion around any one of these topics and the conversation either becomes heated or confused. Neither the glazed-over look nor frustrated response is unusual.
But these are basics. Simplicity should be the rule.
There are only so many issues to consider and there are only so many questions to ask.
The problem is the more we ask, the more complicated the answers become. They expand. They grow. And they become proprietary as well. Read more
Quilters Turn Scraps
Into Winter Time Gold
A little over a year ago (October 2013) my wife heard about an interesting project involving quilts.
She loves all things quilts so her natural response was to look further and find out what was going on.
As it turns out the project is spearheaded by Sheila van Dyk and is quite ambitious. Sheila aims to recruit as many quilters as possible to build the world's largest quilt verified, of course, by The Guinness Book of Records.
Ultimately the project is for charity, not fame. The large quilt will be constructed by sewing 11,000 single bed sized quilts together, which will then be separated and donated to charity. Read more