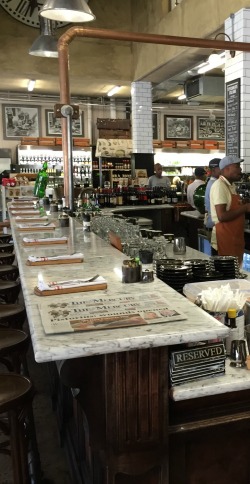 It's An Experience
Just had lunch at the new Old Town Italy restaurant located near Gateway in Umhlanga Rocks.
Wow!! It was an experience. A good one.
How would I describe it?
In a word: Delicatessen/Restaurant/Bakery/Coffee Bar/Gift Shop/Veggie Shop/Imported Goods Shop, and more.
It's a cheese shop too.
There's no end to looking, exploring and discovering. Great variety! Many choices!
You can stroll around shopping. You can eat at the coffee bar. You can eat at regular or tall tables inside, or at regular or tall tables outside. You can buy take-out and eat at home. You make the choices.
It was busy. It was crowded in a nice way. The buzz was apparent. The vibe was consuming. My wife thought it was too loud. I thought it was upbeat.
The service was sufficient but not stellar. The food was more than acceptable but not superior. It was fun and playful, not pretentious.
The bread was incredible. The gelato was more-ish but the pizza and confections didn't amaze me. Restaurant pizzas never do.
But this is not just a restaurant. It's an experience. A good one. I recommend it.
Note: A few reviews complained loudly about service errors and overpriced dishes but let's be fair. It's a new restaurant so service errors can be expected. As for the food, so far I haven't been disappointed. Presentation, variety and taste are great and you're getting much more than food anyway. It really is an experience!
Update: We've now visited Old Town several times and still very pleased. Apparently others find it that way too. On Sunday after church, it was so busy we couldn't get a table. But no worries. You can always stop in to buy some incredibly tasty fresh baked bread, along with meats, cheeses, prepared foods and more, and eat at home.
Contact Details:
39 Meridian Drive
Meridian Park (behind Gateway)
Umhlanga Rocks, KZN
Ph. 031 566-5008
Email: info@oldtown.co.za
Directions:
Head north on Umhlanga Rocks Drive toward Gateway.
Cross the M41 (Phoenix Highway) and turn left at the second traffic circle, Centenary Blvd.
Turn left and travel to the end – Tee junction.
Turn right and Old Town is 75 meters on left, just past Leigh's Cycles.
Enjoy!

KZN
Overall Rating:
3 1/2 to 4 Stars
Just spent a few days at the Perna Perna "Resort" in St. Lucia. We used RCI points to book unit 14 and were there the first week in June 2015.
Overall I would give the resort three and a half stars. My wife thinks it should be four. Following is the assessment.
The Staff: Five stars. Can't say enough about the staff. One guy looked a bit scary but the rest were friendly and accommodating from the manager at reception right the way through. Great folks!
Ambiance: Four stars. Clean, neat, well maintained. Very welcoming. They even had a small parrot greeting guests at the reception. I give it four stars because it was a bit dated. Comfortable, but old in style and age.
General: Three and a half stars. On paper the recreational facilities sounded great: pool, play ground, braai's/barbecues, DStv, laundry, bicycles, etc.
But everything was muted. It was tight or limited. There were only four bikes: two for adults and two for children.
You got the sense they added features to create a better image, probably at the urging of RCI. Read more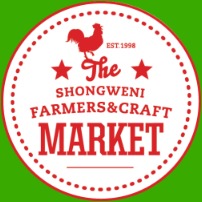 A Bustling Market
Bringing Country
Closer To Durban
If you're looking to buy fresh farm products you need look no further than the Shongweni Farmers Market. With over 200 stalls it's the biggest and best market of it's kind in Durban, maybe KZN.
Operating every Saturday morning from 6:00 to 10:30 AM in an easily accessible location, you'll never run short of your favorite foods and they have everything:
Fresh vegetables of every kind (some organic).
Fresh meat.
Eggs (double yoke for the extra hungry).
Health products.
Freshly baked bread (buy early, they run out soon).
Crafts galore by local crafters.
Furniture, indoor and outdoor.
Not to mention jewelry, tools, gadgets and many vendors cooking food to your liking on the spot. I couldn't keep count of the cappuccino machines. They even have a large (200 capacity) open sided tent to eat under and it stays full. If you don't like eating in a crowd get take-away. We took our rostis home and had them with double yokes. Read more
This review comes a long time after the fact but it's a story that deserves telling even late.
Last July my wife and I flew to Johannesburg partly for business and partly for pleasure and we flew on Kulula Airlines. This wasn't our first flight with Kulula and I can assure you it won't be our last.
Kulula is a small, South African based, no frills, budget airline that began operating in August 2001 with one aircraft and has since expanded to eight, all 737-800's. They cover all the main routes in South Africa and a few destinations in neighboring countries, as well as Mauritius and the best part is the price.
If you plan ahead you can usually buy tickets at less than half the rate of the nationally subsidized carrier, South African Airways, and if you get caught organizing last minute bookings they still offer reasonable prices, if seats are available.
Like most budget airlines, snacks are not free but are reasonably priced and (surprise!) tasty. They even offer snacks from Woolies which for international readers means high quality.
What makes them different to the bigger competitors and even other budget rivals is their sense of humor. The usually boring pre-flight, in-flight and post flight announcements are well seasoned with humor. They even add humor to their online and call-in services. Their primary color, lime green, isn't my favorite but they run on time, usually – a big plus, and always provide a laugh. Granted the humor is scripted but every now and then a flight attendant comes up with an unscripted quip to get everyone giggling. They are professional but entertainingly so.
As you can see from this photo, humor is incorporated in the exterior design as well.
But, back to my story. On our July trip we had an experience that sold me on Kulua for a long time to come. Read more