The Seed of Every Catastrophe
Is Opportunity
Divorce is often thought of as an "out there" kind of experience. Not only does it shatter the image of the so called "normal" home, it is obvious to everyone. There is no hiding or covering up. What isn't seen or readily understood, even by those going through this experience – or witnessing it closely – is the underlying turmoil for every person involved, interested onlookers included.
Every person responds emotionally to divorce whether their connection is immediate or distant. The point made in this fictional narrative is that what counts most is how those emotions are managed. Divorce doesn't need to be a wrecking ball.
In The D-Word: Divorce Through a Child's Eyes
, the author, Tara Eisenhard, does a great job of exposing the underside of an ugly divorce. She takes us on a one year divorce journey through the eyes, or maybe I should say heart, of a preteen girl, Gina. Although Gina is the main character she isn't alone. The author manages to illustrate a complex range of emotions stemming from a badly managed divorce and everyone makes a contribution: The divorcing couple, female siblings, male siblings, younger and older siblings, friends of siblings who've experienced divorce and those who haven't, friends of the divorcing couple, aunts, uncles, grandparents on both sides and even step relatives.
It is through Gina that readers will be sad, happy, angry and eventually relieved but all the other characters help fill out the picture.
It's all there. Parents becoming emotionally dependent on children. Grandparents who wish well but whose input only hurts. Friends who encourage rather than alleviate the friction. Children absorbing the blame and the responsibility.
Though the characters and the story line are fictional, their experiences are true to everyday life. Everyone can identify with one or more characters. Read more
Life After Divorce
Is Possible
Naked Divorce for Women
won't help you avoid a divorce or provide legal advice for getting one but it will help you get over one. In a word this book is about recovery.
The title is telling. Divorce is stressful not only because it is hurtful, inconvenient and demoralizing, but also because it leaves one feeling exposed and exposure is the particular sensation that Adele illustrates well throughout her book. She bravely bares all in an attempt to help others navigate the climb from the chaos of divorce to the order of recovery. Her writing isn't coldly clinical. It is personal.
But don't get the wrong idea. This book, though it targets the pain, doesn't encourage anyone to live in it. Instead, Adele highlights individual responsibility before and after the divorce: responsibility, that is, for the failed marriage and the recovered life. Self-pity, bitterness and revenge are understood but not encouraged or entertained.
Though Adele writes from a woman's perspective and for women going through divorce, the principles she lays out are drawn from her background in change management and are good for managing any kind of transition. They can apply to both genders too.
She writes broadly covering many related issues: hormones, friends, family, work relations and more but at the core of the book is a 21 day program for recovery which emphasizes diet, physical exercise and the importance of maintaining a balanced routine, among other things. But don't worry. She doesn't take an extreme approach to dietary regulations. You only need "limit" coffee and chocolate, not eliminate them.
Adele's program brings immediate relief but it isn't a quick-fix or a laid-back approach. The 21 day program involves a commitment of 90 to 120 minutes each day during the week and a bit more time on the weekend. The program is described as a cocooning process that enables transformation from a troubled, out of control state to a more settled and focused you.
21 days may seem like a long time but as Adele points out, compared to the scope of an entire life, 21 days is only a small part. Read more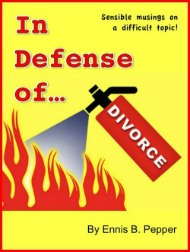 Why A Marriage
Should Never Be Saved
At The Expense
Of A Life
New book, In Defense of Divorce
, defends divorce from traditional religious ideas, extenuating the guilt and reserving emotional energy for solving practical issues going forward.
The book
explores such questions as:
Is divorce a sin or a solution?
Has religion over influenced public opinion on marriage, divorce and remarriage?
Did the Old Testament allow divorce?
What did Jesus teach about divorce in Matthew chapter five?
Does God really hate divorce?
How did Paul judge divorce matters?
And more.
Ennis Pepper, the author, experienced divorce first as a teenager when his parents broke up and later through other family members and friends. As a minister he witnessed the haranguing troubled couples experience when considering divorce and the rejection should they get one. And with a Bachelor of Biblical Studies degree and more than 25 years ministry experience he is able to address this topic confidently with both a biblical and practical perspective.

Get a Kindle Reading App for any device (PC, Mac, Smartphones, Tablets) here
Most people think of divorce as something to shun, not defend, so Ennis' book title
raises questions at the start. And since the divorce rate is reaching all time highs there is no indication that the general population lacks the courage to initiate a divorce so why bother defending the issue? Read more
Although some troubled couples can avoid divorce, this post is written in support of those who can't.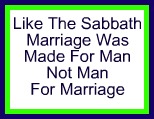 Strange title, I know, especially coming from a minister but religion and marriage are just as different as church and state and shouldn't be managed as one.
You can be religiously happy without being married. You can be married happily without being religious. You can be married on one day, with no interest in religion, and become very religious later.
But, it has proven particularly difficult for an excessively religious person to marry only within the strict guidelines of their religion and be happy for a life time. The marriage might last for a life time but the happiness fades. Sometimes the marriage falls apart. According to Barna, even the Catholic divorce rate is high (28%).
One team from the University of Chicago, led by Linda J. Waite, did a study on unhappy marriages which suggested that many couples who stuck it out during the bad times reported their marriages happy five years later. The report also suggested that those who divorced were generally no more happy than those who didn't.
However, an article at Religious Tolerance points out that part of the motivation to stay together was religious indoctrination so we can't be sure from the U of C study whether the couples were happy with the marriage or the personal development in their lives individually in spite of the marriage.
Religion-influenced marriages may be more likely to stay together but are these couples happy or forbearing? Religion has added layers of adhesive to the institution's external side but not much to sustain it on the inside. So religion's legacy might be stated as: "married unhappily ever after."
Although religion and religious people have served many good purposes, interfering with marriage is obviously not one of them.
Admittedly, it would be illogical to suggest all non-religious couples are happy. Marriage is easily mangled, religion or not. And it is also true that happiness in any marriage will never be absolute. It isn't easy to get it right.
The problems that cause breakups don't mysteriously appear all of a sudden decades after the wedding. They lurk quietly in the background from the start and over time grow intolerably huge if not managed well.
Kind of like warts. Small at first, growing over time and eventually getting painfully in the way. And we all have them.
However, my focus is not the problems that cause break ups but religion because religion tends to be dismissive toward such problems which in turn adds another dimension of difficulty to married life. Instead of admitting up front that relationship problems can be deal killers the focus is limited. Only the permanence of marriage is addressed and the possibility of a break up is treated as if it could never happen. Head-in-sand stuff.
Like snake oil pedaled by traveling salesmen, marriage is presented as a fairytale elixir to all relationship dreams for this life with implications for the next.
What religion fails to acknowledge are the problems induced by marriage that arise only after the ceremony, maybe years after. One study done at UT Austin found these problem areas begin to surface during the first two years of marriage and foreshadow breakups as far off as 13 years later. Unfortunately, when the problems become glaringly obvious, some religions never allow them to trump the vows.
Psychologists tell us that divorce is one of the most traumatic human experiences. It rates right up there with the death of a loved one or the loss of a limb. And, again, religious conservatives use this information to support the theory that divorce should never happen.
But is this trauma caused only by the divorce? Shouldn't religion be blamed for part of the problem since they historically have proven unable to accept this unhappy experience and therefore haven't been there for people when it happens?
Shouldn't we also attribute part of the trauma to the culturally negative attitudes, encouraged by religion, that leave divorced couples stigmatized?
Knowing that religion and culture are against you before you start makes it stressful just thinking about a divorce never mind getting one.
Society is much more accepting today and divorce numbers have increased but maybe the 1 in 2 divorce rate isn't a sign of more marriages going wrong but an indication that people are taking advantage of a more forgiving culture to correct poor marriage choices.
In the past more people stayed in their marriages but were they happy? Were they really committed to each other or just afraid of public responses toward divorce? Maybe it was less painful to stay in a difficult marriage than to dissolve it and in that light the 1 in 2 rate may be better than we thought.
If speculations about behind the scenes morality during the Victorian Age are even partly true it wouldn't be a stretch to suggest that the number of extramarital affairs were indirectly proportional to the number of divorces.
And looking around today you find that some of the strongest and happiest couples are second marriages. Go figure!
Religious leaders aren't bad people and they aren't saying evil things. The problem is they paint only half the picture. I think marriages would have a better chance of lasting if couples were told up front that marriage can be very hard to get right. It isn't always easy to find the right partner in the first place and even when the partnership fits well you can't know ahead of time how each person will react to the ups and downs of family life or to each other when things go south.
For these reasons it would do us well to consider some of the fail-points in the religious approach to marriage. And maybe consider removing all the add-ons religion has imposed on the wedding and the relationship. Read more
An outline of the following post was used in a wedding ceremony I performed recently.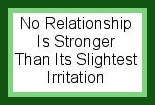 Praising Your Partners Good Qualities
Inspires More of the Same
Unfortunately, there are no perfect couples. Some couples may be perfect for each other but because marriages are only inhabited by imperfect people none can be absolutely perfect.
What that means is . . .
Quietly lurking in the background at every wedding are the faults that each person brings to the union. We all have them.
Couples aren't too bothered by them before they marry because they are too in love to notice. People attending the wedding don't pay much attention to them because they are focused on how handsome the couple looks and all the reasons they make such a great pair.
But over time the balance changes.
Once we move away from the altar and settle into a routine the things each partner loves about the other get taken for granted and irritations are felt.
It isn't serious initially. First offenses usually register as nothing more bothersome than a drop of rain.
But if the couple doesn't learn to process those drops effectively they mount up.
One drop a day over two weeks isn't serious.
One drop a day over 30 years adds up to more than 10,000 drops, approximately 500 kilograms. That is a lot of "heavy" for one relationship to bear.
Because of that, every couple contemplating marriage should ask two questions. Read more