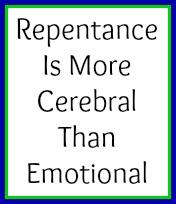 We Must Articulate The Gospel
Not Throw It At People
At the heart of Christian belief is the Gospel. It's a major concept in the New Testament. I wouldn't say it dominates but it is definitely pervasive. You find it everywhere you look.
The word is used 98 times in the New Testament and is found in nineteen books. It is mentioned toward the beginning and the ending of several of these books:
The first three books: Matthew, Mark and Luke
It seems strange that the word "Gospel" isn't found in John even once, until you realize that John focuses on "belief" which is the personal response that catalyzes the application of the Gospel to an individual's heart. John's focus, therefore, compliments the focus on the Gospel in Matthew, Mark and Luke.
Other books where "Gospel" is mentioned toward the beginning and ending are:
Romans
1 & 2 Corinthians
Galatians
Philippians
Mark gives the word first importance. It literally opens and closes the book. It is mentioned in the first verse of the first chapter and almost the last verse of the last chapter. That is also true for Romans.
In three books: Romans, Galatians and Philippians, the word is used at least five times in the first chapter alone – six times in Philippians 1.
The Gospel was obviously important to the New Testament writers and most people recognize that. Unfortunately it isn't always made very clear today.
The Gospel Needs Specific Definition
It is common that when people talk about Jesus they often mention the Gospel but rarely do much to explain it and it really needs to be explained. "Gospel" is only one word and it has a very simple, unspecific, generalized meaning: "good news." That's it. Without more detail you're still in a mist. All kinds of news can be referred to as "good" so we need to specify what the news is. Read more
Christian Character
Unlike Salvation
Requires Time
The words "believer," "Christian" and "religious" are often and wrongly used interchangeably.
If we want to know if a person is a "believer," we ask if he or she is a "Christian" when neither term guarantees the other. Being apparently "Christian" doesn't guarantee one is a "believer" and becoming a "believer" (saved) doesn't guarantee a full, immediate and irreversible changeover to only Christian ideals. These terms are not synonymous.
It also doesn't help that any person referred to as "religious" is generally assumed to be both a believer and Christian-like. Even believers get the tags mixed up – the ones who should know better – which only adds to the confusion.
These terms are similar, yes. They overlap in some ways, yes. But the differences are significant.
There is no guarantee a person will live a Christian life or get involved in religion just because they believe.
Some believers – good salt-of-earth types – never go to church or adopt the lingo associated with church goers. Their problem isn't with God or truth but with church and the people who attend.
They are Christian-like in the sense they are honest, reliable, generous, patient and so on, but don't make in-your-face claims about how Christian they are.
Even though we hate to admit it, we know this is possible based on what the Bible teaches.
Attempting to display Christian qualities (being a good person) or engaging in religious activity is neither the means nor the proof of salvation. The opposite is also true. Lacking certain qualities or failing to engage religiously may baffle us but it doesn't rule out the possibility a person is a true believer.
The person who is genuinely saved won't always be overtly Christian or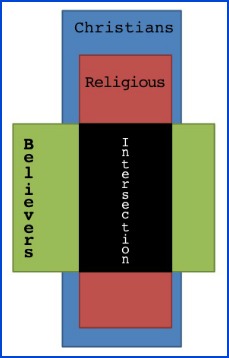 religious. Belief is a separate issue to Christian living and both are separate to religion.
We know this to be true but still use the terms without distinguishing one from another. It's been done this way so long, people do it without thinking. Semantic confusion at it's worst. Fortunately we are sensible enough not to do this in other areas. Fishing equipment is a goo example. Even though fishing poles, seines and spear guns have a common purpose no one mistakes one for the other. The terms are never used interchangeably.
But mention the words "believer," "Christian" and "religious" and things get blurred. Please allow me to explain why that should change. The differences are bigger and more significant than you might think. Read more
Jesus Is To Be Recognized
Not Found
Every Christmas we "celebrate" the birth of Jesus or at least we say we do but are we really celebrating or just memorializing?
We talk about Jesus in the past tense, like He used to be here but not now. The timing of His birth, where He was born and how desperate the circumstances were is the focus. We talk about it, play act it and build replicas of it but all of that looks back to a time in the past. A time that most of us can't relate too.
Is that how we celebrate birthdays? We look at a person's baby pictures and talk only about the circumstances of their birth, and we speak of them only in the third person, as if they aren't present or living. That makes a great memorial, not a birthday celebration.
Christmas today paints the picture of the Jesus that was then. The question is where is He now? He accomplished a lot in the few years following His birth but is He finished? Was His impact only for that day and time?
When we celebrate the birth of Jesus two important facts should influence how we plan the party:
One, He rose from the dead. He is out of the grave not in it.
Two, He is a person. He has personal attributes. He does personal things, still.
So, if He loved people, felt their pain, communicated with them, connected with them and saved them 2000 years ago shouldn't we expect Him to do the same now, even, and especially, at His birthday?
He said He came to seek and to save those who are lost then, and there is no reason to think His purpose has changed. He hasn't stopped doing what He originally came to do.
So, instead of focusing on the Christmas story of 2000 years ago, let's talk about the one that is still being written today. That focus will help us see that Jesus is doing the same thing now that He was doing then. The only change in today's story is geographical. Read more
A Question Many Entertain
And Some
Brave Enough To Ask
So, if Rob Bell's Love Wins
is an accurate representation of the truth about heaven and hell and we, therefore, can believe that those who die without Christ WILL have a chance to embrace God and salvation after death, why are we in such a hurry to share the Gospel?
Wouldn't that possibility be a good reason for people to wait till later?
Shouldn't people be allowed to find their own way to God without interference or intrusion?
Must we be in a hurry or make large personal sacrifices to carry the message to everyone if time is allowed for this later?
These questions may sound impressive but they don't hold up under scrutiny. Fleshing them out with human experience proves they do nothing to diminish the Gospel's urgency. It gives us a different, but still very good reason, to stay evangelistically focused. For example:
What would have been different if Hitler had heard and accepted the Gospel before he became the chancellor of Germany? Given the social/political/spiritual climate of the day, it wouldn't take much imagination to believe some other mad man would have filled his boots had he not come to the fore but let's assume that Hitler's salvation would be indicative of an overall climate change for the better. I mean if the Gospel was prevalent enough for Hitler to get saved wouldn't that be true for others also? And wouldn't more salvations have encouraged a different outcome?
And there are other examples to consider:
Who might still be alive if Ted Bundy had embraced Christ before his killing spree?
How many would have avoided addiction had they been influenced with the Gospel.
How many cases of abuse could the Gospel have averted.
Would it still be legal to trade slaves if William Wilberforce, having been effected by the Gospel, hadn't spent much of his life opposing it?
And more. Who knows how many lies, thefts and failures of all kinds could have been avoided if more people had been introduced to belief. No, I'm not suggesting the Gospel can create a perfectly sinless world but it does change hearts which in turn encourages the cultivation of soil in which life is bettered not battered, even if it can't be made perfect.
But all of those questions have to do with life as we live it now, before we die. There is another very intriguing question we need to consider about the life we experience after death.
If a person can get saved after they die, how long will it take following death for him or her to reach the end of their prideful sinful selves and believe? This question addresses the issue of character. Character, good or bad, is ingrained over a long time and when it is bad we don't easily see it. We become delusional. How long might it take for those delusions to dissolve? Read more
Rob's Gospel
Chapter 7
The Good News Is Better Than That
In chapter 7 of Love Wins
Rob begins with a well known, often read and universally endearing story, The Prodigal Son (Luke 15).
Everyone loves this story but interpretations are diverse. Rob's interpretation fills the entire chapter.
The characters and themes are:
One father and two sons.
The father was respected, sort of, but misunderstood by both sons.
One son, the younger, was impulsive, wasteful and self-indulgent. The other son, the older, was slavishly dutiful, arrogantly reliable but self-satisfied.
The father is the God figure and the two sons represent different types of sinners.
Those are the obvious details. Rob makes the following observation.
There is only one story being told but each character in the story sees it differently. Rob calls these different perspectives, not sub plots, but different interpretations on the main plot. Each person puts a different emotional and spiritual spin on what was happening and it clearly reveals what's in the hearts. Read more