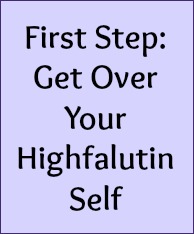 Everyone Learns
Everyone Teaches
The fact that kids learn from parents is so apparent it smacks you in the face.
Kids start out as bundles of curiosity and parents are walking talking versions of Google. Kids learn. Parents teach.
What we don't readily see, or wish to admit, is that parents can also learn from kids, and that shouldn't sound strange. The adage "Never stop learning" applies to every person – including parents – and every relationship – including kids.
I've provided a sufficient number of lessons here (6) to establish the learning-in-reverse point. There could be more.
Before jumping into the lessons, there are three irrefutable facts that support the idea. Read more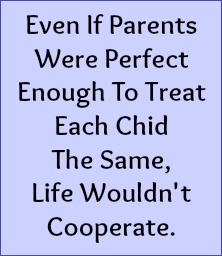 First Grade
Isn't The Same
For Anyone
Some parents pride themselves on treating all their children exactly the same. They even say this out loud as if that is the most honorable thing a parent can do.
Unfortunately for them, even if it were possible, it wouldn't be true.
I do agree that parents should attempt to treat their children equally: equal opportunity, equal resources, equal time but even that isn't possible. First children get all the attention until more are added and every child after that must share.
There's nothing equal about that.
For those who obstinately argue the equal-treatment point, the Bible doesn't help their case.
In fact, the Bible makes a few parenting statements that aren't so easy to pin down. The meaning is clear but the applications are endless. They need qualification.
There is a reason for this. Read more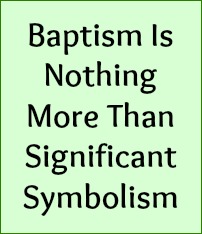 This Is Intended
To Promote Thinking
Not Fighting
A friend recently posted a question on Facebook about infant baptism.
It seemed like he was genuinely asking, not saying, or baiting. He addressed his question to "scholar" types.
The essence of the question was:
When the Bible mentions baptizing an entire family (household) when the head of the house is baptized, does this imply infant baptism?
It's a good question. The Book of Acts does record two incidents when one person – the head of a household – believed and was baptized. Lydia was one and the other was the superintendent of the city jail.
The interesting thing is, in both cases, all the family members were baptized at the same time.
It doesn't specifically say each family member confessed or believed but the idea that faith comes before baptism is so well established in Scripture it doesn't need to be repeated ad nauseam.
Both incidents occurred in Philippi and you find the details in Acts 16.
The question naturally arises:
Does this imply infant baptism?
The short answer is "no it doesn't" but that isn't much of an argument. There are many churches that baptize infants – I was sprinkled as an infant in a Presbyterian Church – so the question can't be easily dismissed. It is an established practice.
Here are my reasons for thinking infants were not involved: Read more
A Person's Capacity
For Friendship
Is Determined By
The Number Of Secrets
They Keep
In a previous post I covered 11 Negative Friendships To Avoid. Now that that's out of the way we can look at the positive benefits of a great friendship. These are the things we're all looking for and hope to find in a friendship.
A good friendship is . . . Read more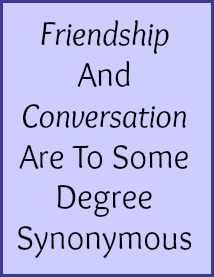 Friends Are Rarely
Saints
Friendships Rarely
Emotional Utopias
The word Friend, like the word Family, has been romanticized. It evokes idealized images of a perfect world and warm fuzzies for all.
The assumption is, a true friend can only be upright and a friendship can only be good for us. The reality is, again like family, a friendship can sometimes be very bad.
But we can't allow that possibility to put us in a permanently guarded state. Sometimes the friends we make are the only ones available. They're in our face, so to speak. We don't have a choice so we make the best of what's available.
Imperfect friends and friendships can still be very good. What we must avoid are the extremes.
Defining The Negative Friendship
All friendships have hurtful moments but an abrasion here or there doesn't make it negative. A friendship becomes negative when it is more hurtful than beneficial over the long haul.
Personality is an issue but not absolutely. A person's nature is built in and is neither intrinsically good or bad. An idiosyncrasy that irritates some people will endear us to others.
From the examples that follow it is clear that negative is a character issue and that is what spoils the mix.
One reason we gravitate to these not-so-good-for-us friendships is they are like crutches. They reinforce our disabled thinking, and that begs the question. How many people really want to change? How many of us intentionally choose friends because they are good for us and not easy. Having friends who endorse our faults relieves the pressure.
Like the song says . . .
Some of them want to abuse you and some of them want to be abused.
It's easier to stay as we are, and people who allow that are good for the friendship even if the friendship isn't good for us.
That's not how friendships are supposed to work but it does happen.
The truth is Friendship implies Equality, and good ones involve give and take. I wouldn't say friendships will ever be absolutely equal, or absolutely good for us, but there should be a balance.
The following emotionally unbalanced extremes are ones we should avoid. Read more