Promotional Price of $0.99
Or FREE On Kindle Unlimited
It's been a long wait but Tithing For Today: Why Tithing Is Good For Everyone In Every Era
is finally live on Amazon, in Kindle format, and at $0.99 is priced to sell.
You'll be glad to know the book doesn't take a demanding tone but instead is sufficiently exegetical, pointedly philosophical and, though not a how-to book on managing finances, encourages the use of copious amounts of practical wisdom in the discipline of handling money. The book also takes a decidedly more patient tack toward those learning to incorporate this practice in their regular budget.
Because "Tithing" enjoys a long history in Scripture – Genesis to Hebrews – it deserves serious consideration by every thoughtful individual and Tithing For Today
provides the rationale to answer such questions as:
Did Jesus (and Paul) eliminate tithing or reinforce it philosophically?
Did Jesus eliminate the "Law" or just the curse?
Does corruption countermand tithing?
Should our giving be by budget or whim?
If we tithe on net income which "net" are we talking about?
And more. The author's hope is the book will give you plenty to think about.
Christmas Is Associated With
Giving, Receiving And Waiting
For some, Christmas never seems to get here soon enough and the closer it gets the worse the waiting becomes.
The tree goes up several weeks before and the presents start collecting at the base. All the bright wrapping says "guess what I am?" or "ha ha, you have to wait!" and there's not much you can do to solve the mystery other than cheat, which no one would do at Christmas time, right?
And that's not all.
There are also surprise gifts, the ones that can't be easily wrapped – bicycles, trampolines, large stuffed animals, a car in the driveway, etc. Each person knows what they want – and everyone else knows too – but there is no evidence at all, not even a comment slip, to give it away.
So, we wait.
But really, when you think about it, we have it nice. We only have to wait one year for Christmas and even though the anticipation grows the closer it gets, the smell of Christmas keeps us upbeat, so the waiting is tolerable. In some cases it's fun.
The First Christmas Was Long In Coming
But what about the first Christmas? The one the Old Testament folks knew was coming, even had clues was near, but didn't know it was there until after the fact. Read more
Ritual Means Little
If The Heart Hasn't Changed
As I mentioned in a previous post, the phrase "Christmas Story" encompasses far more than just a nativity scene. There are other related events and people that add a lot of color and meaning but receive nothing more than a passing glance. Leaving them out means we get only a partial picture.
Zacharias Is A Good Example
One person connected to the birth story that gets very little attention is Zacharias. His story is found in the first chapter of Luke and takes place six months before the conception of Jesus.
Let me share his experience.
Serving But Possibly Cynical
The story opens with a few background details about Zacharias and his wife, Elizabeth.
He is a priest and they are described as righteous and blameless (upstanding) but childless. They are also well beyond their child bearing years. Not a happy state since children were believed to be a sign of God's blessing. Culturally it was considered shameful not to have kids.
At the time of the story Zacharias is in the Temple burning incense and something very unusual happens. An angel appears and tells him very matter-of-factly that his prayers have been heard. He and Elizabeth will have a son whose name will be John.
There couldn't have been a more appropriate time for the angel to appear. Incense was symbolic of prayer and this is obviously something for which Zacharias and Elizabeth had prayed. His response, however, was anything but believing. Instead of humbly accepting this good news and being thankful he was skeptical. His response: Read more
Empower Grannies
It's A Concept
I completed my first Tour Durban this year (2013) and it was a great pleasure for several reasons:
One, it was my fastest race ever at 3h 54m. Since I have never finished a race in under five hours that represented monumental improvement.
I knew at the finish I had done well but was stoked to discover it was sub 4 hours!
Two, it was in Durban. What's not to like? The weather is mostly good year round and on this particular day it was perfect. Not too cold. Not too hot. No rain at all and very little wind.
What makes this race unique is the roads are mostly wide and fairly smooth so you don't feel cramped or shaken like a can of paint. And with just over 1100 meters of vertical ascent – most of it occurring in the first 30 kilometers – it is a great test of cycling skill.
Three, it was another great opportunity to feature the new riding jerseys for the South African Children's Resiliency Project (SACRP) and these jerseys can't be missed. They stand up and shout.
The colors are bright (reddish-orange and yellow) and the design is simple. There is nothing busy about it. One glance and you know exactly what you're looking at. Your brain is tattooed with SACRP for life.
It was designed to draw people in and make them curious enough to ask what it's about.
And it's working. I was approached by a cameraman collecting footage for SuperSport and he asked me to explain what I was riding for.
Could I say a few words for the camera?
Mistake! I don't have any problems with verbal responses – other than saying too much – and I've had a lot of time to think about the SACRP and therefore have a lot of formulated thought to spew.
The cameraman did two takes and he seemed to be pleased.
Hopefully, the footage will make it into the program but even if it doesn't, the idea is working.
The SACRP is getting noticed and I am privileged to ride for the cause.
This won't be the last time the jersey is worn in a race and we are looking for others to wear the colors also. If you would like to join the cause please let me know.
New jerseys are being organized as I write. The next race to feature the jerseys is the Amashova.
Stay fit and ride for a cause.
THINK!AboutIt
Many Thanks to Rika at Cycle Nation
Big thanks goes out to Rika at Cycle Nation. She was kind enough to take my picture at the start line and email me a copy following the race. You can see all of her Tour Durban pics in the Cycle Nation gallery and you'll find many more pics of other races there also.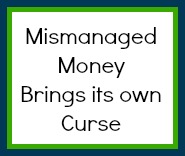 Not All Curses Are Mystical
Not All Tithers Are Immune
In the very last book of the Old Testament, almost the last chapter of the book, Malachi makes an extraordinary statement. It contains a promise that is both positive and negative, good and bad news, and it focuses on one's material well being.
On the one hand it promises a material blessing and on the other it guarantees a curse. No middle ground is mentioned.
Kind of like a cold sweat, this verse offers thrills and chills at the same time. Since God made the promise we need to study it carefully.
The promise is found in Malachi 3:8-10 and Malachi is quoting God.
Will a man rob God? Yet you have robbed me. But you say, Wherein have we robbed You? In tithes and offerings.

9 Ye are cursed with a curse: for you have robbed me, even this whole nation.

10 Bring all the tithes into the storehouse, that there may be meat in my house, and prove me now herewith, says the Lord of hosts, if I will not open you the windows of heaven, and pour you out a blessing, that there shall not be room enough to receive it.
Even though some think this applies only to Israel in the Old Testament it still deserves a look. The blessing mentioned here is repeated by Jesus in the New Testament and since it was originally attached to the tithe it makes sense to understand how it worked.
God Promises To Bless Tithing
Exactly what is tithing? Usually the word "tithe" is associated with money and money is involved but it is much more than finance. Tithing involves a relationship between the individual and God, and the arrangement is simple. The individual faithfully tithes and God, in turn, blesses materially and in other ways. The important thing to remember is that this isn't just another good idea for raising ministry funds. Malachi was quoting God not expressing his personal opinions and he wasn't making a "general" appeal for offerings.
The formula is not difficult to grasp. The only question is, exactly what constitutes a tithe? We need to answer that question because God promised to bless tithing specifically, not "generosity" or "giving" in general. This wasn't a promise to respond in kind.
In a nutshell God said:
Tithe! I'll bless you for it. You're cursed anyway. You're robbing me when you don't.
This isn't poetry. It's a clear, concise statement of truth. Even though some think the "curse" and the apparent demand for a tithe seems harsh there are reasons to think differently.
Unlike salvation which is unconditional, tithing is contractual and conditional. It has two sides. We do our part and God does His part. Salvation is unconditionally guaranteed but God's material blessing is not. God does the blessing only when you do the tithing. Doing whatever you feel you can, whenever you think possible is not the deal, so we need to understand how tithing worked, especially as it relates to blessing-cursing. This will give us a format to work with today. Read more