Christmas Is Associated With
Giving, Receiving And Waiting
For some, Christmas never seems to get here soon enough and the closer it gets the worse the waiting becomes.
The tree goes up several weeks before and the presents start collecting at the base. All the bright wrapping says "guess what I am?" or "ha ha, you have to wait!" and there's not much you can do to solve the mystery other than cheat, which no one would do at Christmas time, right?
And that's not all.
There are also surprise gifts, the ones that can't be easily wrapped – bicycles, trampolines, large stuffed animals, a car in the driveway, etc. Each person knows what they want – and everyone else knows too – but there is no evidence at all, not even a comment slip, to give it away.
So, we wait.
But really, when you think about it, we have it nice. We only have to wait one year for Christmas and even though the anticipation grows the closer it gets, the smell of Christmas keeps us upbeat, so the waiting is tolerable. In some cases it's fun.
The First Christmas Was Long In Coming
But what about the first Christmas? The one the Old Testament folks knew was coming, even had clues was near, but didn't know it was there until after the fact. Read more
Ritual Means Little
If The Heart Hasn't Changed
As I mentioned in a previous post, the phrase "Christmas Story" encompasses far more than just a nativity scene. There are other related events and people that add a lot of color and meaning but receive nothing more than a passing glance. Leaving them out means we get only a partial picture.
Zacharias Is A Good Example
One person connected to the birth story that gets very little attention is Zacharias. His story is found in the first chapter of Luke and takes place six months before the conception of Jesus.
Let me share his experience.
Serving But Possibly Cynical
The story opens with a few background details about Zacharias and his wife, Elizabeth.
He is a priest and they are described as righteous and blameless (upstanding) but childless. They are also well beyond their child bearing years. Not a happy state since children were believed to be a sign of God's blessing. Culturally it was considered shameful not to have kids.
At the time of the story Zacharias is in the Temple burning incense and something very unusual happens. An angel appears and tells him very matter-of-factly that his prayers have been heard. He and Elizabeth will have a son whose name will be John.
There couldn't have been a more appropriate time for the angel to appear. Incense was symbolic of prayer and this is obviously something for which Zacharias and Elizabeth had prayed. His response, however, was anything but believing. Instead of humbly accepting this good news and being thankful he was skeptical. His response: Read more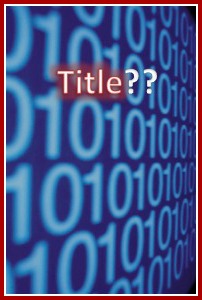 My book on tithing is almost ready to be published but I'm still not sure about the title. At the moment the title is:
Tithing For Today: Why Tithing Is Good For Everyone In Every Era
I like the title but was told that it isn't catchy enough. So, I thought I would ask you, the public, what you thought. Please leave suggestions in the comments and if you come up with the winning title I'll give you credit in the book.
And for the non-tithers out there, please be nice. Thanks
Part 1 Is Biographical
Part 2 Is Technical
Read Part 1
So, back to my dilemma.
At the age of 21 I was fully recommitted to Christ but I didn't know what that commitment looked like. One question I struggled with often was:
"How much should I give to God and how often should I give it?"
It wasn't an easy question to ignore. The offering plate was passed in every church service and since I attended every one of those services I was constantly wrestling with a compulsion to give without knowing specifically what to do.
I was hesitant. I wanted to do the right thing but knew there had to be a limit where "right" ended and "irresponsible" began. Should I just pass the plate along, wave a hand over it like I was putting something in, actually put in a little change, give a chunk or what.
The one thing I couldn't do was avoid it.
To motivate people to give, the minister would mention the financial burdens of the church and then pray for the offering. What sincere Christian could be unmoved. I wanted to do my part but wasn't sure exactly what my part was.
To make things even worse, my Dad, a hybrid Baptist/Methodist from way back and a Presbyterian during many of his last years, was constantly accusing the Baptist of only wanting money. He didn't like me attending a Baptist church and he was even less impressed with me giving them money.
In this case, however, I was 21 years old and responsible to make decisions for myself. And to be smart I decided to do some research. That is where my friend Nancy came in.
She was a mature Christian and had much more knowledge of the Bible than I so I decided to broach the question with her.
I didn't, however, expect what I got. Read more
Part 1 Is Biographical
Part 2 Is Technical
Proceed to Part 2
I was 21 years old and had recently recommitted my life to Christ. As a result, my career path changed, my life was motivated by a different purpose and I was deaf to any advice to the contrary. My commitment was unshakable.
I had gotten to this place through a series of circumstances too involved to share in detail but suffice it to say that I had been flitting from one attraction to another for many years and had learned to numb the pain of aimlessness by engaging in selfish pursuits and questionable pleasures. It was all about me.
So, at 21 and with a renewed sense of commitment, having previously experienced things that did not fulfill, I was determined not to waste another second being self absorbed. I was willing to do anything required to follow Christ. Anything!
The problem was I didn't really know what to do next. I got baptized, sure, and I attended church, even when there was no service, but other than that I was ignorant.
One afternoon in the early stages of my recommitted journey, however, I was hit with a sledgehammer of guilt. I was doing what I often did when not in church, visiting Christian friends, and on this particular day I was visiting with Nancy, a friend I had known for many years.
Nancy and I grew up in the same neighborhood and her brother, Richard, had led both of us to salvation in Christ, along with several other kids in the neighborhood. We were 13 at the time but it still seems like yesterday.
The first few weeks following that conversion were exhilarating!
Richard got us kids together almost daily, sang Christian choruses and taught short Bible lessons. We didn't worry about getting into trouble. It didn't occur to us to cause any. We had a new outlook and everything seemed great! We were headed in a new direction.
Nancy and I were only 13 but during that time both of us made commitments to serve Christ in some full time capacity. Everyone thought we were crazy, except Richard, but as it turned out, God was behind it.
I'm not sure what ministry Nancy committed to specifically but I committed to missionary work in Africa. I didn't know where in Africa but at the time it wasn't an issue. I wasn't packing my bags to leave the next day. Admittedly, I didn't know much about Africa, other than it was a big place and was home ground to large ferocious beasts, but I was certain in my heart that God wanted me somewhere in Africa.
I remember the moment I made the commitment vividly. Read more