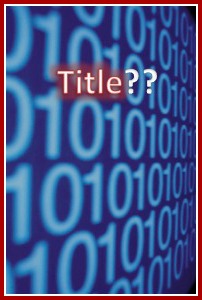 My book on tithing is almost ready to be published but I'm still not sure about the title. At the moment the title is:
Tithing For Today: Why Tithing Is Good For Everyone In Every Era
I like the title but was told that it isn't catchy enough. So, I thought I would ask you, the public, what you thought. Please leave suggestions in the comments and if you come up with the winning title I'll give you credit in the book.
And for the non-tithers out there, please be nice. Thanks
Part 1 Is Biographical
Part 2 Is Technical
Read Part 1
So, back to my dilemma.
At the age of 21 I was fully recommitted to Christ but I didn't know what that commitment looked like. One question I struggled with often was:
"How much should I give to God and how often should I give it?"
It wasn't an easy question to ignore. The offering plate was passed in every church service and since I attended every one of those services I was constantly wrestling with a compulsion to give without knowing specifically what to do.
I was hesitant. I wanted to do the right thing but knew there had to be a limit where "right" ended and "irresponsible" began. Should I just pass the plate along, wave a hand over it like I was putting something in, actually put in a little change, give a chunk or what.
The one thing I couldn't do was avoid it.
To motivate people to give, the minister would mention the financial burdens of the church and then pray for the offering. What sincere Christian could be unmoved. I wanted to do my part but wasn't sure exactly what my part was.
To make things even worse, my Dad, a hybrid Baptist/Methodist from way back and a Presbyterian during many of his last years, was constantly accusing the Baptist of only wanting money. He didn't like me attending a Baptist church and he was even less impressed with me giving them money.
In this case, however, I was 21 years old and responsible to make decisions for myself. And to be smart I decided to do some research. That is where my friend Nancy came in.
She was a mature Christian and had much more knowledge of the Bible than I so I decided to broach the question with her.
I didn't, however, expect what I got. Read more
Part 1 Is Biographical
Part 2 Is Technical
Proceed to Part 2
I was 21 years old and had recently recommitted my life to Christ. As a result, my career path changed, my life was motivated by a different purpose and I was deaf to any advice to the contrary. My commitment was unshakable.
I had gotten to this place through a series of circumstances too involved to share in detail but suffice it to say that I had been flitting from one attraction to another for many years and had learned to numb the pain of aimlessness by engaging in selfish pursuits and questionable pleasures. It was all about me.
So, at 21 and with a renewed sense of commitment, having previously experienced things that did not fulfill, I was determined not to waste another second being self absorbed. I was willing to do anything required to follow Christ. Anything!
The problem was I didn't really know what to do next. I got baptized, sure, and I attended church, even when there was no service, but other than that I was ignorant.
One afternoon in the early stages of my recommitted journey, however, I was hit with a sledgehammer of guilt. I was doing what I often did when not in church, visiting Christian friends, and on this particular day I was visiting with Nancy, a friend I had known for many years.
Nancy and I grew up in the same neighborhood and her brother, Richard, had led both of us to salvation in Christ, along with several other kids in the neighborhood. We were 13 at the time but it still seems like yesterday.
The first few weeks following that conversion were exhilarating!
Richard got us kids together almost daily, sang Christian choruses and taught short Bible lessons. We didn't worry about getting into trouble. It didn't occur to us to cause any. We had a new outlook and everything seemed great! We were headed in a new direction.
Nancy and I were only 13 but during that time both of us made commitments to serve Christ in some full time capacity. Everyone thought we were crazy, except Richard, but as it turned out, God was behind it.
I'm not sure what ministry Nancy committed to specifically but I committed to missionary work in Africa. I didn't know where in Africa but at the time it wasn't an issue. I wasn't packing my bags to leave the next day. Admittedly, I didn't know much about Africa, other than it was a big place and was home ground to large ferocious beasts, but I was certain in my heart that God wanted me somewhere in Africa.
I remember the moment I made the commitment vividly. Read more
Tithers Offer Confused Instructions
But
Anti-Tithers Give None At All
Other Than Don't Tithe
The definition of tithing is really straight forward. The word means one tenth or ten percent and it is the designated amount of one's income dedicated for God's purposes. A "Tither" is someone who contributes ten percent of their income to God.
But don't let that simple definition fool you. Tithing isn't an easy topic to dissect. Every tither agrees on the ten percent part but they don't all agree on how to calculate it or how it should be applied. When one person says "Tithe" it can mean one thing and when another person says it, it can mean something very different and the differences are significant. Questions abound. Read more
Empower Grannies
It's A Concept
I completed my first Tour Durban this year (2013) and it was a great pleasure for several reasons:
One, it was my fastest race ever at 3h 54m. Since I have never finished a race in under five hours that represented monumental improvement.
I knew at the finish I had done well but was stoked to discover it was sub 4 hours!
Two, it was in Durban. What's not to like? The weather is mostly good year round and on this particular day it was perfect. Not too cold. Not too hot. No rain at all and very little wind.
What makes this race unique is the roads are mostly wide and fairly smooth so you don't feel cramped or shaken like a can of paint. And with just over 1100 meters of vertical ascent – most of it occurring in the first 30 kilometers – it is a great test of cycling skill.
Three, it was another great opportunity to feature the new riding jerseys for the South African Children's Resiliency Project (SACRP) and these jerseys can't be missed. They stand up and shout.
The colors are bright (reddish-orange and yellow) and the design is simple. There is nothing busy about it. One glance and you know exactly what you're looking at. Your brain is tattooed with SACRP for life.
It was designed to draw people in and make them curious enough to ask what it's about.
And it's working. I was approached by a cameraman collecting footage for SuperSport and he asked me to explain what I was riding for.
Could I say a few words for the camera?
Mistake! I don't have any problems with verbal responses – other than saying too much – and I've had a lot of time to think about the SACRP and therefore have a lot of formulated thought to spew.
The cameraman did two takes and he seemed to be pleased.
Hopefully, the footage will make it into the program but even if it doesn't, the idea is working.
The SACRP is getting noticed and I am privileged to ride for the cause.
This won't be the last time the jersey is worn in a race and we are looking for others to wear the colors also. If you would like to join the cause please let me know.
New jerseys are being organized as I write. The next race to feature the jerseys is the Amashova.
Stay fit and ride for a cause.
THINK!AboutIt
Many Thanks to Rika at Cycle Nation
Big thanks goes out to Rika at Cycle Nation. She was kind enough to take my picture at the start line and email me a copy following the race. You can see all of her Tour Durban pics in the Cycle Nation gallery and you'll find many more pics of other races there also.