Designed For Children
Written For Everyone
The Green Ember
is a great story written well. Rabbits are the heroes, wolves and hawks the villains.
The story is full of intrigue, adventure, action, mystery, surprise and struggle, but with a good mix of humor and playfulness. Written for children but in a way adults will enjoy.
The characters (the good guys) depict personal growth, sacrifice, humility, loyalty, trust, wisdom and dedication. The bad guys do what we expect bad guys to do. The story encourages us to visualize, believe in and work toward a future we cannot see.
Problems are created and resolved. Empathy is felt for those being wronged and disgust for those causing it. You'll easily recognize and identify with the characters: the strong, the weak, the frustrated and the struggling.
A few phrases I loved: Read more
Quilters Turn Scraps
Into Winter Time Gold
A little over a year ago (October 2013) my wife heard about an interesting project involving quilts.
She loves all things quilts so her natural response was to look further and find out what was going on.
As it turns out the project is spearheaded by Sheila van Dyk and is quite ambitious. Sheila aims to recruit as many quilters as possible to build the world's largest quilt verified, of course, by The Guinness Book of Records.
Ultimately the project is for charity, not fame. The large quilt will be constructed by sewing 11,000 single bed sized quilts together, which will then be separated and donated to charity. Read more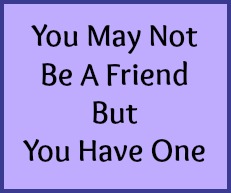 Unequal Friendship
Includes Charity
But Is Much Much More
There are two types of healthy friendships: Equal and unequal. Equal we understand and easily accept. Friendship is synonymous with give-and-take. The equal kind where your giving balances out your taking.
Unequal we don't get so much. When one person does most of the giving and the other does most of the taking, isn't that unacceptable?
That's how we usually see it but is that always true? Can a friendship be good when equality is distorted? I think it can. In fact, the greatest friendships are unequal. Let me explain.
Equal Friends
Equal friends are peers. Their lives run in parallel. They aren't exactly the same but they have equal levels of development. Generally:
They share similar levels of health, education and opportunities for employment. Neither is handicapped or maybe both are handicapped but they are equal.
They speak the same language and maintain the same standard of living.
They share common opportunities for recreation, lifestyle habits and so on.
They may not make the same choices but they share common options.
They may not have the same job position but they work in the same strata of society.
It isn't uncommon for people on an equal footing to meet and become connected at the friendship level. It isn't forced. Neither is uncomfortable with the other. There is no condescension either way.
They are able to give as much as they receive.
But there is a second angle on friendship that tells a different story.
Unequal Friends
This kind of friendship is marked by either division or disparity, or sometimes both. If it's division, the friends represent differing sides. If it's disparity, the friends are on different social levels, more vertical than horizontal. One looking down, the other looking up.
Unequal friendships require a great effort, at least on the part of one, for the connection to be made. One side is sacrificing, the other benefits.
This doesn't seem fair and according to Jesus it isn't, but it is not what you think. The giver, He said, is much more blessed than the receiver.
When beliefs are involved compromise is assumed but, again, not so. Giving a person what they need on a personal level doesn't require alignment of beliefs. You'll see just now. Read more
Promotional Price Of $2.99
Or FREE On Kindle Unlimited
It's been a long wait but Tithing For Today: Why Tithing Is Good For Everyone In Every Era
is finally live on Amazon, in Kindle format, and at $2.99 is priced to sell.
You'll be glad to know the book doesn't take a demanding tone or attempt to shame anyone into tithing but instead is sufficiently exegetical, pointedly philosophical and, though not a how-to book on managing finances, encourages the use of copious amounts of practical wisdom in the discipline of handling money. The book also takes a decidedly more patient tack toward those learning to incorporate this practice in their regular budget.
Because "Tithing" enjoys a long history in Scripture – Genesis to Hebrews – it deserves serious consideration by every thoughtful individual and Tithing For Today
provides the rationale to answer such questions as:
Did Jesus (and Paul) eliminate tithing or reinforce it philosophically?
Did Jesus eliminate the "Law" or just the curse?
Does corruption countermand tithing?
Should our giving be by budget or whim?
If we tithe on net income which "net" are we talking about?
And more. The author's hope is the book will give you plenty to think about.
Christmas Is Associated With
Giving, Receiving And Waiting
For some, Christmas never seems to get here soon enough and the closer it gets the worse the waiting becomes.
The tree goes up several weeks before and the presents start collecting at the base. All the bright wrapping says "guess what I am?" or "ha ha, you have to wait!" and there's not much you can do to solve the mystery other than cheat, which no one would do at Christmas time, right?
And that's not all.
There are also surprise gifts, the ones that can't be easily wrapped – bicycles, trampolines, large stuffed animals, a car in the driveway, etc. Each person knows what they want – and everyone else knows too – but there is no evidence at all, not even a comment slip, to give it away.
So, we wait.
But really, when you think about it, we have it nice. We only have to wait one year for Christmas and even though the anticipation grows the closer it gets, the smell of Christmas keeps us upbeat, so the waiting is tolerable. In some cases it's fun.
The First Christmas Was Long In Coming
But what about the first Christmas? The one the Old Testament folks knew was coming, even had clues was near, but didn't know it was there until after the fact. Read more