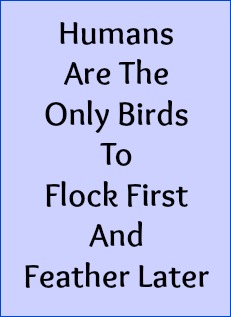 Dogma Has A
Short Shelf Life
In the movie, Hoffa
, starring Jack Nicholson, Danny DeVito and more, one of the opening scenes has Nicholson and Robert Prosky firebombing a laundry in retaliation to the owner's refusal to join the union.
Unfortunately, the bombing goes badly wrong and Prosky's character, Billy Flynn, is caught in the flames. Dying in the hospital, Billy is coaxed to confess by the attending priest. That could be tricky for two reasons.
Billy is convinced he was acting justly, which doesn't require confession, and more importantly a confession might possibly lead to the conviction of Hoffa and his new sidekick played by DeVito.
Billy's response is surprising and unexpected.
He looks at the priest, breaths an expletive and then makes an unforgettable quote.
Never let down. Never let up. Never forget.
I don't know if that really happened but I don't doubt people have expressed that kind of devotion in the face of life and death situations. I also don't doubt that Hoffa was able to elicit that kind of devotion.
But here is the point. Devotion is not always what you think.
Generally, we view devotion as an honorable thing and devoted people as committed, reliable and good. In fact, devotion is a popular topic in religious circles and the truly devoted are among the best religion has to offer.
But is that completely accurate? According to Hoffa, devotion can apply to less principled types.
Devotion has a moral sense that doesn't fall within the boundaries of traditional thinking. People frequently commit themselves to causes, groups and ideologies that are questionable at best. It happens all the time.
And once established, devotional connections are difficult to dislodge, regardless how right or wrong they may be. According to a Michigan study, devotion becomes more resolute in response to challenging facts. The followers of Hoffa didn't let the law get in the way.
In reality, devotion is just devotion. It's neither good nor bad, and it has many dimensions to consider. You find it everywhere, even among the unsavory.
Based on that thought we could make some interesting observations about devotion. Read more
Recently a Googler asked "why should I put God first in my life?" Good question. It is very different to what people usually ask – HOW do we put God first – and the answer isn't obvious.
No ready explanations are found in the Bible and many people won't even entertain the question. They can't. It's too much like questioning God's right to have first place and believers tend to shy away from that type of discussion, although I think God would encourage it.
Most avoid saying anything about "why" God should have first place other than quote Jesus who suggested the only place God will have is first:
Seek ye first the kingdom of God and His righteousness… (Matt. 6:33)
And
The first of all the commandments is…you shall love the Lord your God with all your heart, and with all your soul, and with all your mind, and with all your strength… (Mark 12:29-30)
But aside from these two statements, He didn't give much in the way of explanation. Obviously, He thinks we are clever enough to figure it out and if that is true then it's only the lazy or fearful person that avoids the question. So, we will have to do a little thinking. Read more
Spiritual growth, people say, is evidenced when an individual puts God in their life but what does that mean, really?
According to Scripture, God is everywhere already (omnipresent). There is no door we can open through which He hasn't been. There is no place He doesn't inhabit by nature, constantly.
Therefore, God is already "in" every person's life and the Bible leads us to understand He knows everything about each one (omniscient). Even your heart isn't off limits to Him. He knows what's on your mind and in your heart.
The Psalmist said God knows the secrets of the heart (Psalms 44:21)
David confessed that God knew his thoughts from afar (Psalm 139:2)
David also said God observed him in his mother's womb (Psalm 139:15-16)
Solomon said "the eyes of the LORD are in every place, keeping watch on the evil and the good" (Prov. 15:3)
The writer of 2 Chronicles said "the eyes of the LORD run to and fro throughout the whole earth, to give strong support to those whose heart is blameless toward him" (16:9).
That last reference implies that God is sufficiently knowledgeable about each heart to determine which are blameless and which are not. That's more than proximity, its personal. Read more