Quilters Turn Scraps
Into Winter Time Gold
A little over a year ago (October 2013) my wife heard about an interesting project involving quilts.
She loves all things quilts so her natural response was to look further and find out what was going on.
As it turns out the project is spearheaded by Sheila van Dyk and is quite ambitious. Sheila aims to recruit as many quilters as possible to build the world's largest quilt verified, of course, by The Guinness Book of Records.
Ultimately the project is for charity, not fame. The large quilt will be constructed by sewing 11,000 single bed sized quilts together, which will then be separated and donated to charity. Read more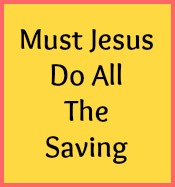 The Season For Live Saving
Is Always Open
To Everyone
From an early stage in my Christian experience I was told that "Jesus is 'THE' Savior not 'A' Savior," with no qualification. The meaning was obvious. There was only one Savior and Jesus was it. When said the idea was expressed enthusiastically, with a hint of accusation.
If you didn't agree, you were in trouble.
Needing to think about it was reason to question one's loyalty.
Of course, in the early years I loved it. Thought it was a very clever way to make a strong point. It made a great party cry for believers.
Looking back, I now realize the statement is a little misleading and smacks of religious totalitarianism.
When you think about it, and I've had a lot of time to do that, you realize that Jesus isn't the only Savior. In fact, there are many saviors in the world and you really can't get the right perspective on Jesus till you've given all of them due consideration.
Let's take a look at a few. Read more
I Now Know
Why They Call It
A "Challenge"
Whether you cycle professionally, to stay fit or just to be social, the 94.7 Cycle Challenge is a great option. I entered the race for the first time this year and plan to do it again next year, the Lord willing and finance allowing.
My daughter-in-law, Sara, rode with me and it was her first race of any kind. She is planning to be there again next year also.
Route Description
The route is circular starting on the M1 leading into Joburg and finishing at the picturesque Waterfall Estate. It mostly follows main thoroughfares around Joburg but briefly juts into a historic section of the city centre before following the Nelson Mandela Bridge out of the city and along what is deceptively referred to as a rolling track which includes several types of roads: four lane stop-start highways, freeways (national and metro) and two lane roads in both residential and rural areas.
High Points
The list of high points is quite long and combined they helped create a great atmosphere for a road race. All credit goes to the organizers and to Joburgers for making that possible. The synergy was remarkable.
There were ten official water points all providing refreshments, mechanical assistance, medical support and physio treatment. The longest distance to any table was 15 kilometers and that was the first two tables following the start. All other tables were separated by no more than 10 kilometers. Several were only 5 kilometers apart.
Loads of additional, yet unofficial, tables provided refreshments, toilets, mechanical assistance and encouragement, all sponsored by small businesses and friendly people and at least one provided great humor. It featured a sign that read "EPO sponsored by Lance." I got a good laugh out of that and later learned they were giving out shots of Tequila.
The ambiance was great! Hundreds of braaing spectators set up gazebos along the route and clapped and cheered riders on. Even large corporations set up additional stands to support the race and these stands really stood out. Organizers referred to these stands as "Power Zones." They were so impressive, Sara and I paused at one thinking it was a water table but kept moving once we realized we were in the wrong spot. It was encouraging, however, to know the community was coming out to spend their morning – and afternoon – watching us ride. Read more
On 18 Oct 2009, just a couple months away, I will be riding in a bicycle race, Amashova National Classic Durban, but I am riding for more than just the exercise.
I need the exercise, to be sure, but it seems a little self-centered to ride only for my physical well being, especially since I live in the presence of hundreds of thousands who have so little and need so much. Therefore, I am adding another dimension to this event, orphans. I decided to use the occasion to raise awareness of the problem in general and to promote one project in particular: The South African Children's Resiliency Project.
The SACRP (locally known as CRP) is spear headed by a good friend and colleague, Dr. Bob Graham. I first met Bob in 1990 and since that time he has made numerous trips to South Africa and worked with us on many short term projects. Bob, however, doesn't do things in a small way. His vision and dream involved helping the underprivileged on a long term basis and, therefore, the CRP was born. Bob is now living in South Africa developing orphan homes for those affected by AIDS.
Jesus performed thousands of miracles.  He was constantly healing endless numbers of people. Some He raised from the dead.
He was sensitive to the needy and never avoided or resisted an opportunity to give His support. He even responded to basic human needs that were far from life threatening. He fed thousands who were neither poor nor malnourished on at least two occasions, possibly more. John did say Jesus performed many other miracles that were not reported.
But, the questions are:
Was Jesus being helpful or miraculous?
Was He being supportive or sensational?
Was He demonstrating usefulness or power?
These are important questions. They establish motive and we can never qualify as "followers" of Jesus if we don't understand and adopt His motives.