A Well Said Point
Is Worth A Thousand Words
Pure prose, even when well written, can easily become long winded which in turn stifles rather than stimulates the thought processes. We've all been there.
That may be the reason poetry became so popular. It says a lot in very few words and very graphically. It's hard not to like. But, theology doesn't fit too well in poetic rhyme. It needs definition and explanation.
In recent times, however, the art of taking long drawn out, slow building concepts and encapsulating them in a few carefully chosen words has become popular. It is one way to reduce a big idea to one easy to remember sentence or phrase. That's the idea behind headings also.
Mark does this often in "To The Wall" and I thought I would mention a few to give you a glimpse of what you can expect. Read more
Not Religious, Not Ceremonial
But Prayer In Action
Mark van Straaten, the author of To The Wall, is a friend of mine. Our paths crossed a few years back at a pivotal point in my spiritual journey. I had finally caught on to the fact that God wasn't restricted to using only Baptists and some of His "other" servants could be quite effective and very decent people. The story of how I got to that transformation is too long to tell here, and really isn't the point, but my next step following that realization was to venture out and make contact.
At the time, Mark happened to be one of the more prominent non-Baptist pastors in my area so I decided to ask him to join me for a cup of coffee. He agreed and for me it was a friendship from the start. His ministry was thriving when we first met and it's still going strong today.
Since Mark is a friend, and someone I respect a lot, you might wonder how I could possibly be objective in a review of any book he writes. Well, it's easy. Let me explain before I get to the book.
Over the years I've sat in many pastors' meetings with Mark, and without fail, when discussions gravitated to topics more easily confused than explained, Mark demonstrated the uncanny ability, not to make a point or even make a good point but to put his finger on the one point that clarified the issue. He didn't necessarily answer the question or solve the problem, he just put things in perspective. That's useful since it is very difficult to do anything constructive with confusion.
Therefore, when I heard Mark had written a book, I wanted a copy. I knew he would make a point worth reading.
Now the book. Read more
Christmas Is Associated With
Giving, Receiving And Waiting
For some, Christmas never seems to get here soon enough and the closer it gets the worse the waiting becomes.
The tree goes up several weeks before and the presents start collecting at the base. All the bright wrapping says "guess what I am?" or "ha ha, you have to wait!" and there's not much you can do to solve the mystery other than cheat, which no one would do at Christmas time, right?
And that's not all.
There are also surprise gifts, the ones that can't be easily wrapped – bicycles, trampolines, large stuffed animals, a car in the driveway, etc. Each person knows what they want – and everyone else knows too – but there is no evidence at all, not even a comment slip, to give it away.
So, we wait.
But really, when you think about it, we have it nice. We only have to wait one year for Christmas and even though the anticipation grows the closer it gets, the smell of Christmas keeps us upbeat, so the waiting is tolerable. In some cases it's fun.
The First Christmas Was Long In Coming
But what about the first Christmas? The one the Old Testament folks knew was coming, even had clues was near, but didn't know it was there until after the fact. Read more
Why are the Ten Commandments so shallow/narrow? Why do the commandments say nothing about children's rights, the internet or offer great insights about math?
I found the above question a little amusing. It came originally from an Agnostic/Atheist type (Agath) and is very different to what you would expect. Agaths usually oppose restrictive laws and here one is asking for more. Doesn't make sense!
But that's not the only weak point in this question. Three areas of concern are mentioned: Children's rights, mathematics and the internet. And the complaint is, God failed to regulate these issues.
Well, I agree and disagree. Read more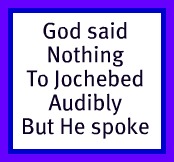 Mention the name "Jochebed" and most people give you a blank look. But refer to Moses' Mother and the light comes on.
Everyone knows the story of Moses. He features prominently in Exodus through Deuteronomy and, in fact, wrote all four books. There is little question that he edited the Book of Genesis also – with God's guidance, of course.
There is also little question that Jochebed should get a lot of credit for everything Moses did.
Of the many unusual things about the life of Moses, the one that is rarely mentioned is the fact that the Bible covers his complete bio from birth to death. Very few have that distinction: Samson, Samuel, John the Baptist and Jesus to name a few. It is also interesting that the lives of these people are accompanied by miracles, at least at birth.
Unlike the others, however, Moses' conception wasn't miraculous. His survival immediately following birth was.
Pharaoh, the reigning monarch when Moses was born, decreed that all male born Israelites be sacrificed to the Nile. Not only did Moses survive that decree he was also protected in the safest possible place, the palace of Pharaoh.
It was a miracle, yes, but not in the normal sense of the word. This miracle required a large dose of human activity by someone with a lot of courage, tenacity and ingenuity.
Enter Jochebed, a little known figure otherwise, but one that will forever be associated with the miraculous survival of Moses. The question is, did God speak to this woman and if so, how?
The story unfolds like this: Read more