Shirley, the author of Blended Family Advice: A step-by-step guide to help blended and step families become strong and successful
, is not only a qualified psychologists specializing in marriage and family counseling – with two Masters degree, one in family and marriage counseling and one in education – but also a wife and mother in a blended family. She's lived through the experience. She knows first hand what it takes to blend members from two different families into a secure family group and she honestly and openly provides gems of wisdom from both her academic training and her blended family experience.
Reading through the book it is clear that her advice is good for traditional family units also which means she is not changing the rules. Instead, Shirley is helping blended families navigate the unfamiliar turbulence created when two groups of people, previously unknown to each other, move toward a desirable place: family.
The book is refreshing because Shirley doesn't excuse poor family structure on the challenges of being a blended family. She makes it clear from the start that sound family structure can be maintained in spite of the difficulties. The challenges are different but not impossible to deal with and the solutions she provides enable blended families to achieve the same stability as traditional ones. She provides copious amounts of "how to" instructions for many different scenarios. Read more
The Seed of Every Catastrophe
Is Opportunity
Divorce is often thought of as an "out there" kind of experience. Not only does it shatter the image of the so called "normal" home, it is obvious to everyone. There is no hiding or covering up. What isn't seen or readily understood, even by those going through this experience – or witnessing it closely – is the underlying turmoil for every person involved, interested onlookers included.
Every person responds emotionally to divorce whether their connection is immediate or distant. The point made in this fictional narrative is that what counts most is how those emotions are managed. Divorce doesn't need to be a wrecking ball.
In The D-Word: Divorce Through a Child's Eyes
, the author, Tara Eisenhard, does a great job of exposing the underside of an ugly divorce. She takes us on a one year divorce journey through the eyes, or maybe I should say heart, of a preteen girl, Gina. Although Gina is the main character she isn't alone. The author manages to illustrate a complex range of emotions stemming from a badly managed divorce and everyone makes a contribution: The divorcing couple, female siblings, male siblings, younger and older siblings, friends of siblings who've experienced divorce and those who haven't, friends of the divorcing couple, aunts, uncles, grandparents on both sides and even step relatives.
It is through Gina that readers will be sad, happy, angry and eventually relieved but all the other characters help fill out the picture.
It's all there. Parents becoming emotionally dependent on children. Grandparents who wish well but whose input only hurts. Friends who encourage rather than alleviate the friction. Children absorbing the blame and the responsibility.
Though the characters and the story line are fictional, their experiences are true to everyday life. Everyone can identify with one or more characters. Read more
What Influences the Shaping of Character?
Good question and to answer it, following is a list of eight things that influence a person's character but understand this. These things only influence character, they aren't the final word on who you are or what you become. They combine to form the melting pot in which bad qualities are brought to the surface and hopefully replaced by the good. You are defined by your responses not fate.

I raise this issue because Rob Bell in Love Wins
suggests there is no immediate transformation at the moment of death from the flawed you to a perfectly complete and better you. The implication is, character continues to develop following death, so whatever character development you shirked in this life will be faced in the next.
Therefore, focusing more intently on developing character now – in this life – may be more important than convention suggests. A look at each influence can give us insight on what to expect and how to respond. The first item to consider is:
Divine Decree
Divine Decree, aka, God's Will.
I hesitate to use the word "Decree" because it is associated with a predetermined, unbending, never changing plan formulated for and imposed on every individual but God's will, though unchanging, does flex. God does have a plan for each person's life but it is not detailed to the nth degree and isn't comprised of every thing that happens to you.
God knows every time you stub your toe – actually before you stub it – but He doesn't plan these things. They happen, we react, He uses them.
God's will is firm but not imposed. It is perfect but our ability to follow it is not. His will is constant while we waiver back and forth as the following illustration shows. God's will must be ratified by human choice. Each person chooses to leave it or pursue it but God doesn't force it down your throat or manipulate you into following it. When we make plan-warping mistakes God is smart enough and powerful enough to work around it.
Although specific in many ways, God's will is also general. That is, it applies to everyone in the same way. For example, every person is to love his or her neighbor equally and must cherish THEIR married partner only.
The important point to remember is: Read more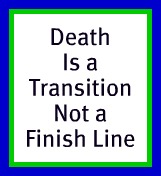 How Far One Descends
Doesn't Matter
If Character Is The Cream
That Rises To The Top
In my last post I focused on character development in the next life, after death, and my ideas were motivated by Rob Bell's book, Love Wins
. Rob made some interesting remarks about post-death character development for both Christians and non-Christians alike. What he said doesn't fit comfortably in most theological schemes.
Conventional wisdom says death is the point at which all winning and losing is final. It's a finish line not a transition, meaning, of course…
The saved will be transformed into a fully complete and finished state of absolute, never changing, never ending perfection and bliss.
And the unrepentant are fixed forever in a state of never ending corruption and condemnation. There is no turning back, looking up, moving forward or thinking again. It is over, finished and done, for everyone.
Love Wins
says otherwise.
But post-death issues isn't the subject of this article. Character development is.
Rob also emphasized the importance of building character in this life, so much so that some accuse him of teaching "salvation by works."
Don't believe it. The same people who twist Rob's ideas about character, emphasize the development of character in their teachings also. The hypocrisy is, other than compiling long lists of things-not-allowed and projecting loads of shame on those who falter, they do very little to make a difference.
And, if death isn't final and character will continue to develop in the next life then a good question to ask is, "Where will the after-life development begin?" The answer is obvious. It will start in the next life where you left off in this one. If you are 85% at death you'll start there. If you're only 25% you'll start there, so the more you do now the less you will need to do later.
Rob's ideas seem strange because popular teachings actually work against character development. Eternal security is a good example. Conservative theology teaches that salvation can't be lost. Any character shortage at death won't effect your eternal destiny. Your salvation is secure – eternal security. And, as I've already mentioned, these same schools of thought imply we will be upgraded to 100% perfection at the moment of death. If that is really true, why bother doing the hard work now?
If the good qualities I don't develop in this life will be immediately added at death what real motivation is there to do anything other than hold on and wait?
Not too worry. I do believe in eternal security and I'm not suggesting Christians take character issues lightly but what is commonly taught doesn't encourage follow through. It doesn't make sense to teach "once-saved-always-saved-no-matter-what" and then suggest that whatever character is lacking will be fully added in the blink of an eye at death. Taken together, these ideas don't motivate the kind effort required to build character in this life.
It is almost as if we are working against the very thing we want to do.
And we need character, both now and later. Every sensible person wants character but the only ones who develop it are those who make a deliberate effort.
That's why Rob's ideas deserve a hearing. Post-death theologies are rather thin on character-reward issues. Ideas are generalized in the extreme and we are encouraged to have a "hold out and wait for it" mentality.
By the way, a great book on this topic is The 7 Habits of Highly Effective People
, by Stephen Covey. Stephen makes the argument that good habits produce good character. He's not alone. He defers to many others who said the same thing many times before in many different ways.
So this post is focused on character. Not the character that is shaped in the next life but the character we mold now. And, no, I don't believe character shaping saves you in the eternal sense of the word but it may save you from a lot of heart ache now and, if Rob is right, in the next life also.
There are three questions to consider: Read more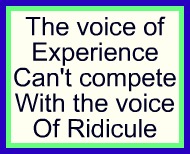 The following sentiment has become the mantra for all good parenting and every interested parent has made this statement, or something like it, in the process of raising their kids:
I want my children to have a better life than I had.
And one of the ways parents help their children attain a better life is to help them avoid all the mistakes they made themselves. They assume that "mistake free" is equivalent to better. On the surface it sounds smart. Inwardly it feels good.
The reality, however, is that children managed by this rule are not better off. Instead of being better at life they are emotionally inhibited, stunted, crippled or lacking sensibility. Which means guarding them against disheartening moments might do more harm than good. Like many responses to charitable needs, the protective approach to parenting is a short term, knee jerk response which creates long term damage.
We feel better after force-guiding our children around every tripping point but does this make them better at managing life or just more managed? Over-navigating a child's life might save them from some immediate "toe stubbing" but can it encourage them to develop the watchfulness and maneuverability to avoid future crashes or manage them well if they can't?
The truth is, the one thing children will not always have is a watchful parent warning them and steering them away from every life sapping experience. And the one lesson every child needs to learn is how to accept and manage their mistakes well.
Parents earned their wisdom through hard knocks. It made them stronger and smarter and they shouldn't rob their children of the same opportunity. Second hand wisdom isn't easy to swallow and every wise person knows that… Read more