You Can Counter
Bad Qualities
With Good Ones
You Can't Eradicate Them
Have you ever wondered why people act out? I'm talking about the good people, the ones who usually appear quite decent, no foul language or anti social behavior.
Why do these people get caught in lies or found stealing or worse, unexpectedly?
Sounds horrible, I know, and we don't like talking about it but it does happen.
But the real question is this. Have you ever wondered why Christians sometimes act badly, worse even than many non-Christians?
We consider that an anomaly.
Christians are the ones who adamantly oppose wrong and hassle those who practice or promote it. They also claim to be the best and there is good reason to believe they should be.
So when a Christian does something out of character with the image they project, we get caught off balance. Makes you scratch your head and wonder what went wrong.
It can also make Christians feel a little insecure.
If it happened to them, can it happen to me?
It's a different story for non-believers. The stubbornly non-believing cry hypocrisy. Many others think it even if they don't say it out loud. And hypocrisy might apply in some cases but is that the only reason Christians act badly?
Are there other factors to consider? Read more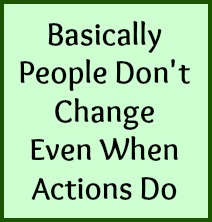 If We Could Change
Our Nature
By Acting Differently
Why Would We Need Jesus
If I were to say the old nature couldn't change many people might agree.
By "Old Nature" I mean the sinful nature, the flawed one we're all born with.
But, if I were to say the old nature couldn't get worse, which is what this post will try and prove, many might balk.
On the face of it, that statement isn't easy to accept.
We know people can deteriorate morally. They can do terrible things on one day and then commit worse crimes later. It's a process of change and it's for the worse.
We've all seen it happen. One step downward creates a spiraling momentum that's hard to stop. Inertia, once moving, doesn't halt easily.
But there are reasons to believe this change doesn't effect a person's nature. Read more
A Person's Capacity
For Friendship
Is Determined By
The Number Of Secrets
They Keep
In a previous post I covered 11 Negative Friendships To Avoid. Now that that's out of the way we can look at the positive benefits of a great friendship. These are the things we're all looking for and hope to find in a friendship.
A good friendship is . . . Read more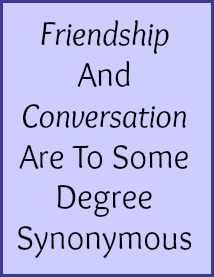 Friends Are Rarely
Saints
Friendships Rarely
Emotional Utopias
The word Friend, like the word Family, has been romanticized. It evokes idealized images of a perfect world and warm fuzzies for all.
The assumption is, a true friend can only be upright and a friendship can only be good for us. The reality is, again like family, a friendship can sometimes be very bad.
But we can't allow that possibility to put us in a permanently guarded state. Sometimes the friends we make are the only ones available. They're in our face, so to speak. We don't have a choice so we make the best of what's available.
Imperfect friends and friendships can still be very good. What we must avoid are the extremes.
Defining The Negative Friendship
All friendships have hurtful moments but an abrasion here or there doesn't make it negative. A friendship becomes negative when it is more hurtful than beneficial over the long haul.
Personality is an issue but not absolutely. A person's nature is built in and is neither intrinsically good or bad. An idiosyncrasy that irritates some people will endear us to others.
From the examples that follow it is clear that negative is a character issue and that is what spoils the mix.
One reason we gravitate to these not-so-good-for-us friendships is they are like crutches. They reinforce our disabled thinking, and that begs the question. How many people really want to change? How many of us intentionally choose friends because they are good for us and not easy. Having friends who endorse our faults relieves the pressure.
Like the song says . . .
Some of them want to abuse you and some of them want to be abused.
It's easier to stay as we are, and people who allow that are good for the friendship even if the friendship isn't good for us.
That's not how friendships are supposed to work but it does happen.
The truth is Friendship implies Equality, and good ones involve give and take. I wouldn't say friendships will ever be absolutely equal, or absolutely good for us, but there should be a balance.
The following emotionally unbalanced extremes are ones we should avoid. Read more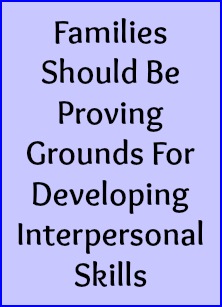 No One Is Automatically
A Friend Or Enemy
Not Even Family
It's very easy to think of friends and family as two different things. We inherit family and we choose friends, but can they migrate? Can one ever be the same as the other?
The Bible mentions three different categories of individuals other than family:
Friends
Enemies
Everyone else in between
But the relationships we have with people are dynamic. No one is born a Friend or Enemy. Instead everyone starts out in the middle, neutral, and then moves one way or the other. We might illustrate it like this:
Family is not represented on this graph and rightly so. No family member automatically fits into any one of these categories. There's overlap as the following illustration shows.
Obviously, we tend to think of family members as "like" friends, but are they really?
We also never associate family with enemies even when the comparison is justified. Read more