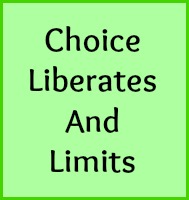 The Freedom Of Choice
Should Be Guarded
With Deliberation
Because choice isn't absolute, because some choices can be hurtful, because wrong choices can retard growth, because the number of choices we have is always reduced by making only one, and they are reduced even more when we make poor choices, we must approach choice-making cautiously, deliberately and judiciously.
The following guidelines are offered to inform the deliberative process: Read more
No Situation Is Void
Of Choice
Freedom is a hot button issue. History would be a very boring, and a short topic if it weren't for all the skirmishes over personal freedom.
It's universal. We all want freedom. When we have it we feel independent, unencumbered and unobstructed.
But is that really true?
Closely related to Freedom is Choice. If a person is free, the assumption is they make their own choices.
And that makes sense. Is a person really free if they don't have choice and isn't choice one evidence of freedom?
Freedom is the issue but choice is the mechanism.
Neither of these ideas comes without restrictions, though. Rules, conditions and limitations apply. Read more
You Can Counter
Bad Qualities
With Good Ones
You Can't Eradicate Them
Have you ever wondered why people act out? I'm talking about the good people, the ones who usually appear quite decent, no foul language or anti social behavior.
Why do these people get caught in lies or found stealing or worse, unexpectedly?
Sounds horrible, I know, and we don't like talking about it but it does happen.
But the real question is this. Have you ever wondered why Christians sometimes act badly, worse even than many non-Christians?
We consider that an anomaly.
Christians are the ones who adamantly oppose wrong and hassle those who practice or promote it. They also claim to be the best and there is good reason to believe they should be.
So when a Christian does something out of character with the image they project, we get caught off balance. Makes you scratch your head and wonder what went wrong.
It can also make Christians feel a little insecure.
If it happened to them, can it happen to me?
It's a different story for non-believers. In fact, the stubbornly non-believing are almost gleeful when Christians color outside the lines. It's all nonsense anyway so misstep is all the proof they need to cry hypocrisy.
Less damning unbelievers entertain the same thoughts but are a bit more gracious. They don't assume hypocrisy.
Hypocrisy might apply in some cases but is that the only reason Christians act badly?
Are there other factors to consider? Read more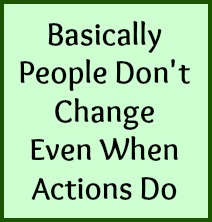 If We Could Change
Our Nature
By Acting Differently
Why Would We Need Jesus
If I were to say the old nature couldn't change many people might agree.
By "Old Nature" I mean the sinful nature, the flawed one we're all born with.
But, if I were to say the old nature couldn't get worse, which is what this post will try and prove, many might balk.
On the face of it, that statement isn't easy to accept.
We know people can deteriorate morally. They can do terrible things on one day and then commit worse crimes later. It's a process of change and it's for the worse.
We've all seen it happen. One step downward creates a spiraling momentum that's hard to stop. Inertia, once moving, doesn't halt easily.
But there are reasons to believe this change doesn't effect a person's nature. Read more
A Person's Capacity
For Friendship
Is Determined By
The Number Of Secrets
They Keep
In a previous post I covered 11 Negative Friendships To Avoid. Now that that's out of the way we can look at the positive benefits of a great friendship. These are the things we're all looking for and hope to find in a friendship.
A good friendship is . . . Read more