Shirley, the author of Blended Family Advice: A step-by-step guide to help blended and step families become strong and successful
, is not only a qualified psychologists specializing in marriage and family counseling – with two Masters degree, one in family and marriage counseling and one in education – but also a wife and mother in a blended family. She's lived through the experience. She knows first hand what it takes to blend members from two different families into a secure family group and she honestly and openly provides gems of wisdom from both her academic training and her blended family experience.
Reading through the book it is clear that her advice is good for traditional family units also which means she is not changing the rules. Instead, Shirley is helping blended families navigate the unfamiliar turbulence created when two groups of people, previously unknown to each other, move toward a desirable place: family.
The book is refreshing because Shirley doesn't excuse poor family structure on the challenges of being a blended family. She makes it clear from the start that sound family structure can be maintained in spite of the difficulties. The challenges are different but not impossible to deal with and the solutions she provides enable blended families to achieve the same stability as traditional ones. She provides copious amounts of "how to" instructions for many different scenarios. Read more
The Seed of Every Catastrophe
Is Opportunity
Divorce is often thought of as an "out there" kind of experience. Not only does it shatter the image of the so called "normal" home, it is obvious to everyone. There is no hiding or covering up. What isn't seen or readily understood, even by those going through this experience – or witnessing it closely – is the underlying turmoil for every person involved, interested onlookers included.
Every person responds emotionally to divorce whether their connection is immediate or distant. The point made in this fictional narrative is that what counts most is how those emotions are managed. Divorce doesn't need to be a wrecking ball.
In The D-Word: Divorce Through a Child's Eyes
, the author, Tara Eisenhard, does a great job of exposing the underside of an ugly divorce. She takes us on a one year divorce journey through the eyes, or maybe I should say heart, of a preteen girl, Gina. Although Gina is the main character she isn't alone. The author manages to illustrate a complex range of emotions stemming from a badly managed divorce and everyone makes a contribution: The divorcing couple, female siblings, male siblings, younger and older siblings, friends of siblings who've experienced divorce and those who haven't, friends of the divorcing couple, aunts, uncles, grandparents on both sides and even step relatives.
It is through Gina that readers will be sad, happy, angry and eventually relieved but all the other characters help fill out the picture.
It's all there. Parents becoming emotionally dependent on children. Grandparents who wish well but whose input only hurts. Friends who encourage rather than alleviate the friction. Children absorbing the blame and the responsibility.
Though the characters and the story line are fictional, their experiences are true to everyday life. Everyone can identify with one or more characters. Read more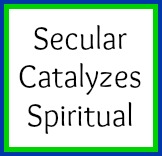 Want To Be More Spiritual?
Be Temporal More Deliberately!
The two natures of a human being, "spiritual" and "secular," are like two sides of a coin. Remove one side and the coin no longer exists. It's actually impossible to remove a side from a coin but even if you deface a side it is still a side.
Just like the two sides of a coin, spiritual and secular cannot be separated.
To be clear on the meanings, "secular" is usually thought of as "worldly" or the opposite of religious and connotes something negative especially when characterizing people. It's the wayward that are worldly. It's a "four letter word" in religious terms but that meaning doesn't represent the word accurately.
According to Merriam-Webster "Secular" also means "temporal" as opposed to eternal, which is the way the word was understood a few hundred years back when it was first used. That, of course, means that "secular" is different to "spiritual" but not in a bad way. The two are not disconnected.
Secular speaks of normal human pursuits in this temporal life, some of which effect eternal matters in the next.
The negative connotation, and the emphasis placed on it by Christians, has the undesirable effect of pushing the non-religious even further away from spiritual issues. It grates to be referred to as "worldly," in the pagan sense of the word, just because they don't attend church or quote verses from the Bible, especially if they happen to be upstanding people, in some cases more so than those in church.
All of that speaks to the secular side of the coin. Now for the spiritual side.
"Spirit" refers to the non-physical side of a person and since you can't see a spirit or touch one physically many people think of it as imperceptible. They describe it mystically and manage it in an other-worldly way.
But here's the truth. Spirit IS intangible but it ISN'T incomprehensible. Yes, it is evidenced by abstract thought which isn't easy to explain but it can be explained. Abstract thought is:
The ability to conceive of and analyze ideas that have no spatial representation.
"Value" is an abstract concept. "Marriage" for example – a value in many cultures – is abstract but a wedding or a home or a family is not.
You could say that "spirit" refers to abstract ideas which have concrete expressions in "secular" activities. Like two parts of an epoxy mix, they catalyze, so taking an abstract idea and analyzing it away from concrete expressions – such as enlightenment without studying – is the equivalent of blowing a logical fuse.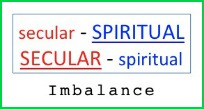 All of that is to say that these two concepts are tied together. Putting too much weight on one will proportionately reduce weight in other, an imbalance. Get one out of balance either way and the other will be proportionately out of balance in the other direction. No person is mostly spiritual or mostly secular. They are naturally both, so attempting to neglect one to enlarge the other is most unnatural.
Every person should be as reliable and capable in secular pursuits as they are in spiritual and Christians should model this best. Read more
Life After Divorce
Is Possible
Naked Divorce for Women
won't help you avoid a divorce or provide legal advice for getting one but it will help you get over one. In a word this book is about recovery.
The title is telling. Divorce is stressful not only because it is hurtful, inconvenient and demoralizing, but also because it leaves one feeling exposed and exposure is the particular sensation that Adele illustrates well throughout her book. She bravely bares all in an attempt to help others navigate the climb from the chaos of divorce to the order of recovery. Her writing isn't coldly clinical. It is personal.
But don't get the wrong idea. This book, though it targets the pain, doesn't encourage anyone to live in it. Instead, Adele highlights individual responsibility before and after the divorce: responsibility, that is, for the failed marriage and the recovered life. Self-pity, bitterness and revenge are understood but not encouraged or entertained.
Though Adele writes from a woman's perspective and for women going through divorce, the principles she lays out are drawn from her background in change management and are good for managing any kind of transition. They can apply to both genders too.
She writes broadly covering many related issues: hormones, friends, family, work relations and more but at the core of the book is a 21 day program for recovery which emphasizes diet, physical exercise and the importance of maintaining a balanced routine, among other things. But don't worry. She doesn't take an extreme approach to dietary regulations. You only need "limit" coffee and chocolate, not eliminate them.
Adele's program brings immediate relief but it isn't a quick-fix or a laid-back approach. The 21 day program involves a commitment of 90 to 120 minutes each day during the week and a bit more time on the weekend. The program is described as a cocooning process that enables transformation from a troubled, out of control state to a more settled and focused you.
21 days may seem like a long time but as Adele points out, compared to the scope of an entire life, 21 days is only a small part. Read more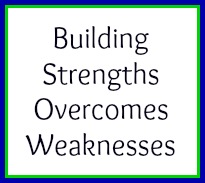 Focusing On Weaknesses
Retards Strenghts
Two things are true about the beginning of each year:
One, many people are likely to make or consider making resolutions to improve their lives.
And, two, most of the people who make those resolutions won't keep them.
That means that resolution making and keeping is a topic we don't easily get right. The desire to change is evident but the know-how isn't. It is a fitting topic to discuss.
In an endeavor to improve our record we should try and learn from other people. Not the people who have made and kept resolutions but those who aren't as desperate to make them in the first place.

Those whose flaws don't seem to get in the way of their productive lives. Yes, you read that correctly. There are some people who are just as flawed as the rest of us but are too busy developing in other ways they don't need to bother with resolutions. They start out on the right track and never veer very far from center line. Their progress is steady and obvious and those in that group who achieve celebrity are admired, honored and envied in spite of their apparent weaknesses. These are the people we can learn from.
A good example is Richard Branson, the magnate who developed the Virgin group of over 400 companies. He started at the bottom and worked his way to the top. Instead of improving his life he might resolve to keep doing the same things.
I'm not suggesting he is perfect. Perfection isn't possible so it really isn't the point. As far as I know Richard doesn't preach perfection anyway.
I'm also not suggesting that successful people of the Branson mold are the most gifted. They have just as many weaknesses and inabilities as the rest of us. The difference is they mastered the art of working around their problems rather than on them and have become models of how not to do resolutions.
Branson, for example, admits to being dyslexic, performing poorly as a student – he quit school at 15 – and not understanding the difference between net and gross until after becoming the head of the largest group of independent companies in Europe. In spite of those inabilities he became a very successful man. He certainly has flaws he could resolve to change but whatever they are don't seem to slow him down too much. In fact, a resolution to become the greatest reader ever would have set him back.
The truth is, if you're life track has dead ended and seems to have no future, resolutions are for you. But learn from Richard. Pick and choose your improvements carefully. Like Richard, some of our flaws should be left alone. Improving them sounds better on paper than they are worth in practice. Read more