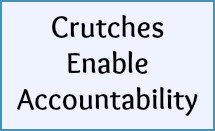 Crutchless Living
Is Not Possible
There are several words associated with religion, some of which are complimentary and others not. A few can be taken both positively and negatively.
A good example is the word school. Church is a place of learning so we call it a Sunday School. That can be good or bad.
Some kids love school and some hate it but most adults regret not taking advantage of the opportunity when they had it.
In other words, they've learned to love what they used to hate.
But there are other words which aren't so easy to work around. They are used as insults when referring to the church and believers take it personally. One such word is Crutch. [Read more…]