Empower Grannies
It's A Concept
I completed my first Tour Durban this year (2013) and it was a great pleasure for several reasons:
One, it was my fastest race ever at 3h 54m. Since I have never finished a race in under five hours that represented monumental improvement.
I knew at the finish I had done well but was stoked to discover it was sub 4 hours!
Two, it was in Durban. What's not to like? The weather is mostly good year round and on this particular day it was perfect. Not too cold. Not too hot. No rain at all and very little wind.
What makes this race unique is the roads are mostly wide and fairly smooth so you don't feel cramped or shaken like a can of paint. And with just over 1100 meters of vertical ascent – most of it occurring in the first 30 kilometers – it is a great test of cycling skill.
Three, it was another great opportunity to feature the new riding jerseys for the South African Children's Resiliency Project (SACRP) and these jerseys can't be missed. They stand up and shout.
The colors are bright (reddish-orange and yellow) and the design is simple. There is nothing busy about it. One glance and you know exactly what you're looking at. Your brain is tattooed with SACRP for life.
It was designed to draw people in and make them curious enough to ask what it's about.
And it's working. I was approached by a cameraman collecting footage for SuperSport and he asked me to explain what I was riding for.
Could I say a few words for the camera?
Mistake! I don't have any problems with verbal responses – other than saying too much – and I've had a lot of time to think about the SACRP and therefore have a lot of formulated thought to spew.
The cameraman did two takes and he seemed to be pleased.
Hopefully, the footage will make it into the program but even if it doesn't, the idea is working.
The SACRP is getting noticed and I am privileged to ride for the cause.
This won't be the last time the jersey is worn in a race and we are looking for others to wear the colors also. If you would like to join the cause please let me know.
New jerseys are being organized as I write. The next race to feature the jerseys is the Amashova.
Stay fit and ride for a cause.
THINK!AboutIt
Many Thanks to Rika at Cycle Nation
Big thanks goes out to Rika at Cycle Nation. She was kind enough to take my picture at the start line and email me a copy following the race. You can see all of her Tour Durban pics in the Cycle Nation gallery and you'll find many more pics of other races there also.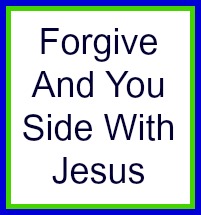 We Can't Change The Past
But The Past Has The Power
To Change Us
God isn't isolated to one area or one time slot each week, like church.
He's in church, yes, but no more so than the office or the kitchen or the wee hours of the morning when we can't sleep. God is a little bigger than a few small segments of your life.
He's everywhere all the time and He's never idle.
He's listening and responding even when He isn't doing any apparent thing in your behalf.
He tags along everywhere we go, in church and out, and that means He is aware of it when we feel like people are throwing stones at us. He feels the impact of every stone but rather than protect us He uses those "stone throwing" moments to help us learn.
Church is His classroom. Life is His internship.
Sometimes, however, we miss opportunities to gain valuable experience because we respond to life's difficulties the wrong way. We feel cheated, insulted, unfairly passed over, misrepresented, falsely accused or manipulated – Offensive, all of it! – and we call on God to make it go away as if He is our personal judge, prosecutor and jury.
We cry and moan and writhe in pain and we usually do this because revenge isn't really an option. Unfortunately, there is only one thing that helps and it is the last option on the list . . . if it's on the list at all.
Forgive all the stone throwers!
Offenses Are Inevitable
Now, before I say more about forgiveness please understand that offenses are inevitable and Jesus is the one who made the point.
For offenses must come. (Matthew 18:7 – NKJV)
The proof of that statement is the reality we live everyday. Offenses occur more regularly than the sun rises and they come from every direction: Read more
God Is "Fundamentally
Beyond Words, Phrases And Forms"
In What We Talk About When We Talk About God
, Rob Bell intrigues us with a perspective that seems to flaunt both religious and scientific tradition. Not just religion and not just science but both. Not the basics of either system, not the validity of either and certainly not God.
Tradition he implies, is restrictive whether it be science or religion. Both run on well worn conversational tracks that leave huge gaps in the dialogue and Tradition's natural tendency is to ignore the questions glaring out through those gaps.
For example, Rob mentions several scientific observations that contradict established theory and makes one wonder just how precisely nature can really be defined.
Time is relative. It's consistency is a persistent illusion.
Every nine years our bodies are renewed – the material our bodies are made of literally becoming the substance of other bodies and things – but in spite of that you still remain you.
He quotes Jeffrey Kluger who says scientists are now "grappling with something bigger than mere physics, something that defies the mathematical and brushes up – at least fleetingly – against the spiritual."
Rob also points out a few religious ideas that don't add up.
The statements religious people make that imply God is somewhere else, rather than everywhere, and shows up on the odd occasion to do some particular person a favor.
The modern religious idea that leads one to think that "spiritual" describes only non-material, non-tangible objects. It only applies to things not in this world.
The tendency for religious people to oppose peace, causing trouble in the process.
Both sides say and do things that don't make sense.
But to be clear, Rob isn't vying with tradition, he's just trying to fill the gaps.
And again, like his other books, particularly Love Wins
, he makes us think.
Be warned though. Rob isn't trying to prove anything absolutely or make you agree with him. In fact, his ideas, though clearly illustrated, point more to the inability of humans to box truth in. Truth, like God, may be immutable but our ability to know it all, understand it accurately and articulate it exactly is in question. Read more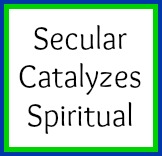 Want To Be More Spiritual?
Be Temporal More Deliberately!
The two natures of a human being, "spiritual" and "secular," are like two sides of a coin. Remove one side and the coin no longer exists. It's actually impossible to remove a side from a coin but even if you deface a side it is still a side.
Just like the two sides of a coin, spiritual and secular cannot be separated.
To be clear on the meanings, "secular" is usually thought of as "worldly" or the opposite of religious and connotes something negative especially when characterizing people. It's the wayward that are worldly. It's a "four letter word" in religious terms but that meaning doesn't represent the word accurately.
According to Merriam-Webster "Secular" also means "temporal" as opposed to eternal, which is the way the word was understood a few hundred years back when it was first used. That, of course, means that "secular" is different to "spiritual" but not in a bad way. The two are not disconnected.
Secular speaks of normal human pursuits in this temporal life, some of which effect eternal matters in the next.
The negative connotation, and the emphasis placed on it by Christians, has the undesirable effect of pushing the non-religious even further away from spiritual issues. It grates to be referred to as "worldly," in the pagan sense of the word, just because they don't attend church or quote verses from the Bible, especially if they happen to be upstanding people, in some cases more so than those in church.
All of that speaks to the secular side of the coin. Now for the spiritual side.
"Spirit" refers to the non-physical side of a person and since you can't see a spirit or touch one physically many people think of it as imperceptible. They describe it mystically and manage it in an other-worldly way.
But here's the truth. Spirit IS intangible but it ISN'T incomprehensible. Yes, it is evidenced by abstract thought which isn't easy to explain but it can be explained. Abstract thought is:
The ability to conceive of and analyze ideas that have no spatial representation.
"Value" is an abstract concept. "Marriage" for example – a value in many cultures – is abstract but a wedding or a home or a family is not.
You could say that "spirit" refers to abstract ideas which have concrete expressions in "secular" activities. Like two parts of an epoxy mix, they catalyze, so taking an abstract idea and analyzing it away from concrete expressions – such as enlightenment without studying – is the equivalent of blowing a logical fuse.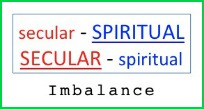 All of that is to say that these two concepts are tied together. Putting too much weight on one will proportionately reduce weight in other, an imbalance. Get one out of balance either way and the other will be proportionately out of balance in the other direction. No person is mostly spiritual or mostly secular. They are naturally both, so attempting to neglect one to enlarge the other is most unnatural.
Every person should be as reliable and capable in secular pursuits as they are in spiritual and Christians should model this best. Read more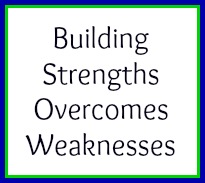 Focusing On Weaknesses
Retards Strenghts
Two things are true about the beginning of each year:
One, many people are likely to make or consider making resolutions to improve their lives.
And, two, most of the people who make those resolutions won't keep them.
That means that resolution making and keeping is a topic we don't easily get right. The desire to change is evident but the know-how isn't. It is a fitting topic to discuss.
In an endeavor to improve our record we should try and learn from other people. Not the people who have made and kept resolutions but those who aren't as desperate to make them in the first place.

Those whose flaws don't seem to get in the way of their productive lives. Yes, you read that correctly. There are some people who are just as flawed as the rest of us but are too busy developing in other ways they don't need to bother with resolutions. They start out on the right track and never veer very far from center line. Their progress is steady and obvious and those in that group who achieve celebrity are admired, honored and envied in spite of their apparent weaknesses. These are the people we can learn from.
A good example is Richard Branson, the magnate who developed the Virgin group of over 400 companies. He started at the bottom and worked his way to the top. Instead of improving his life he might resolve to keep doing the same things.
I'm not suggesting he is perfect. Perfection isn't possible so it really isn't the point. As far as I know Richard doesn't preach perfection anyway.
I'm also not suggesting that successful people of the Branson mold are the most gifted. They have just as many weaknesses and inabilities as the rest of us. The difference is they mastered the art of working around their problems rather than on them and have become models of how not to do resolutions.
Branson, for example, admits to being dyslexic, performing poorly as a student – he quit school at 15 – and not understanding the difference between net and gross until after becoming the head of the largest group of independent companies in Europe. In spite of those inabilities he became a very successful man. He certainly has flaws he could resolve to change but whatever they are don't seem to slow him down too much. In fact, a resolution to become the greatest reader ever would have set him back.
The truth is, if you're life track has dead ended and seems to have no future, resolutions are for you. But learn from Richard. Pick and choose your improvements carefully. Like Richard, some of our flaws should be left alone. Improving them sounds better on paper than they are worth in practice. Read more