A Person's Capacity
For Friendship
Is Determined By
The Number Of Secrets
They Keep
In a previous post I covered 11 Negative Friendships To Avoid. Now that that's out of the way we can look at the positive benefits of a great friendship. These are the things we're all looking for and hope to find in a friendship.
A good friendship is . . . Read more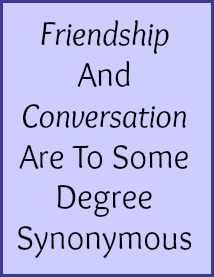 Friends Are Rarely
Saints
Friendships Rarely
Emotional Utopias
The word Friend, like the word Family, has been romanticized. It evokes idealized images of a perfect world and warm fuzzies for all.
The assumption is, a true friend can only be upright and a friendship can only be good for us. The reality is, again like family, a friendship can sometimes be very bad.
But we can't allow that possibility to put us in a permanently guarded state. Sometimes the friends we make are the only ones available. They're in our face, so to speak. We don't have a choice so we make the best of what's available.
Imperfect friends and friendships can still be very good. What we must avoid are the extremes.
Defining The Negative Friendship
All friendships have hurtful moments but an abrasion here or there doesn't make it negative. A friendship becomes negative when it is more hurtful than beneficial over the long haul.
Personality is an issue but not absolutely. A person's nature is built in and is neither intrinsically good or bad. An idiosyncrasy that irritates some people will endear us to others.
From the examples that follow it is clear that negative is a character issue and that is what spoils the mix.
One reason we gravitate to these not-so-good-for-us friendships is they are like crutches. They reinforce our disabled thinking, and that begs the question. How many people really want to change? How many of us intentionally choose friends because they are good for us and not easy. Having friends who endorse our faults relieves the pressure.
Like the song says . . .
Some of them want to abuse you and some of them want to be abused.
It's easier to stay as we are, and people who allow that are good for the friendship even if the friendship isn't good for us.
That's not how friendships are supposed to work but it does happen.
The truth is Friendship implies Equality, and good ones involve give and take. I wouldn't say friendships will ever be absolutely equal, or absolutely good for us, but there should be a balance.
The following emotionally unbalanced extremes are ones we should avoid. Read more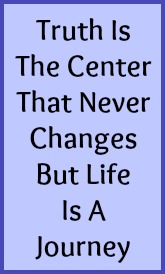 There Is A Fine Line
Between Settling
And Taking A Stand
It's OK to take a stand but it's best to take it carefully, cautiously and with a bit of humility. The more adamantly you take your stand now, the more embarrassed you'll be when you later move.
A stand gives us a sense of stability. It makes us feel secure for the moment, like holding a rail on a train ride. But perspectives change and we might eventually find our beliefs challenged by more experience and a different consideration. Those things count.
The foundation has already been laid. We only need find it. Making the assumption you're there and digging may not be the most appropriate response.
So take your stand but do it without conceit or harsh judgment for opposing ideas. The middle is not always off center.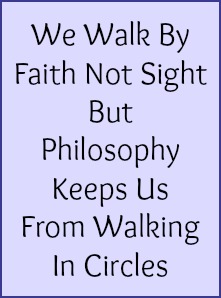 Dogma Tells Us
What To Do
Philosophy Tells Us Why
I frequently take a philosophical approach to the Bible. I wasn't taught to do this, it just came naturally, but it isn't thought of as the right approach so some take offense.
Hand slaps aren't unusual.
I've been called both liberal and unbelieving but there are many reasons why philosophy can be very useful in Bible interpretation. I've listed several below.
And I'm philosophical about it. Read more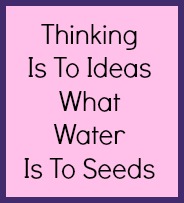 You Either
Think Outside The Box
Or Repeat What Everyone
Already Knows
As the story goes Sir Isaac Newton sat in his mother's garden and observed an apple fall from one of her trees.
Legend says the apple fell on his head. We can't verify that with certainty but there is good reason to think it might be true.
Apples had fallen from his mother's tree many times before so this wasn't new but on this occasion the apple really caught his attention and it stimulated a life long pursuit.
In light of his response, a hit on the head seems likely.
Newton was puzzled. The experience provoked many questions and being the curious person he was, he did what all inquisitive people tend to do. Read more