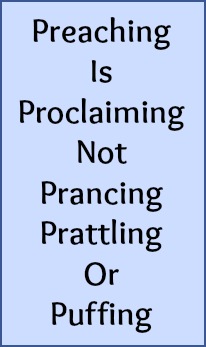 Primitive Methods Don't Suit
Today's Technologically
Rich Enviroment
Today, reading and writing are common. Letter writing happens daily and book publishing isn't far behind.
Even the blind and deaf have the means and skills to write out their thoughts, and technology makes it possible for them to communicate those ideas easily.
For most of human history that wasn't true.
Writing has been around for a long time but the earliest format, engraving on stone, was restrictive to say the least. Just ten commandments required two stone tablets. Tom Clancy's latest book would require a mountain of rock.
Even when lighter materials like papyrus became popular copies could only be reproduced by hand making it very difficult to circulate documents widely.
If you are of the opinion that following the old paths means eschewing technology, you'll need a truck to carry your Bible to church each Sunday. You'll struggle to flip to the book of Psalms too.
Not to worry, though. Since reading wasn't as widespread in the Old and New Testaments as it is now reproduction and circulation weren't issues.
But, these facts do raise an obvious question. If written documents couldn't be shared easily, and many couldn't read or write anyway, how were community-relevant ideas communicated.
The answer to that question is quite primitive. The most popular form of communication throughout most of human history was the spoken word and the best way to spread important news quickly and widely was through public proclamations.
These proclamations were made by specially designated people in high-traffic locations like the city gates or the courthouse steps. The people appointed for the task were known as the Town or Public Criers and they were clad in special clothing to single them out. It was all very official.
Even as far back as the time of Esther (5th century BC) the King's official proclamations were communicated to 127 provinces by couriers and criers. It took several months to get the message out but considering the geography and the lack of technology, that's not bad.
Criers were the interface between governments and the communities they governed. When information needed sharing, criers would ring a loud bell and cry "hear ye, hear ye" – or something similar. Once they had everyone's attention the crier would then state or read the announcement.
Those who heard the announcement would pass it along mouth to ear, mouth to ear, mouth to ear and so on, but it all started with a public proclamation.
Education, democracy and technology have made criers obsolete. Education makes reading, writing and thinking skills common. Democracy encourages the sharing of ideas publicly. Technology makes it possible for those ideas to spread quickly.
There's really no comparison between the media of the New Testament and the media of today. Resonant penetrating criers of yesteryear are easily drowned out by today's most mild mannered tweets.
This brings me to the topic of this post: Preaching. Read more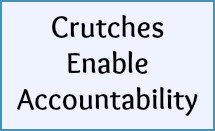 Crutchless Living
Is Not Possible
There are several words associated with religion, some of which are complimentary and others not. A few can be taken both positively and negatively.
A good example is the word school. Church is a place of learning so we call it a Sunday School. That can be good or bad.
Some kids love school and some hate it but most adults regret not taking advantage of the opportunity when they had it.
In other words, they've learned to love what they used to hate.
But there are other words which aren't so easy to work around. They are used as insults when referring to the church and believers take it personally. One such word is Crutch. Read more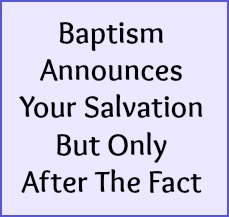 Is Form More Important
Than Heart
Should you get baptized or should you not? That's one question.
Another question, and one that is a little more difficult to answer is if you do get baptized, which baptism is best?
Those are important questions because Baptism is a Christian basic. It's universal. It applies to every believer but there are differences of opinion on this practice.
Some believe baptism saves or at least puts one in the right place to be saved. Others believe it has nothing to do with salvation.
Some believe infants should be baptized. Others believe they shouldn't.
Some believe baptism can be administered by pouring or sprinkling. Others believe full bodily immersion is required.
Some believe baptism can only be administered by qualified individuals. Others believe any Christian can baptize any Christian candidate.
Some believe only their denomination's baptism is legitimate. Others believe that's an unnecessary restriction.
Some believe the form is all important – only immersion is allowed. Others believe the heart of the individual is more important than the form.
Like belief, the decision to be baptized is individual. Unlike belief, you can't fake it.
Probably no Christian basic has been debated more than baptism and the debates weren't lighthearted. History records much feuding over this issue even to the point of drawing blood.
The Bible says much more about belief (faith) than baptism but what it says is important. Here are the facts:
John the Baptist initiated the tradition of baptism.
The high number of baptisms was evidence of John's effectiveness.
Jesus was baptized by John, even though John questioned this.
Jesus first disciples were baptized by John.
Jesus taught his followers to continue the tradition of baptism.
From the Day of Pentecost onward disciples new believers were baptized. The practice stuck.
Paul taught that baptism symbolized the death, burial and resurrection of Christ.
From these facts we can isolate several takeaways: Read more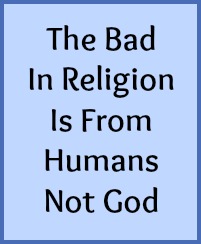 Don't Stop
At The Foundation
This is the first post in a series on Christian Basics. By Basics I mean essential issues, issues that apply to everyone.
Five such basics are: Belief, Baptism, The Lord's Supper, Organization and Purpose.
These are more than foundational. They form the superstructure of Christianity as well.
A house is never just a foundation or slab.
Start a discussion around any one of these topics and the conversation either becomes heated or confused. Neither the glazed-over look nor frustrated response is unusual.
But these are basics. Simplicity should be the rule.
There are only so many issues to consider and there are only so many questions to ask.
The problem is the more we ask, the more complicated the answers become. They expand. They grow. And they become proprietary as well. Read more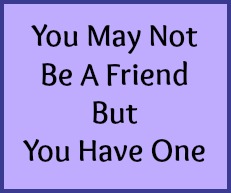 Unequal Friendship
Includes Charity
But Is Much Much More
There are two types of healthy friendships: Equal and unequal. Equal we understand and easily accept. Friendship is synonymous with give-and-take. The equal kind where your giving balances out your taking.
Unequal we don't get so much. When one person does most of the giving and the other does most of the taking, isn't that unacceptable?
That's how we usually see it but is that always true? Can a friendship be good when equality is distorted? I think it can. In fact, the greatest friendships are unequal. Let me explain.
Equal Friends
Equal friends are peers. Their lives run in parallel. They aren't exactly the same but they have equal levels of development. Generally:
They share similar levels of health, education and opportunities for employment. Neither is handicapped or maybe both are handicapped but they are equal.
They speak the same language and maintain the same standard of living.
They share common opportunities for recreation, lifestyle habits and so on.
They may not make the same choices but they share common options.
They may not have the same job position but they work in the same strata of society.
It isn't uncommon for people on an equal footing to meet and become connected at the friendship level. It isn't forced. Neither is uncomfortable with the other. There is no condescension either way.
They are able to give as much as they receive.
But there is a second angle on friendship that tells a different story.
Unequal Friends
This kind of friendship is marked by either division or disparity, or sometimes both. If it's division, the friends represent differing sides. If it's disparity, the friends are on different social levels, more vertical than horizontal. One looking down, the other looking up.
Unequal friendships require a great effort, at least on the part of one, for the connection to be made. One side is sacrificing, the other benefits.
This doesn't seem fair and according to Jesus it isn't, but it is not what you think. The giver, He said, is much more blessed than the receiver.
When beliefs are involved compromise is assumed but, again, not so. Giving a person what they need on a personal level doesn't require alignment of beliefs. You'll see just now. Read more