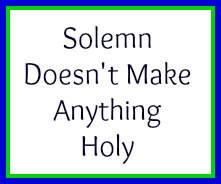 Marriage Is Holy
Ceremony Or Not
I don't like the word "holy." Just hearing it gives me the creeps but don't read too much into that.
I know the word is in the Bible, and I appreciate that, but the way it is used doesn't always agree with how it is represented in the Bible. The application is very narrow. In fact, I'm not sure you could relate it to everyday life. Let me explain.
The word "holy" is associated with synonyms like sacred, hallowed, revered, sanctified and consecrated. Another word distantly related is "solemn." These are not commonly used words. They are religious terms and not just normal everyday religious terms. They are "inner sanctum" words. Institutional religion didn't coin these words but it definitely owns them.
And the ominous nature of "holy" is compounded by the way it is used. When any ceremony – I don't like that word either – is referred to as holy or sacred you get the idea that smiling or relaxing or enjoying the occasion is not allowed. These words are spoken only in a serious tone of voice and accompanied only by actions that are very guarded. Well arranged. Scripted. If something is solemn or sacred or holy it is usually done very mechanically. The following wedding video illustrates the point. Scroll to the 53rd second if you're in a hurry: Read more
Tithers Offer Confused Instructions
But
Anti-Tithers Give None At All
Other Than Don't Tithe
The definition of tithing is really straight forward. The word means one tenth or ten percent and it is the designated amount of one's income dedicated for God's purposes. A "Tither" is someone who contributes ten percent of their income to God.
But don't let that simple definition fool you. Tithing isn't an easy topic to dissect. Every tither agrees on the ten percent part but they don't all agree on how to calculate it or how it should be applied. When one person says "Tithe" it can mean one thing and when another person says it, it can mean something very different and the differences are significant. Questions abound. Read more
Googler Question:
"Where did Abraham get the idea
there was only one God?"
It's not a surprising question given the polytheistic nature of today's religious scene. Coming to belief for the modern individual is like shopping for just the right outfit only worse. There are many different gods to choose from and once you settle on one you still must wade through the many different concepts popularized in the name of the one you choose. You'ld need a guru to lead you along. Trying to keep track of it all is near impossible.
But did Abraham have the same problem? Are we to assume he also faced an endless list of gods? The world was polytheistic in Abraham's day for sure but rather than ask where Abraham got the idea of one God, a better question might be, "where did the multiple-god idea originate in the first place?" We usually assume that what we observe today was always true.
For example, where would Abraham, in the dawn of human history, get the idea there was only one God? Did Abraham coin the concept or did monotheists predate him and pass the idea down? The evidence indicates the latter is true.
It was one God who spoke to Adam and Eve. It was the same God who accepted Abel's offering and confronted Cain, who took Enoch, who spoke to Noah and led Abraham to the land of Canaan. So there was no reason for Abraham to expect more than one God. Only an overactive imagination would lead him to think otherwise.
And apart from what Abraham's ancestors experienced and believed, is there anything in nature, in his day or ours, that suggests polytheism is true? Is there any reason to believe that the control of a universe too vast to measure could be managed better by disparate, sometimes antagonistic multiple gods rather than by one?
Since Adam and Eve, and those who came after only dealt with one God, maybe we should see polytheism as the outgrowth of: Read more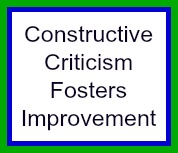 Being Only Positive, Only Negative
or Only Neutral
Is Not Constructive
This is the second sermon in our "Stick" series in which sticks are used to illustrate things we should do or be as a church. The first sermon used "Chopsticks" to illustrate the functionality of the church. It emphasized the importance of each member's committed effort in the work a church does.
Chopsticks work well only with coordination and practice and the same is true with church members.
This sermon, however, uses toothpicks to illustrate the importance of constructively critical interaction between the members. To do better we must get better. A toothpick symbolizes the decent and appropriate approach to finding and removing flaws.
So, the first message focused on function and the second focuses on relation.
To keep the picture clear it is important to start with a few passages of Scripture. We are talking about the church so it is important to have an idea what the Bible says about this organization.
That makes sense. Church is not my idea or your idea or just a good idea, it is God's idea so we need to know what He says about it.
So let's take a look.
The Church Is Functional
In Matthew chapter 16 and verses 19 and 20 Jesus was speaking to His disciples – core members of the church He started – and He said:
I will build my church (you guys), and the gates of hell will not prevail against it (you). 19 I will give you (the church) the keys of the kingdom of heaven; whatever you bind on earth will be bound in heaven, and whatever you loose on earth will be loosed in heaven.
There are a couple of interesting observations to take away from this passage.
One, Jesus is the one building the church.
We, the church members, work but Jesus is ultimately the leader and builder. He makes things work together for our good. He does what we can't do and brings about outcomes that we might not otherwise realize.
As builders with Christ we must be faithful, committed and determined to do our best but Jesus is in the lead. It's kind of a paradox. He does the building but not without us. He works through people and for them.
Two, this passage resonates with delegated authority and personal responsibility.
Jesus is the builder but we have the "keys" to the kingdom. The person with keys is trusted. God designates which doors are to be opened but "key" people unlock them. That's power!
Simply put, having the keys means we are authorized to make decisions, initiate action and perform functions – binding and loosing. And to say we are authorized to do this means we are accountable if we don't. Sitting around doing nothing is not an appropriate response to a passage like this. Read more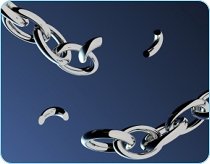 Jesus Breaks Sabbath Law
John 5
Jesus was not a religionist!
His spiritual devotions never involved habitual ceremony. He prescribed no rituals and there was nothing routine with His words or actions. Some responded to Him angrily, none yawned.
Any rituals He may have followed are not recorded for us. If anything, Jesus was religiously unpredictable.
He traveled to Jerusalem on many occasions but not once are we told He offered any sacrifices. He did, on the very odd occasion, tell someone to offer an appropriate sacrifice (Matthew 8:4) but we have no record of Him blessing those ceremonies with His presence.
Many of the things Jesus did and much of what He said was religiously disruptive: cleansing the Temple (once in John 2, a second time in Matthew 21*), claiming to be Messiah in the synagogue of Nazareth (Luke 4) and healing on the Sabbath (John 5).
The people about whom He spoke His harshest words, the Pharisees, were excessively religious (Matthew 23).
It was the ultra religious who were the most instrumental in his execution (Mark 15:1-15).
Jesus rarely encouraged anyone to be religious.  He spoke of disciples as sacrificial not ritualistic.
Jesus evangelized the religiously hardened and did so by being religiously agitating.
I wouldn't say that Jesus was anti-religion but I would say that He had no tolerance for religious nonsense. Read more