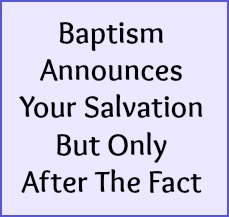 Is Form More Important
Than Heart
Should you get baptized or should you not? That's one question.
Another question, and one that is a little more difficult to answer is if you do get baptized, which baptism is best?
Those are important questions because Baptism is a Christian basic. It's universal. It applies to every believer but there are differences of opinion on this practice.
Some believe baptism saves or at least puts one in the right place to be saved. Others believe it has nothing to do with salvation.
Some believe infants should be baptized. Others believe they shouldn't.
Some believe baptism can be administered by pouring or sprinkling. Others believe full bodily immersion is required.
Some believe baptism can only be administered by qualified individuals. Others believe any Christian can baptize any Christian candidate.
Some believe only their denomination's baptism is legitimate. Others believe that's an unnecessary restriction.
Some believe the form is all important – only immersion is allowed. Others believe the heart of the individual is more important than the form.
Like belief, the decision to be baptized is individual. Unlike belief, you can't fake it.
Probably no Christian basic has been debated more than baptism and the debates weren't lighthearted. History records much feuding over this issue even to the point of drawing blood.
The Bible says much more about belief (faith) than baptism but what it says is important. Here are the facts:
John the Baptist initiated the tradition of baptism.
The high number of baptisms was evidence of John's effectiveness.
Jesus was baptized by John, even though John questioned this.
Jesus first disciples were baptized by John.
Jesus taught his followers to continue the tradition of baptism.
From the Day of Pentecost onward disciples new believers were baptized. The practice stuck.
Paul taught that baptism symbolized the death, burial and resurrection of Christ.
From these facts we can isolate several takeaways: Read more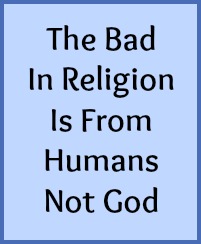 Don't Stop
At The Foundation
This is the first post in a series on Christian Basics. By Basics I mean essential issues, issues that apply to everyone.
Five such basics are: Belief, Baptism, The Lord's Supper, Organization and Purpose.
These are more than foundational. They form the superstructure of Christianity as well.
A house is never just a foundation or slab.
Start a discussion around any one of these topics and the conversation either becomes heated or confused. Neither the glazed-over look nor frustrated response is unusual.
But these are basics. Simplicity should be the rule.
There are only so many issues to consider and there are only so many questions to ask.
The problem is the more we ask, the more complicated the answers become. They expand. They grow. And they become proprietary as well. Read more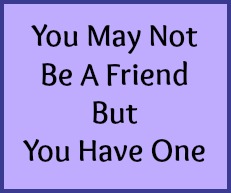 Unequal Friendship
Includes Charity
But Is Much Much More
There are two types of healthy friendships: Equal and unequal. Equal we understand and easily accept. Friendship is synonymous with give-and-take. The equal kind where your giving balances out your taking.
Unequal we don't get so much. When one person does most of the giving and the other does most of the taking, isn't that unacceptable?
That's how we usually see it but is that always true? Can a friendship be good when equality is distorted? I think it can. In fact, the greatest friendships are unequal. Let me explain.
Equal Friends
Equal friends are peers. Their lives run in parallel. They aren't exactly the same but they have equal levels of development. Generally:
They share similar levels of health, education and opportunities for employment. Neither is handicapped or maybe both are handicapped but they are equal.
They speak the same language and maintain the same standard of living.
They share common opportunities for recreation, lifestyle habits and so on.
They may not make the same choices but they share common options.
They may not have the same job position but they work in the same strata of society.
It isn't uncommon for people on an equal footing to meet and become connected at the friendship level. It isn't forced. Neither is uncomfortable with the other. There is no condescension either way.
They are able to give as much as they receive.
But there is a second angle on friendship that tells a different story.
Unequal Friends
This kind of friendship is marked by either division or disparity, or sometimes both. If it's division, the friends represent differing sides. If it's disparity, the friends are on different social levels, more vertical than horizontal. One looking down, the other looking up.
Unequal friendships require a great effort, at least on the part of one, for the connection to be made. One side is sacrificing, the other benefits.
This doesn't seem fair and according to Jesus it isn't, but it is not what you think. The giver, He said, is much more blessed than the receiver.
When beliefs are involved compromise is assumed but, again, not so. Giving a person what they need on a personal level doesn't require alignment of beliefs. You'll see just now. Read more
Only Two Possibilities:
Eternally Secure
Or
Eternally Neurotic
Eternal security is one of those issues you can't ignore.
It involves salvation and, more specifically, whether or not you can count on it when you need it most, at death.
Some people believe once you're saved you're always saved. You can never lose it so there is no need to worry about keeping it. Others think there is no guarantee. It can be lost by any qualifying misstep, although there is debate as to where that line is drawn.
Settling the issue isn't easy. You can throw out a few verses to prove whichever side you take but for every verse you quote there are plenty of reinterpretations to confuse things.
So I've decided to come at this from a different angle. I think much of the confusion can be cleared by taking an analytical/philosophical approach and that is the point of this post. I want to ask and answer pertinent questions. What you learn from this process is that once you ask one relevant question it opens the door to another and then another and eventually you have an avalanche of un-answerables.
When you do this for both sides you realize that one side fairs much better than the other.
Those of us who believe in "once-saved-always-saved" (yes, I'm one of those people) are very happy that it's true. Those who don't believe it have a lot of questions to answer most of which are not directly addressed in the Bible.
That fact alone should give you pause. If you have questions about how to keep your salvation intact – a very serious issue indeed – but you don't have specific answers, then how can you be certain?
It doesn't make sense that God would give us a salvation we could lose and then refuse to give us very clear, obvious, easily accessed and straight forward instructions on how to keep it.
Living with that uncertainty everyday would be enough to induce a nervous breakdown. Would a loving God be so cruel?
Thankfully, the opposite, eternal security (once saved, always saved), is a lot easier to live with and enables more productivity. You don't need to worry about keeping your salvation so energy can be channeled into better less selfish pursuits.
You're secure. You can relax. God will take care.
Sounds too good to be true, I know, and it doesn't parallel life as we experience it but we are talking about something that doesn't claim to parallel life. It is impossible without God. Every theory about salvation is too good to be true. Eternal security just happens to be the most rational choice.
But, as I said, thinking you can lose salvation raises many questions that the Bible just doesn't answer. Let's take a look. Read more
Zacharias And Simeon
Are Similar Yet Different
Both Add Richness
To The Story
There are many supporting characters in the Christmas Story. Some have very short roles but they all add richness to the plot. Because they are diverse, they symbolize different types of believers.
More on that later.
Two characters that illustrate this are Zacharias (Luke 1:5-25) and Simeon (Luke 2:21-35). They were alike in many ways but very different also. Neither could be called an unbeliever but each expressed their belief in different ways as the following comparison shows: Read more