Part 1 Is Biographical
Part 2 Is Technical
Proceed to Part 2
I was 21 years old and had recently recommitted my life to Christ. As a result, my career path changed, my life was motivated by a different purpose and I was deaf to any advice to the contrary. My commitment was unshakable.
I had gotten to this place through a series of circumstances too involved to share in detail but suffice it to say that I had been flitting from one attraction to another for many years and had learned to numb the pain of aimlessness by engaging in selfish pursuits and questionable pleasures. It was all about me.
So, at 21 and with a renewed sense of commitment, having previously experienced things that did not fulfill, I was determined not to waste another second being self absorbed. I was willing to do anything required to follow Christ. Anything!
The problem was I didn't really know what to do next. I got baptized, sure, and I attended church, even when there was no service, but other than that I was ignorant.
One afternoon in the early stages of my recommitted journey, however, I was hit with a sledgehammer of guilt. I was doing what I often did when not in church, visiting Christian friends, and on this particular day I was visiting with Nancy, a friend I had known for many years.
Nancy and I grew up in the same neighborhood and her brother, Richard, had led both of us to salvation in Christ, along with several other kids in the neighborhood. We were 13 at the time but it still seems like yesterday.
The first few weeks following that conversion were exhilarating!
Richard got us kids together almost daily, sang Christian choruses and taught short Bible lessons. We didn't worry about getting into trouble. It didn't occur to us to cause any. We had a new outlook and everything seemed great! We were headed in a new direction.
Nancy and I were only 13 but during that time both of us made commitments to serve Christ in some full time capacity. Everyone thought we were crazy, except Richard, but as it turned out, God was behind it.
I'm not sure what ministry Nancy committed to specifically but I committed to missionary work in Africa. I didn't know where in Africa but at the time it wasn't an issue. I wasn't packing my bags to leave the next day. Admittedly, I didn't know much about Africa, other than it was a big place and was home ground to large ferocious beasts, but I was certain in my heart that God wanted me somewhere in Africa.
I remember the moment I made the commitment vividly. Read more
God Is "Fundamentally
Beyond Words, Phrases And Forms"
In What We Talk About When We Talk About God
, Rob Bell intrigues us with a perspective that seems to flaunt both religious and scientific tradition. Not just religion and not just science but both. Not the basics of either system, not the validity of either and certainly not God.
Tradition he implies, is restrictive whether it be science or religion. Both run on well worn conversational tracks that leave huge gaps in the dialogue and Tradition's natural tendency is to ignore the questions glaring out through those gaps.
For example, Rob mentions several scientific observations that contradict established theory and makes one wonder just how precisely nature can really be defined.
Time is relative. It's consistency is a persistent illusion.
Every nine years our bodies are renewed – the material our bodies are made of literally becoming the substance of other bodies and things – but in spite of that you still remain you.
He quotes Jeffrey Kluger who says scientists are now "grappling with something bigger than mere physics, something that defies the mathematical and brushes up – at least fleetingly – against the spiritual."
Rob also points out a few religious ideas that don't add up.
The statements religious people make that imply God is somewhere else, rather than everywhere, and shows up on the odd occasion to do some particular person a favor.
The modern religious idea that leads one to think that "spiritual" describes only non-material, non-tangible objects. It only applies to things not in this world.
The tendency for religious people to oppose peace, causing trouble in the process.
Both sides say and do things that don't make sense.
But to be clear, Rob isn't vying with tradition, he's just trying to fill the gaps.
And again, like his other books, particularly Love Wins
, he makes us think.
Be warned though. Rob isn't trying to prove anything absolutely or make you agree with him. In fact, his ideas, though clearly illustrated, point more to the inability of humans to box truth in. Truth, like God, may be immutable but our ability to know it all, understand it accurately and articulate it exactly is in question. Read more
Christian Character
Unlike Salvation
Requires Time
The words "believer," "Christian" and "religious" are often and wrongly used interchangeably.
If we want to know if a person is a "believer," we ask if he or she is a "Christian" when neither term guarantees the other. Being apparently "Christian" doesn't guarantee one is a "believer" and becoming a "believer" (saved) doesn't guarantee a full, immediate and irreversible changeover to only Christian ideals. These terms are not synonymous.
It also doesn't help that any person referred to as "religious" is generally assumed to be both a believer and Christian-like. Even believers get the tags mixed up – the ones who should know better – which only adds to the confusion.
These terms are similar, yes. They overlap in some ways, yes. But the differences are significant.
There is no guarantee a person will live a Christian life or get involved in religion just because they believe.
Some believers – good salt-of-earth types – never go to church or adopt the lingo associated with church goers. Their problem isn't with God or truth but with church and the people who attend.
They are Christian-like in the sense they are honest, reliable, generous, patient and so on, but don't make in-your-face claims about how Christian they are.
Even though we hate to admit it, we know this is possible based on what the Bible teaches.
Attempting to display Christian qualities (being a good person) or engaging in religious activity is neither the means nor the proof of salvation. The opposite is also true. Lacking certain qualities or failing to engage religiously may baffle us but it doesn't rule out the possibility a person is a true believer.
The person who is genuinely saved won't always be overtly Christian or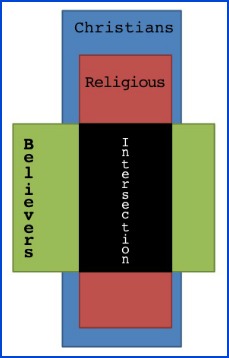 religious. Belief is a separate issue to Christian living and both are separate to religion.
We know this to be true but still use the terms without distinguishing one from another. It's been done this way so long, people do it without thinking. Semantic confusion at it's worst. Fortunately we are sensible enough not to do this in other areas. Fishing equipment is a goo example. Even though fishing poles, seines and spear guns have a common purpose no one mistakes one for the other. The terms are never used interchangeably.
But mention the words "believer," "Christian" and "religious" and things get blurred. Please allow me to explain why that should change. The differences are bigger and more significant than you might think. Read more
Shouldn't Faith Produce Works
Shouldn't Religion Encourage It
In his book, Love Wins
, Rob Bell mentioned several things Christians should do. Many of those "do's" involve social, charitable, environmental and ecological activities and he was accused of teaching salvation by works because of it.
A first reading might give that impression but once you get over the initial "whaaaat?", and you've had a chance to investigate further you realize Rob said nothing of the kind.
In fact, he made it quite clear that salvation is strictly a unilateral proposition. God's part only, no human part required, except of course, repentance and faith.
A couple of quotes to wet your appetite: Read more
The Primary Point
Should Be The Focus
Net-wise Love Wins has received an unusually large amount of attention and much of it completely negative. The popular sentiment is, there is nothing redeeming about Rob Bell or his book: he is wrong, everything he says is wrong and the book is dangerous, in a word "blasphemous." Even people who take an objective approach find more wrong with Love Wins
than right.
The responses are variations of…
Interesting, entertaining, thought provoking, easy to read, nothing new but wrong here, here and here.
It is rare to find anyone who agrees with Rob completely and those that do are a bit shallow. The agreement is expressed mostly on an emotional level. "I like Rob so he must be right."
But! Does that mean the book offers nothing of value? Must we throw the whole thing out without deliberate consideration?
I hate to join the throng and I mean nothing condescending by this but there are a few points in the book that either aren't clear or lack substantial proof. However, these issues don't detract from the main point. They are secondary and shouldn't be reasons to reject the whole.
For example, Rob's discussion on the meaning of "aion" and "hell" throws a wrench into conventional teaching. He suggested that "aion" means only a period of time – beginning and ending – when applied to "hell" and therefore doesn't mean "forever." But…
Was Rob talking about hell the place, or hell the sentence?
To be honest, after a couple of readings and several scans I'm not sure. But…
If deliverance from hell is possible after death then maybe we should view it like the penal system. When prisoners are released, the prison isn't demolished. It remains.
If salvation is possible after death then hell the prison will last a lot longer than a person's time there. And since "aion" can refer to only a period of time then maybe there is an application.
That is really what I understood Rob to mean but whatever the case, many people took offense at these ideas and rambled on about them. All the noise surrounding this and other questions drowned out Rob's most important point:
Death is not final and, therefore, post-death salvation is possible.
Rob may not be right about all the secondary issues but the primary question, which is foundational to every other idea in the book, remains and in chapter 1 Rob offered many thought provoking arguments to take it seriously.
Other issues questioned are:
Limited transformation at death
And people from non-Christian religions going to heaven.
None of these ideas, however, prove or disprove Rob's main point.
Rob veered a long way from the mainstream on these issues, yes, but even if you take them out of the discussion you're still left with the premise. To be fair, Rob was plowing neglected theological ground and covering a very large territory – charted but mostly ignored – in a short space.
And the implication is: If we accept the premise – death isn't final – then many conventional ideas about life after death need to be revisited. Actually "developed" is a better word. Since most consider death final, what happens after death is considered a non-issue. Discussing it is grounds for dismissal and Rob's experience is proof of that. It is the rare individual who has the courage to confront the theological status quo.
If there is anything to what Rob says then questions like, "How would a post-death salvation work?" and "Who in this life – regardless the religion they follow – will have a post-death chance at heaven" and "what exactly happens when these people die" need consideration and there are more: Read more