From Cadence To Vitality
In Six Steps
Uploading training data from your Cadence Cycle training sessions to your Discovery Vitality account is easy. It can be done without a smart phone or a personal cycling computer. All you need is a connection to the internet. Read more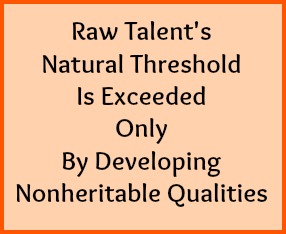 Never Waste Talent
And Never Assume
It's All You Need
Talent is inborn. Everyone has it but not in the same way.
One person can run fast. Others, to big to run well, can move heavy weights around. And others have no physical talents to speak of but they can draw or paint incredibly well. All of them, however, have limits.
It's easy for a naturally fast runner to beat average runners in a foot race but that doesn't guarantee they'll be the fastest runner in the big races, e.g., the Olympics. Earning that label requires hard work. It's an achievement. It won't happen only with raw, undeveloped talent. Those who can run fast must develop that ability if they are to run faster than all other naturally fast runners.
But what must one do to reach that goal? The most talented runners, the ones allowed to compete in the big races, are those who develop nonheritable qualities, like determination, patience, discipline and more. Raw talent alone just isn't enough.
Preparation Is Key
In Every Detail
Tom Coughlin is the kind of guy that intrigues everyone. He seems a bit brash on the outside but his ability to win football games at every level consistently over a lengthy career, even the biggest game of all – not once but twice – proves he is more than just noise and bluster.
His second book, Earn the Right to Win
, reveals just how deeply the stream runs below his turbulent exterior.
And in chapter 3, Success Is In The Details, you get a glimpse of how information rich football is and how cerebral Tom is in mastering the game. Winning at football means processing endless details.
Tom, of course, isn't focused only on football. His point in the book is that there is a correlation between the effort to win at football and what it takes to win in the rest of life.
Success, Tom says, begins with superior preparation and as Christians we must believe that what is good for football success is also good Gospel success.
Football Is Complex
To appreciate the meaning of Tom's point we need to first take a look at the complexities of football.
Football has one objective, score more points than the opponent, which seems quite simple until you look at the process. Football is no simple game and the proof is the many people who watch even several games and say, "I don't understand."
The reality is, very few people completely grasp everything that it takes to run even one play successfully much less win the game. It really is that complex!
Let me illustrate. Read more
Life Can Be Unpredictable
But Preparing To Win
Requires A Schedule
In the mid 1960's The Rolling Stones recorded a song titled "Time Is On My Side." It was one their first recordings and it was a big hit.
In the song Mick is philosophizing about a wayward girlfriend. She's running around instead of staying faithfully by his side but instead of expressing hurt feelings Mick patiently waits claiming that "time is on my side." And he confidently asserts that "She'll come running back to me."
Now, you might be wondering what a song about wayward girls sung by one of Rock N Roll's most prominent bad boys has to do with winning. Well, the context of the song isn't important but the refrain is.
The main issue in the song is "Time" and Mick repeatedly says it is on his side. In fact, at the end of the song he builds to a crescendo with: Time, Time, Time is on my side.
But there is good reason to think Mick may not be correct. Time can be on your side but there is no guarantee.
And that brings us to Tom Coughlin and the book he wrote. The title of Tom's book is:
Earn The Right To Win
And it's worth reading because it makes some universally valid points about winning. Read more
Preparation Is Winning
I just read Tom Coughlin's book, Earn the Right to Win
, and gleaned some valuable insights. Insights anyone can appreciate. This isn't just another book written by a popular icon to entertain the masses and make a few bucks.
Although the book includes plenty of anecdotal material it isn't a bio of the NY Giants or of Tom. This is Tom telling us how he won the most coveted prize in football, the Super Bowl, and he assures us, even in the title, that the principles he used can be applied to any field of work. Tom is very intentional in his coaching, his book tells us how he does it and it illustrates the point that a lot of thinking went into his approach to football.
If that's true for one of the most physical sports around then it is probably true for anything else one might do.
Tom does have impressive credentials. He began his coaching career at Rochester Institute of Technology, starting the schools football program from scratch. He also served in several assistant coaching positions before taking the head coaching job at Boston College and was eventually hired as the head coach for the new NFL franchise in Jacksonville. At every level and in every position he established himself as a no nonsense leader who won games. How he accomplished this winning tradition is what his book is about.
I was impressed enough with the book to think it deserved more than just one short review. Since Tom is the kind of man who can start with nothing and eventually reach some lofty goals, He's also a man to whom we should listen. If you're looking for inspiration and how-to advice, Tom's your man.
This post is just the beginning and will be followed by more.
It becomes very clear in the book that Tom is very deliberate. I was actually surprised at how much of a thinker he is and the overall theme of the book, preparation, illustrates the point. Everything Tom led his teams to do was his way of preparing them to win. Every detail of the preparation was well thought out. Winning was the goal and detailed preparation was his way of getting there. He introduces the "preparation" theme in the subtitle:
How Success in Any Field Starts with Superior Preparation
He elaborates on preparation in his introduction and then expands on it in every chapter that follows. He uses sports to illustrate his points but his illustrations can easily transfer to any other sphere of endeavor. He argues his points well. Read more