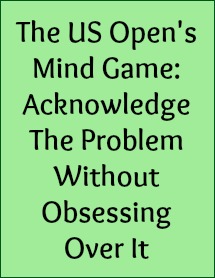 It's More
Than A Test
Of Your Golf Swing
The 2015 US Open was another episode in what has become one of the most exciting and entertaining golf challenges ever.
The mind game in golf, which everyone knows exists, is never more apparent than in the Open. Scoring is perennially low because course conditions are intentionally messed with. The primary cut of rough is always left longer than usual and the speed and slope of the greens can be quite treacherous.
But this year's Open added even more difficulties to the mix. Read more
American Football Appeals
To Analytical Minds
Everywhere
My friend, David, was born and raised in South Africa (and very naturally lives and breathes rugby) but through American friends was introduced to American football. He's now a football believer and follows the game more closely than most Americans. He's also got a very keen analytical mind (he's in the law profession) and remembers everything he reads or hears.
Fortunately, he's also a Jaguars fan so at the end of the 2014 season I asked for his thoughts on how the head coach, Gus Bradley, was doing. Following was his response. Read more
From Cadence To Vitality
In Six Steps
Uploading training data from your Cadence Cycle training sessions to your Discovery Vitality account is easy. It can be done without a smart phone or a personal cycling computer. All you need is a connection to the internet. Read more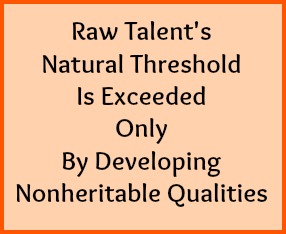 Never Waste Talent
And Never Assume
It's All You Need
Talent is inborn. Everyone has it but not in the same way.
One person can run fast. Others, to big to run well, can move heavy weights around. And others have no physical talents to speak of but they can draw or paint incredibly well. All of them, however, have limits.
It's easy for a naturally fast runner to beat average runners in a foot race but that doesn't guarantee they'll be the fastest runner in the big races, e.g., the Olympics. Earning that label requires hard work. It's an achievement. It won't happen only with raw, undeveloped talent. Those who can run fast must develop that ability if they are to run faster than all other naturally fast runners.
But what must one do to reach that goal? The most talented runners, the ones allowed to compete in the big races, are those who develop nonheritable qualities, like determination, patience, discipline and more. Raw talent alone just isn't enough.
"Improved" Is The Goal
Dealing With Negatives
Is The Process
You hear a lot these days about being positive – power of positive thinking and all – and I'm not going to say that's wrong. Who doesn't like positive. Good news is always better than bad, but!
A world where only positive things exist is not possible and considering negative things in the right frame of mind actually results in positive outcomes. That means that "negative" doesn't necessarily equate to "horrible." Consider the following:
You couldn't have electricity if you didn't have both positive and negative charges. Those "+" and "-" signs on every battery means the current will flow. It's called opposing polarity and without it I couldn't write this post. My wife couldn't cook great rye bread. Printers wouldn't print, cars wouldn't start, CT scans wouldn't scan and the lights would go off. Some of you might be able to live without my post but if I can't write mine you can't write yours. Negative charges support the freedom of speech and that's a positive thing.
And the application can be broadened. Good writers become better when they make positive changes based on negative (constructive) comments. Talented athletes become superior performers when they use negative criticism to replace poor technique with better technique.
Negative is bad only:
When it is left unsaid.
When it is the only thing we hear or far outweighs the positive.
When it is expressed in condescending and condemning tones.
When we focus so much on the negative that we fail to formulate a positive action to change it.
When it is perceived as bad but isn't.
Otherwise negatives are the bumps we climb on, the hard knocks we learn from, the lemons that make lemonade and so on.
By all means be positive but only in an honest realistic way. Make a point of considering your negative traits and finding ways to replace them with positive ones. What could be more positively rewarding than that?