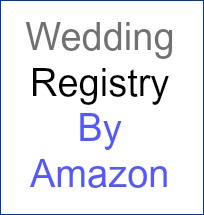 Register Your Wedding
And Save
Amazon makes wedding planning easy and cost effective. Create an Amazon Wedding Registry
and you will save 10% on Amazon purchases following the event up to a total $100.
Other benefits include:
Amazon offers the largest selection of gift items.
It's universal. Use the universal button to add items from other sites.
Remember. Your family and friends want to contribute to your important occasion. Having an endless list of gifts and a convenient way to shop makes it possible.
Here's hoping your wedding wishes all come true!!
Jesus Made The Church Simple
Humans Complicated It
When a person first becomes a Christian they simultaneously develop an interest in church. Not traditional church. Not denominational structures or buildings but gathering.
With a new heart comes a strong sense of belonging and Christians naturally gravitate to church, wandering blindly into different settings not really knowing what to expect.
New believers aren't looking for the historical church or traditional church or formal or modern or liberal or conservative church. Mega or mini isn't the issue. It's church. It's a place to gather. They go, and often find themselves fitting in somewhere.
The churches to which they attach can be quite different but there are basic qualities that should be evident wherever they land. This post lists several.
The following ideas are taken from Matthew 18:15-25 which you can read here. Read more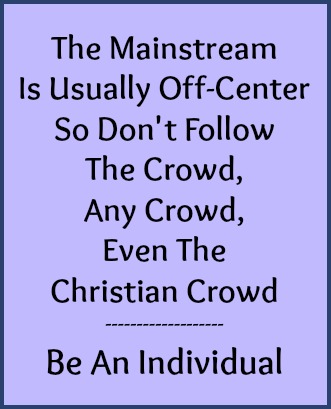 Becoming Godlike
Is The Aim
Not The Assumption
Never assume that "WWJD" is the same as "What Would A Christian Do." Christians don't always think, speak or act like God. Becoming a Christian requires nothing more than repentance and faith, and changes nothing but your heart (nature). The next step is learning to allow the new nature to speak more loudly than the old – becoming Godlike – but that requires an intentional effort over an entire lifetime.
God is out partner in that process and He never stops trying to move us in the right direction, but He doesn't force the issue. Sadly, some Christians continue to foster the same attitudes after salvation that they displayed before. And this makes one thankful that God isn't a Christian.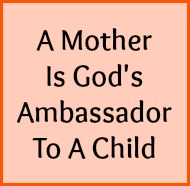 Mom Is Your First
Main Person
Usually when we talk about Mom in church it's from an outsiders perspective. The focus is on some Mom in the Bible or what the Bible says about motherhood.
All of that is good but it's a little far removed from where we are now. Relevant, yes, but only in a distant sort of way.
To make Mother's Day a little more personal I asked people to write down a few thoughts about their Moms and share it with us. They were given three guidelines to help inspire thought. They could share:
A word characterizing some special trait of their mother. (Insistent, Understanding, tough, undaunted, etc.)
Or a short phrase or line describing what she taught them to do or what they learned from her example. ("She taught me to" . . . or "always talked about" . . .)
Or a short paragraph sharing some memorable moment – humorous or serious. ("Once my mother did or said or tried" . . . )
And following is what they wrote: Read more