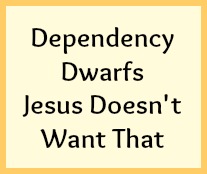 Jesus Isn't The Only Savior
But He Is Unique
With so many people and institutions providing life saving help for those in need, it isn't quite accurate to say Jesus is the only Savior. But it is fair to say He is unique and that is the point of this and the following post.
When you understand the difference between Jesus and all the other saviors in the world you realize that He's not only unique but also superior.
Let's take a look. Read more
"Improved" Is The Goal
Dealing With Negatives
Is The Process
You hear a lot these days about being positive – power of positive thinking and all – and I'm not going to say that's wrong. Who doesn't like positive. Good news is always better than bad, but!
A world where only positive things exist is not possible and considering negative things in the right frame of mind actually results in positive outcomes. That means that "negative" doesn't necessarily equate to "horrible." Consider the following:
You couldn't have electricity if you didn't have both positive and negative charges. Those "+" and "-" signs on every battery means the current will flow. It's called opposing polarity and without it I couldn't write this post. My wife couldn't cook great rye bread. Printers wouldn't print, cars wouldn't start, CT scans wouldn't scan and the lights would go off. Some of you might be able to live without my post but if I can't write mine you can't write yours. Negative charges support the freedom of speech and that's a positive thing.
And the application can be broadened. Good writers become better when they make positive changes based on negative (constructive) comments. Talented athletes become superior performers when they use negative criticism to replace poor technique with better technique.
Negative is bad only:
When it is left unsaid.
When it is the only thing we hear or far outweighs the positive.
When it is expressed in condescending and condemning tones.
When we focus so much on the negative that we fail to formulate a positive action to change it.
When it is perceived as bad but isn't.
Otherwise negatives are the bumps we climb on, the hard knocks we learn from, the lemons from which we make lemonade and so on.
By all means be positive but only in an honest realistic way. Make a point of considering your negative traits and finding ways to replace them with positive ones. What could be more positively rewarding than that?
Change Is One Precursor
To Success
In spite of the heading, this chapter is not about communication – its importance or how to do it better.
Yes, Tom starts the chapter with a few remarks about being clear but after getting through the obligatory "say what you mean and mean what you say" platitudes he launches into the real message, change.
Tom has never been accused of not saying what he thought. He admits to being blunt. What he thinks he says. No one stands around wondering what Tom is thinking but they often forget Tom's message because his thoughts evaporate in the heat of his critical spirit. His brusqueness creates the kind of undertow that sweeps his message away before it takes root.
And Tom, in almost a confessional tone, says he needed to change. His old style approach to leadership made him a "dinosaur" so an update was needed. Read more
Preparation's First Step
Build The Structure
It's no surprise that Tom Coughlin has written a book but you might be surprised that it's not the usual co-written scrabble to make money off celebrity status. Nothing promotional about it.
In this book Tom is making his point not the publisher's. It's not a bio of any person or organization. It's about winning and how Tom managed to do that consistently over his entire career.
No, Tom is not a writer, he's a coach, but the book shows that he's cerebral about his job and there are many points in the book that are universally useful for any person in any kind of work.
This post covers chapter one. The previous post covered the introduction in which Tom emphasized his primary point, preparation and in chapter one he begins with "Build The Structure." Following are the main points of the chapter.
Set A Goal
Tom begins in the usual place, goal setting, but what he says about it challenges traditional thinking. Most of us are trained not to bite off more than we can chew and there is a place for that type of caution but Tom says set a goal and make it a big one. He quotes Michelangelo to make his point. Read more
Two Very Different
But Amazingly Complimentary Books
This post is a shout out to Tara Eisenhard, author of The D-Word: Divorce Through a Child's Eyes
, for taking the time to read and review my book In Defense of Dirvorce. If you're not sure what a defense of divorce looks like, read her review. She covers all the salient points.
You'll find my review of her book here.
If you're curious about the divorce issue read both books. The books speak from two different perspectives and are amazingly complimentary.
The D-Word
is a fictional narrative that is forward looking and encourages hope rather than despondence toward life following divorce and In Defense of Divorce is more technical and debunks the idea that divorce is sinful just because it is divorce.
Read the books.
THINK!AboutIt