Becoming Godlike
Is The Aim
Not The Assumption
Never assume that "WWJD" is the same as "What Would A Christian Do." Christians don't always think, speak or act like God. Becoming a Christian requires nothing more than repentance and faith, and changes nothing but your heart (nature). The next step is learning to allow the new nature to speak more loudly than the old – becoming Godlike – but that requires an intentional effort over an entire lifetime.
God is out partner in that process and He never stops trying to move us in the right direction, but He doesn't force the issue. Sadly, some Christians continue to foster the same attitudes after salvation that they displayed before. And this makes one thankful that God isn't a Christian.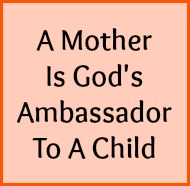 Mom Is Your First
Main Person
Usually when we talk about Mom in church it's from an outsiders perspective. The focus is on some Mom in the Bible or what the Bible says about motherhood.
All of that is good but it's a little far removed from where we are now. Relevant, yes, but only in a distant sort of way.
To make Mother's Day a little more personal I asked people to write down a few thoughts about their Moms and share it with us. They were given three guidelines to help inspire thought. They could share:
A word characterizing some special trait of their mother. (Insistent, Understanding, tough, undaunted, etc.)
Or a short phrase or line describing what she taught them to do or what they learned from her example. ("She taught me to" . . . or "always talked about" . . .)
Or a short paragraph sharing some memorable moment – humorous or serious. ("Once my mother did or said or tried" . . . )
And following is what they wrote: Read more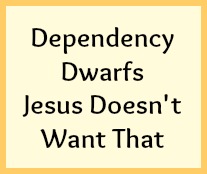 Jesus Isn't The Only Savior
But He Is Unique
With so many people and institutions providing life saving help for those in need, it isn't quite accurate to say Jesus is the only Savior. But it is fair to say He is unique and that is the point of this and the following post.
When you understand the difference between Jesus and all the other saviors in the world you realize that He's not only unique but also superior.
Let's take a look. Read more
"Improved" Is The Goal
Dealing With Negatives
Is The Process
You hear a lot these days about being positive – power of positive thinking and all – and I'm not going to say that's wrong. Who doesn't like positive. Good news is always better than bad, but!
A world where only positive things exist is not possible and considering negative things in the right frame of mind actually results in positive outcomes. That means that "negative" doesn't necessarily equate to "horrible." Consider the following:
You couldn't have electricity if you didn't have both positive and negative charges. Those "+" and "-" signs on every battery means the current will flow. It's called opposing polarity and without it I couldn't write this post. My wife couldn't cook great rye bread. Printers wouldn't print, cars wouldn't start, CT scans wouldn't scan and the lights would go off. Some of you might be able to live without my post but if I can't write mine you can't write yours. Negative charges support the freedom of speech and that's a positive thing.
And the application can be broadened. Good writers become better when they make positive changes based on negative (constructive) comments. Talented athletes become superior performers when they use negative criticism to replace poor technique with better technique.
Negative is bad only:
When it is left unsaid.
When it is the only thing we hear or far outweighs the positive.
When it is expressed in condescending and condemning tones.
When we focus so much on the negative that we fail to formulate a positive action to change it.
When it is perceived as bad but isn't.
Otherwise negatives are the bumps we climb on, the hard knocks we learn from, the lemons from which we make lemonade and so on.
By all means be positive but only in an honest realistic way. Make a point of considering your negative traits and finding ways to replace them with positive ones. What could be more positively rewarding than that?
Change Is One Precursor
To Success
In spite of the heading, this chapter is not about communication – its importance or how to do it better.
Yes, Tom starts the chapter with a few remarks about being clear but after getting through the obligatory "say what you mean and mean what you say" platitudes he launches into the real message, change.
Tom has never been accused of not saying what he thought. He admits to being blunt. What he thinks he says. No one stands around wondering what Tom is thinking but they often forget Tom's message because his thoughts evaporate in the heat of his critical spirit. His brusqueness creates the kind of undertow that sweeps his message away before it takes root.
And Tom, in almost a confessional tone, says he needed to change. His old style approach to leadership made him a "dinosaur" so an update was needed. Read more