Two Very Different
But Amazingly Complimentary Books
This post is a shout out to Tara Eisenhard, author of The D-Word: Divorce Through a Child's Eyes
, for taking the time to read and review my book In Defense of Dirvorce. If you're not sure what a defense of divorce looks like, read her review. She covers all the salient points.
You'll find my review of her book here.
If you're curious about the divorce issue read both books. The books speak from two different perspectives and are amazingly complimentary.
The D-Word
is a fictional narrative that is forward looking and encourages hope rather than despondence toward life following divorce and In Defense of Divorce is more technical and debunks the idea that divorce is sinful just because it is divorce.
Read the books.
THINK!AboutIt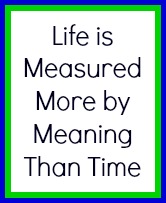 Two Questions:
How Much of a Life Do You Have?
And
Which One Are You Living?
God is a part of our lives constantly. He is present and aware everyday, every moment of everyday . Nothing goes unseen by Him. Nothing catches Him by surprise.
We, however, sometimes scratch our heads in wonderment thinking,
"where are You now God, when I need You most?"
The answer is He's right where He's always been. He hasn't moved or changed. He operates by the same principles for everyone.
Deep down we know this is true but still question Him anyway not because He isn't present but because He isn't doing exactly what we asked – resolve some horribly embarrassing dilemma immediately – and instead of questioning our request or motive or approach we assume He didn't hear or can't answer or is being passive aggressive.
Saying nothing or doing nothing, however, is a response.
When He doesn't give us what we ask for, the correct assumption is to think He wants us to change our perspective. He isn't the talisman that helps us solve life's problems. He provides the wisdom to solve these problems and then expects us to do something with it.
If we are going to find Him in life, we are the ones who must change.
The problem is most of us don't really know what "Life" is. What does that term really mean? And defining "Life" isn't the only problem. According to Jesus we can adopt one of two possible life's so after we define the term we need to figure out which one we're living. Read more
I recently submitted my blog to the Technorati directory but before they can add it to the list they needed me to verify that I am the blog owner.  To do that they gave me a "verify claim" code to be included in a post.  You'll find it just below this paragraph.
YGHQRTUP4K4M
That was the code I found on their web site.
They also assigned the following claim token to my claim and sent it to me in an email.  I'm including here just to be safe.
RR629PR3BPHE