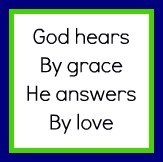 How Do We Know
When God Really Answers?
Everyone prays but they don't all get what they ask for. That isn't because God doesn't respond. He hears every prayer and like the father who takes joy in giving children what they want, He too looks for opportunities to grant our wish.
But, He's not indulgent. Your every wish is not His command. Our prayers and His responses are tools that help us develop sensibilities. Prayer changes "things" because it first of all changes us. The need never changes and God never changes. The person praying is the only variable.
His answers make things possible not convenient or easy. Prayer is part investigation, negotiation and activation. It was never intended to be a ceremony. Prayer at its most basic is conversation and the primary purpose is communication.
So, the question is what makes prayer effective? And the answer is: Read more
Most people think that religion can make a person better morally and bring them closer to God but that idea is far from true.  In fact, James said people who live a religious life and brag about it (bridle not their tongues) are delusional (James, chapter 1 verse 26).  According to James, a religious life is useful but not for moral improvement.
Take, for example, some of the religious regulations in the Old Testament and there were many.  Diet, food preparation, sewer management, dress code, work-rest cycle (time management), charitable practices, financial management, personal hygiene and medical procedures were all included in the religious code.  When James mentioned religion this is what he was referring to. Read more
Like Negotiation
Prayer Is An Art
Not Everyone Does It Well
Prayer is nothing more and nothing less than conversation. We call it prayer because it is a conversation with God.
Like all conversation it is a means of communicating and it has many styles, settings and purposes. Read more
Matthew 8:1-4 NIV
When Jesus came down from the mountainside, large crowds followed him. A man with leprosy came and (worshipped Him or) knelt before him and said, "Lord, if you are willing, you can make me clean." Jesus reached out his hand and touched the man. "I am willing," he said, "Be clean!" Immediately he was cured of his leprosy. Then Jesus said to him, "See that you don't tell anyone. But go, show yourself to the priest and offer the gift Moses commanded, as a testimony to them."
The first seven chapters of Matthew cover a lot of history. It begins with the birth of Jesus and includes only the high points for the next thirty years:
The visit of the wise men
The escape of Joseph, Mary and Jesus into Egypt and their return to Galilee
The ministry of John the Baptist
The temptation of Jesus
The beginning of Jesus ministry
The calling of the first disciples
And the Sermon on the Mount
Beginning in chapter 8, however, Matthew presents a series of events in which Jesus ministers to different people individually. He moves from the long view of history to recording snippets in which Jesus' ministry begins to be very personal. They are occasions on which Jesus interacted with certain people one at a time.
Matthew presents these situations as if they were successive. Whether that is true or not has no bearing on the teaching he presents. Even the order of events is not critical to the intended meaning. Read more