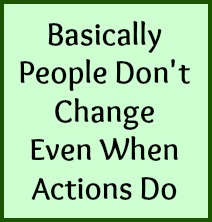 If We Could Change
Our Nature
By Acting Differently
Why Would We Need Jesus
If I were to say the old nature couldn't change many people might agree.
By "Old Nature" I mean the sinful nature, the flawed one we're all born with.
But, if I were to say the old nature couldn't get worse, which is what this post will try and prove, many might balk.
On the face of it, that statement isn't easy to accept.
We know people can deteriorate morally. They can do terrible things on one day and then commit worse crimes later. It's a process of change and it's for the worse.
We've all seen it happen. One step downward creates a spiraling momentum that's hard to stop. Inertia, once moving, doesn't halt easily.
But there are reasons to believe this change doesn't effect a person's nature. Read more
Friendships Are Deepened
Through Trouble
Friend is a happy word. It makes us feel safe. It evokes a sense of support, love, security, connection and more.
If you have a good friend you're better for it. It's a comfortable place to be, or so the thinking goes, and the Bible makes statements that support these flowery ideas:
A friend loves through all kinds of weather – Proverbs 17:17 (MSG).
This is the very best way to love. Put your life on the line for your friends – John 15:13 (MSG).
Two are better than one, because they have a good reward for their labor – Ecclesiastes 4:9 (KJV).
Better is a neighbor (friend) that is near than a brother far off – Proverbs 27:10 (KJV).
A sweet friendship refreshes the soul – Proverbs 27:9 (MSG).
But these verses represent the ideal. They describe friendship at its best. Can we really expect that? Is any friendship 100% no fault? Or does reality send another message? Read more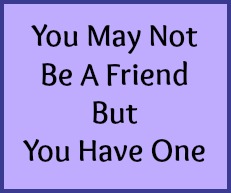 Unequal Friendship
Includes Charity
But Is Much Much More
There are two types of healthy friendships: Equal and unequal. Equal we understand and easily accept. Friendship is synonymous with give-and-take. The equal kind where your giving balances out your taking.
Unequal we don't get so much. When one person does most of the giving and the other does most of the taking, isn't that unacceptable?
That's how we usually see it but is that always true? Can a friendship be good when equality is distorted? I think it can. In fact, the greatest friendships are unequal. Let me explain.
Equal Friends
Equal friends are peers. Their lives run in parallel. They aren't exactly the same but they have equal levels of development. Generally:
They share similar levels of health, education and opportunities for employment. Neither is handicapped or maybe both are handicapped but they are equal.
They speak the same language and maintain the same standard of living.
They share common opportunities for recreation, lifestyle habits and so on.
They may not make the same choices but they share common options.
They may not have the same job position but they work in the same strata of society.
It isn't uncommon for people on an equal footing to meet and become connected at the friendship level. It isn't forced. Neither is uncomfortable with the other. There is no condescension either way.
They are able to give as much as they receive.
But there is a second angle on friendship that tells a different story.
Unequal Friends
This kind of friendship is marked by either division or disparity, or sometimes both. If it's division, the friends represent differing sides. If it's disparity, the friends are on different social levels, more vertical than horizontal. One looking down, the other looking up.
Unequal friendships require a great effort, at least on the part of one, for the connection to be made. One side is sacrificing, the other benefits.
This doesn't seem fair and according to Jesus it isn't, but it is not what you think. The giver, He said, is much more blessed than the receiver.
When beliefs are involved compromise is assumed but, again, not so. Giving a person what they need on a personal level doesn't require alignment of beliefs. You'll see just now. Read more
Reviews Are
The Lifeblood
Of Book Sales
Amazon's online review portal provides a great benefit for anyone looking to buy books but only because people say what they think.
And anyone can write a review. Anyone! The only qualifications are you bought – or borrowed – the book and read it.
But as with anything in life, there are Do's and Don'ts that every reviewer should keep in mind, especially when it comes to books. Several are listed below.
These guidelines apply mostly to non-fiction but can be modified for fiction. Read more
A Person's Capacity
For Friendship
Is Determined By
The Number Of Secrets
They Keep
In a previous post I covered 11 Negative Friendships To Avoid. Now that that's out of the way we can look at the positive benefits of a great friendship. These are the things we're all looking for and hope to find in a friendship.
A good friendship is . . . Read more