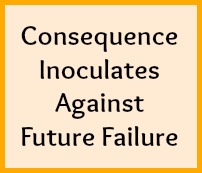 Failure Is The Teaching Moment
Consequence The Teaching Tool
You can't teach responsibility in a classroom.
You can teach the theory. You can define the words but you can't convey the real meaning of responsibility outside of experience, which involves two things we don't like very much. The first one is consequence. It is the primary teaching tool.
The second one is failure. You don't have a consequence unless you have a failure, which means failure is a part of the formula too. That might sound discouraging but when you do the math, the emotional math, it works.
Failure plus consequence equals "Aha!" I get it! But the formula doesn't always compute because parents add another element to the equation, protectionism. It changes the outcome completely. Read more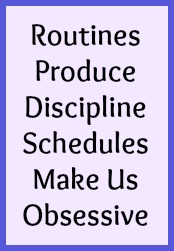 Routine Focuses On The Goal
Scheduling Focuses On The Clock
Of all the words you could choose to describe good parenting "Routine" is one of the least attractive. Everyone knows that routine is constructive but the word is often associated more with "boring" or "monotonous" rather than "useful."
The problem may be caused by the fact that routine is identified with time management and schedules, which can be a bit overbearing at times. Some people are so tightly scheduled there is no room for spontaneity at all. Fortunately, routine living and scheduling are not the same as the following comparison shows: Read more
God Intended Your Kids
To Have A Life
Not Be Yours
The best way to approach parenting is to begin with the end in view. What kind of people do you want you kids to be? What will the parenting process look like? And more importantly what development stages should you anticipate?
The stages are important. They represent transitions. Some of these transitions, like puberty, are naturally occurring. Kids reach puberty with or without parents. Parents can help kids understand what is happening but they can't make puberty happen or block it.
Some transitions, however, require parental involvement. All transitions can be tricky but those superintended by parents entirely are the ones we must prepare for most. Read more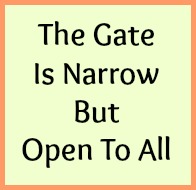 Everyone Is Equally Needy
Even If They Aren't
Equally Sinful
We've talked about things human saviors do. We've talked about the one thing only Jesus can do. We've discussed some guidelines for how Jesus works. Now we talk about Jesus' unlimited ability to save and His open door policy. And, of course, everyone needs what Jesus has to offer.
In short: It is His expressed will that all people should be saved (2 Peter 3:9). Read more
Saving Souls
Isn' Hit Or Miss
With Jesus
So far we've described several saviors of the human variety and established that the efforts of Jesus does not repeat or conflict with those of all the human saviors. Jesus might help them but He doesn't take over. We've also mentioned the one thing Jesus said He would do: save souls, which no one else can do.
Now we need to talk about how effective His work is compared to that of humans. Read more