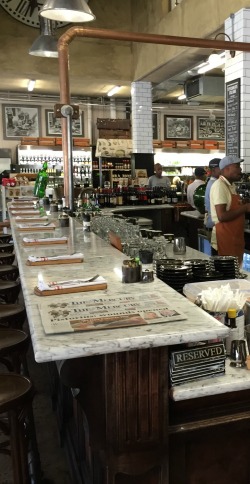 It's An Experience
Just had lunch at the new Old Town Italy restaurant located near Gateway in Umhlanga Rocks.
Wow!! It was an experience. A good one.
How would I describe it?
In a word: Delicatessen/Restaurant/Bakery/Coffee Bar/Gift Shop/Veggie Shop/Imported Goods Shop, and more.
It's a cheese shop too.
There's no end to looking, exploring and discovering. Great variety! Many choices!
You can stroll around shopping. You can eat at the coffee bar. You can eat at regular or tall tables inside, or at regular or tall tables outside. You can buy take-out and eat at home. You make the choices.
It was busy. It was crowded in a nice way. The buzz was apparent. The vibe was consuming. My wife thought it was too loud. I thought it was upbeat.
The service was sufficient but not stellar. The food was more than acceptable but not superior. It was fun and playful, not pretentious.
The bread was incredible. The gelato was more-ish but the pizza and confections didn't amaze me. Restaurant pizzas never do.
But this is not just a restaurant. It's an experience. A good one. I recommend it.
Note: A few reviews complained loudly about service errors and overpriced dishes but let's be fair. It's a new restaurant so service errors can be expected. As for the food, so far I haven't been disappointed. Presentation, variety and taste are great and you're getting much more than food anyway. It really is an experience!
Update: We've now visited Old Town several times and still very pleased. Apparently others find it that way too. On Sunday after church, it was so busy we couldn't get a table. But no worries. You can always stop in to buy some incredibly tasty fresh baked bread, along with meats, cheeses, prepared foods and more, and eat at home.
Contact Details:
39 Meridian Drive
Meridian Park (behind Gateway)
Umhlanga Rocks, KZN
Ph. 031 566-5008
Email: info@oldtown.co.za
Directions:
Head north on Umhlanga Rocks Drive toward Gateway.
Cross the M41 (Phoenix Highway) and turn left at the second traffic circle, Centenary Blvd.
Turn left and travel to the end – Tee junction.
Turn right and Old Town is 75 meters on left, just past Leigh's Cycles.
Enjoy!

KZN
Overall Rating:
3 1/2 to 4 Stars
Just spent a few days at the Perna Perna "Resort" in St. Lucia. We used RCI points to book unit 14 and were there the first week in June 2015.
Overall I would give the resort three and a half stars. My wife thinks it should be four. Following is the assessment.
The Staff: Five stars. Can't say enough about the staff. One guy looked a bit scary but the rest were friendly and accommodating from the manager at reception right the way through. Great folks!
Ambiance: Four stars. Clean, neat, well maintained. Very welcoming. They even had a small parrot greeting guests at the reception. I give it four stars because it was a bit dated. Comfortable, but old in style and age.
General: Three and a half stars. On paper the recreational facilities sounded great: pool, play ground, braai's/barbecues, DStv, laundry, bicycles, etc.
But everything was muted. It was tight or limited. There were only four bikes: two for adults and two for children.
You got the sense they added features to create a better image, probably at the urging of RCI. Read more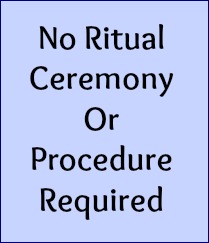 Anyone
Anywhere
Anytime
One question people often ask is, "Where Is Jesus?"
It's a good question that deserves attention but I need to expand on the idea a bit.
To do that I'll ask a few more questions:
How is it that people make a connection with Jesus? What are they thinking and feeling?
What exactly is happening to make the connection? Is something special being said or done?
Where are these connections usually made? Is geography a part of the formula?
When are these connections likely to occur? Young, old, before, after – what?
These are even better questions but the most common answers don't agree with the facts.
Let me clarify. Read more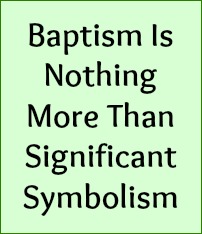 This Is Intended
To Promote Thinking
Not Fighting
A friend recently posted a question on Facebook about infant baptism.
It seemed like he was genuinely asking, not saying, or baiting. He addressed his question to "scholar" types.
The essence of the question was:
When the Bible mentions baptizing an entire family (household) when the head of the house is baptized, does this imply infant baptism?
It's a good question. The Book of Acts does record two incidents when one person – the head of a household – believed and was baptized. Lydia was one and the other was the superintendent of the city jail.
The interesting thing is, in both cases, all the family members were baptized at the same time.
It doesn't specifically say each family member confessed or believed but the idea that faith comes before baptism is so well established in Scripture it doesn't need to be repeated ad nauseam.
Both incidents occurred in Philippi and you find the details in Acts 16.
The question naturally arises:
Does this imply infant baptism?
The short answer is "no it doesn't" but that isn't much of an argument. There are many churches that baptize infants – I was sprinkled as an infant in a Presbyterian Church – so the question can't be easily dismissed. It is an established practice.
Here are my reasons for thinking infants were not involved: Read more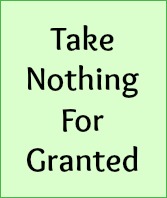 A Quick Search
Revealed The Solution
I recently noticed some unusual click-thrus on my site, and being the curious person I am, I investigated further.
The clicks were actually a redirect, which means people were attempting to navigate to one page but instead being taken to a completely unexpected page, a page that had nothing to do with anything on my site: x.vindicosuite.com.
The last time I checked, that URL delivered a blank page.
I did a search and found several posts explaining what was happening. It involved Sitemeter, a visitor tracking service for websites. Any site that had their code installed was vulnerable to the redirect.
The bad news is, even though Sitemeter was notified well over a year ago, they've done nothing about it.
I only discovered the problem in May 2015 so there is no telling how many visitors this glitch has run off. Frustrating! Read more