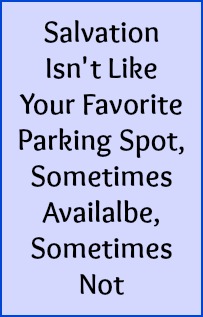 Jesus Could Do
Anything And Everything
But He Hasn't
Promised To
Jesus isn't a rabbit's foot, four leaf clover, wishbone or lucky charm.
Plastic replicas of Him on the dashboard will not keep you safe.
Any one of those things may salve you psychologically, and I'm happy for you if they help, but trinkets around your neck do not save.
I don't doubt Jesus wants all of us to be safe. I also don't think it's His wish or will for anyone to hurt, get sick or die ever, for any reason, but we do. He doesn't prevent these pains. Bad things happen occasionally. It's inevitable.
Honesty Helps
We need to be honest with the facts. To believe Jesus is the Savior for every possible bad experience, makes Him a failure and us dupes.
But if our understanding of salvation is a little more focused, if we allow limits on what we expect, then we can eliminate several things from salvation's list. For example: Read more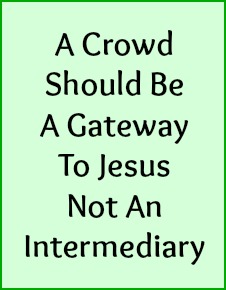 The Popular Savior Didn't Work
The Personal Savior Did
Jesus was and is a personal Savior.
Not a celebrity Savior. Not a professional Savior.
You don't need an appointment with Jesus. You won't need to locate Jesus or travel to where He works because He's never far away. He doesn't maintain office hours and He isn't limited to one location.
He's mobile. He finds you and hangs around.
He's very hands-on. He ministered to people individually in the New Testament and still does that today. Mass meetings weren't His style. He spent most of His time teaching small groups of people. Often it was just the 12 disciples.
He drew big crowds but not on purpose. Even when surrounded by masses, He remained focused on individuals.
He spoke to and healed the man born blind in Jerusalem.
He healed the Centurion's servant, and although He never saw or spoke directly to the Centurion or the servant, the healing sent a very personal message to the Centurion.
He healed Peter's mother-in-law while staying in Peter's house. The place of healing can't be more personal.
Jesus touched a leper to signal a healing. That was seriously personal. Lepers were touch starved. It couldn't have been more psychologically (personally) medicinal.
In some cases He took individuals away from the crowd to do His work.
The deaf mute along the Sea of Galilee is a good example.
He was celebrated but His celebrity never influenced how He conducted His ministry. He could work quietly in the background or in the middle of a crowd. He maintained focus in all situations. When surrounded and pressed by onlookers, He managed to single out the needy person and minister to them individually.
Crowds were a barrier but not for Jesus. They got in the way of individuals seeking for Jesus.
The woman who suffered with a medical problem for 12 years. The crowd was so problematic, her only option was to touch the hem of Jesus' garment.
The bed bound cripple carried by four friends who was barricaded from Jesus by the crowd.
Zacchaeus whose short stature made him climb a tree just to get a glimpse of Jesus as He walked by.
The crowd isn't an intermediary. In fact, salvation requires no intermediaries. Jesus doesn't work from a distance. He doesn't save in person but He always saves personally.
THINK!AboutIt
Would A Visible Jesus
Be Easier To Believe?
I know some of the places Jesus traveled and the roads He walked on but I've never walked those roads with Him.
I know He traveled by foot and the roads were dusty, but I've never observed Him washing the feet of others.
I know Jesus ate fish, honeycomb, figs, olives, bread and lamb, among other things, but I've never shared a meal with Him. I've never observed Him while He ate.
I know what Jesus taught and what He said in prayer but I've never heard the sound of His voice.
I know He had face to face conversations with individuals but I've never had the benefit of reading the approval, the concern or the frustration in His eyes.
I have no visuals of Jesus. I don't know the shape of His beard or the length of His hair. I can only guess at how tall He was or how much He might have weighed.
I'm guessing He wasn't overweight but I have no visual to prove that.
A limited number have claimed to have seen and conversed with Jesus on earth following His ascension. Some claim His healing powers are just as active today as they ever were.
I know it may seem negative to say it but I'm skeptical about those claims. Before you criticize me too sharply I would qualify my skepticism by saying I'm not cynical.
I have no doubt that Jesus could do all the things I've mentioned – walk with us, talk with us, eat with us – and I don't blame people for wanting that to happen.
I just can't figure out why He would do these things so sparingly now, when He was so generous with His presence or powers in the first century.
I also think His physical appearance may not be as much of a boon for Gospel as many think.
People often exclaim:
It would be easier to believe if Jesus would just show Himself to us! If He walked with us and talked with us, belief would be automatic! How could we deny Him in the face of His physical presence?
But there are several reasons I'm skeptical about that too. Read more
Evenly Cut Fries
Cook Evenly
This product has gotten some poor reviews on Amazon but our Concord French Fry Potato Cutter
has worked very well for us.
No broken blades or bent frames and we've used it weekly – more than once a week – for over a year.
The only drawback is my wife struggles to use it – you have to push down hard to cut through a whole potato – but I got the knack right away so it became my job.
Occasionally I've cut a larger potato in half lengthwise to make it more manageable but that is to be expected. Potatoes can be very large.
We've had loads of great fries, all cooked healthily in our Philips Air Fryer
.
I give it a 9 out of 10 only because my wife can't use it easily. Know this though. The Amazon price is very good. We bought ours overseas and paid almost twice as much.
Air Frying Is In
Pan Frying Is Out
The Philips Air Fryer
does exactly what it says. No more, no less.
It won't cook a meal large enough to feed ten. In fact, four is a stretch, but it is great for cooking a batch of pork chops or chicken pieces or – my favorite – french fries large enough to feed 4 or 5.
We bought our fryer on special for under $150 for Mother's Day (2013) and have used it weekly – conservatively speaking – ever since. It still works like a charm. We've never been disappointed.
Does it cook french fries 100% evenly? No, particularly since we cram the cooker basket full, but the fries get more than sufficiently golden and crispy to satisfy the need for visual appeal and texture.
Does it cook entirely oil-free? No, but most of the olive oil I drizzle on our fries, which is very little, goes into the drip pan. And olive oil is a healthy choice!
I give the fryer 10 stars out of 10.