A Great Mother
Need Not Be
A Perfect Person
There are many great examples of motherhood in the Bible. Sara, Jochebed and Hannah always come to mind but what made them notable was their great faith.
Not faith in the general sense of the word. It was the faith associated with Motherhood. The faith required to become a mother, i.e., get pregnant, or to be a mother. Some struggled with both kinds of faith but all of them wrestled with the kind of faith it takes to shape the life of a child.
The distinction is important. Faith isn't the same for every person.
But, here is the question. We can make endless observations about the Motherly skills of these ladies from what we read in the Bible but what would be interesting, is to know what their children might say about them.
For example: Read more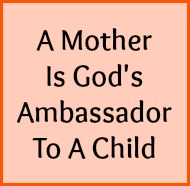 Mom Is Your First
Main Person
Usually when we talk about Mom in church it's from an outsiders perspective. The focus is on some Mom in the Bible or what the Bible says about motherhood.
All of that is good but it's a little far removed from where we are now. Relevant, yes, but only in a distant sort of way.
To make Mother's Day a little more personal I asked people to write down a few thoughts about their Moms and share it with us. They were given three guidelines to help inspire thought. They could share:
A word characterizing some special trait of their mother. (Insistent, Understanding, tough, undaunted, etc.)
Or a short phrase or line describing what she taught them to do or what they learned from her example. ("She taught me to" . . . or "always talked about" . . .)
Or a short paragraph sharing some memorable moment – humorous or serious. ("Once my mother did or said or tried" . . . )
And following is what they wrote: Read more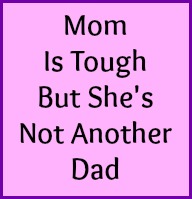 Mom's Voice Is Always Heard
Even When She Is Gone
We celebrate "Mom" only one day a year but her influence is evident every day in the lives of her children. Through them she's everywhere. She rubs off. Her influence is subtle but the effects are very real. Sometimes she's intentional and sometimes not, but she always leaves a mark.
For those who doubt this, the following observations are offered as proof that Mom really gets into your head.
Mom Is Universal, Timeless and 24/7
Mom is not a localized concept or historical trend. She doesn't come and go. She is everywhere and for all time.
There's never been a generation where Mom-hood wasn't relevant. There's never been a person who didn't have a Mom. There' never been a person who didn't love a Mom. If not their own then another.
The only two people who didn't have a mother were the first man and the first woman. Mom is the soil in which every life germinates, literally. She is the first person we touch and through that touch we share feelings, nutrition, experiences – both good an bad, and if science is correct, she shapes our taste for food and music even in the womb. And all of that before we are born. Read more
SiteGround Is Breaking
Support Records
For years I hosted with HostGator and they were great up until recently. Down town started to increase and support was difficult to connect with.
The last straw was waiting 45 minutes for a chat and almost an hour for a phone connection.
I began looking around for a replacement host and discovered one I think will be good for at least another five years, SiteGround.
They received positive mention from Chris Lema, a WordPress guru of sorts. WP Site Care did several tests over a number of months which convinced them to move their accounts over to SiteGround.
That convinced me too, so I moved. What I've found so far is: Read more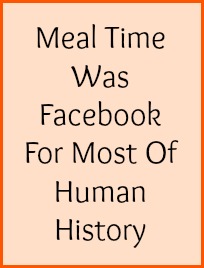 The Lord's Supper
Nourishes Relationships Too
The Lord's Supper is usually mentioned and often observed during the Easter season and there is good reason for that. It forms a significant part of the resurrection story. It makes sense. It was the last moment of sanity before the arrest of Jesus when everything fell apart.
Our church always observes the Lord's Supper during Easter but not the stripped down version. We try to create a meal-like atmosphere. Not a full blown meal but as close as we can get.
It was during a meal that Jesus instituted the symbolism of wine-to-blood and bread-to-body so there is nothing in a meal that diminishes that truth. In fact, the history of meal-time adds richness to the idea.
Unfortunately, the sense of "meal" is no longer the foundation for this memorial and the names we give it don't help much either – communion, holy communion, Eucharist, sacrament, ordinance – but there are at least three good reasons to rethink our approach. Read more