Not Religious, Not Ceremonial
But Prayer In Action
Mark van Straaten, the author of To The Wall, is a friend of mine. Our paths crossed a few years back at a pivotal point in my spiritual journey. I had finally caught on to the fact that God wasn't restricted to using only Baptists and some of His "other" servants could be quite effective and very decent people. The story of how I got to that transformation is too long to tell here, and really isn't the point, but my next step following that realization was to venture out and make contact.
At the time, Mark happened to be one of the more prominent non-Baptist pastors in my area so I decided to ask him to join me for a cup of coffee. He agreed and for me it was a friendship from the start. His ministry was thriving when we first met and it's still going strong today.
Since Mark is a friend, and someone I respect a lot, you might wonder how I could possibly be objective in a review of any book he writes. Well, it's easy. Let me explain before I get to the book.
Over the years I've sat in many pastors' meetings with Mark, and without fail, when discussions gravitated to topics more easily confused than explained, Mark demonstrated the uncanny ability, not to make a point or even make a good point but to put his finger on the one point that clarified the issue. He didn't necessarily answer the question or solve the problem, he just put things in perspective. That's useful since it is very difficult to do anything constructive with confusion.
Therefore, when I heard Mark had written a book, I wanted a copy. I knew he would make a point worth reading.
Now the book. Read more
From Cadence To Vitality
In Six Steps
Uploading training data from your Cadence Cycle training sessions to your Discovery Vitality account is easy. It can be done without a smart phone or a personal cycling computer. All you need is a connection to the internet. Read more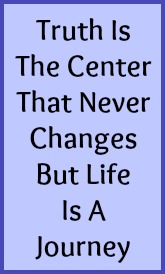 There Is A Fine Line
Between Settling
And Taking A Stand
It's OK to take a stand but it's best to take it carefully, cautiously and with a bit of humility. The more adamantly you take your stand now, the more embarrassed you'll be when you later move.
A stand gives us a sense of stability. It makes us feel secure for the moment, like holding a rail on a train ride. But perspectives change and we might eventually find our beliefs challenged by more experience and a different consideration. Those things count.
The foundation has already been laid. We only need find it. Assuming you're there and digging in is not an appropriate response.
So take your stand but do it without conceit or harsh judgment for opposing ideas. The middle is not always off center.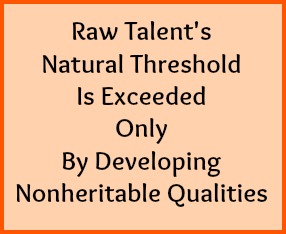 Never Waste Talent
And Never Assume
It's All You Need
Talent is inborn. Everyone has it but not in the same way.
One person can run fast. Others, to big to run well, can move heavy weights around. And others have no physical talents to speak of but they can draw or paint incredibly well. All of them, however, have limits.
It's easy for a naturally fast runner to beat average runners in a foot race but that doesn't guarantee they'll be the fastest runner in the big races, e.g., the Olympics. Earning that label requires hard work. It's an achievement. It won't happen only with raw, undeveloped talent. Those who can run fast must develop that ability if they are to run faster than all other naturally fast runners.
But what must one do to reach that goal? The most talented runners, the ones allowed to compete in the big races, are those who develop nonheritable qualities, like determination, patience, discipline and more. Raw talent alone just isn't enough.
Becoming Godlike
Is The Aim
Not The Assumption
Never assume that "WWJD" is the same as "What Would A Christian Do." Christians don't always think, speak or act like God. Becoming a Christian requires nothing more than repentance and faith, and changes nothing but your heart (nature). The next step is learning to allow the new nature to speak more loudly than the old – becoming Godlike – but that requires an intentional effort over an entire lifetime.
God is out partner in that process and He never stops trying to move us in the right direction, but He doesn't force the issue. Sadly, some Christians continue to foster the same attitudes after salvation that they displayed before. And this makes one thankful that God isn't a Christian.