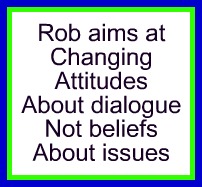 Rob's God
Chapter 4
"Does God Get What God Wants?"
In chapter 3 Rob argued that hell is not final, meaning those in hell will still have the chance to repent. It's still hell and it may last forever but it's not final.
In chapter 4, building on that idea, Rob suggests that the option to repent never ends and that all things and every person will eventually be restored. He appeals to common sense, human decency and what we know about God to make his point. God, he says, is too loving to withdraw the offer of salvation and he adds several other arguments along the way, both biblical and philosophical:
The Contradiction
Rob begins this chapter by taking quotes directly from church web sites. The quotes represent the beliefs of the people in each church and Rob points out the contradictions in these statements.
For example, on the one hand God is represented as:
Mighty, powerful, loving, unchanging, full of grace and mercy and all-knowing. This God is the one who created the world and everything in it. This is the God for whom all things are possible, pp.96-97.
But, in spite of these remarkable attributes the same sites suggest:
The unsaved dead will be committed to an eternal conscious punishment (p. 96)…billions of people will spend forever apart from this God, who is their creator, even though it's written in the Bible that 'God wants all people to be saved and to come to a knowledge of the truth (p. 97).
And Rob punctuates the apparent contradiction by asking several searching questions:
How great is God? Great enough to achieve what God sets out to do, or kind of great, medium great, great most of the time, but in this, the fate of billions of people, not totally great. Sort of great. A little great. (pp. 97-98)
Will all people be saved or will God not get what God wants? Does this magnificent, mighty, marvelous God fail in the end? (p. 98)
Is history tragic? Have billions of people been created only to spend eternity in conscious punishment and torment, suffering infinitely for the finite sins they committed in the few years they spend on earth? (p. 102)
Even though these questions are philosophical Rob reinforces his obvious meaning with several quotes from Scripture that point to a future time when all things and all people will be restored to a right relationship with God.
Those who disagree with Rob commonly interpret these verses with a "limited," not-everyone-is-included, application but some can easily be taken as all-inclusive. For example, Psalm 22 says,
All the ends of the earth will remember and turn to the Lord, and all the families of the nations will bow down before him.
To be fair, the question we should ask is: will all these people bow in willing submission or will some bow in defeat? In Love Wins
, Rob opts to believe everyone eventually submits willingly.
Get a FREE Kindle Reading App for any device (PC, Mac, Smartphones, Tablets) Amazon.com
Four Possibilities
Rob shares four opinions on when the offer of salvation ends or, to put it another way, how long the offer stands:
One, because love must be free, people are allowed to choose God or not but only in this life, pp. 103-105.
In this scenario, it is assumed that anyone who chooses to reject God now would never choose to do otherwise at a later date. And even if for some reason they had a change of attitude later and did want to embrace God, the option wouldn't be allowed anyway.
The second possibility is that the person who rejects God in this life will eventually harden beyond the point of recovery, pp. 105-106.
In this case the hardening continues after one dies but the destiny is sealed at the point of death. No chance is allowed afterward. The people who hold this opinion invoke Romans 1 – God gave them over – as the basis for such belief.
In the third case, a person is allowed the option to repent and return to God after death but they have only one chance to do this and that opportunity immediately follows death.
New realities which follow death, which can only be imagined now, may be convincing to those who struggle with belief or had no chance to believe in this life. Therefore, some think individuals will have a one-off chance to believe immediately following death.
And Rob quotes Martin Luther's speculation about a "second chance" after death:
Who would doubt God's ability to do that? p. 106
And that opens the door for possibility number four.
Note: Carl Trueman challenges Rob's use of Luther's quote here. I respond to that challenge here.
The fourth possibility is "the belief that, given enough time, everybody will turn to God and find themselves in the joy and peace of God's presence. The love of God will melt every hard heart, and even the most "depraved sinner" will eventually give up their resistance and turn to God." p. 107
Although Rob allows for the possibility that some may never turn to God – love must be free – he favors this last option and supports the idea further with additional arguments:
One, Rob quotes church fathers: Jerome, Basil and Augustine, who verified that a large number of people believed all would be reconciled, pp. 107-108.
The key issue for them was the glorification of God:
The belief that untold masses of people suffering forever doesn't bring God glory. Restoration brings God glory; eternal torment doesn't. Reconciliation brings God glory; endless anguish doesn't. Renewal and return cause God's greatness to shine through the universe; never-ending punishment doesn't. (p. 108)
And to that he adds, "could God say to someone truly humbled, broken, and desperate for reconciliation, 'sorry, too late?'" (p. 108)
Note: It is interesting that calvinists, who believe God "elected" without recourse certain individuals before they were born to spend eternity in hell, use the same argument to justify their belief. It glorifies God! They are essentially saying that some people are disallowed the "belief" option not only in the next life but in this one also. And God is glorified by this?!
Rob is sounding better all the time.
Two, Rob challenges the idea that God's love is less powerful than human nature.
Rob rhetorically asks:
Which is stronger and more powerful, the harness of the human heart or God's unrelenting, infinite, expansive love?
And he reminds us that "love never fails." (1 Corinthians 13).
Three, Rob points to the divergence of opinions in the Christian community on this issue.
In response to the idea that once consigned to hell a person can never cross over to God's side, Rob says…
Not all Christians have believed this, and you don't have to believe it to be a Christian. The Christian faith is big enough, wide enough, and generous enough to handle that vast a range of perspectives. (p. 110)
And he follows that observation with…
Four, an appeal to our decency and the common sense of human nature in selecting a story that just seems better.
At the very heart of the book Rob makes a simple but profound statement. It captures the motivation behind everything he says. It aims at changing one's attitude about the discussion and not just the belief about the issue:
Whatever objections a person might have to this story (universal restoration), and there are many, one has to admit that it is fitting, proper, and Christian to long for it. We can be honest about the warped nature of the human heart, the freedom that love requires, and the destructive choices people make, and still envision God's love to be bigger, stronger, and more compelling than all of that put together. (p. 111)
And for those who insist on fighting over the issue he says:
To shun, censor, or ostracize someone for holding this belief is to fail to extend grace to each other in a discussion that has had plenty of room for varied perspectives for hundreds of years now.
Again, the idea isn't to change one's belief but to change the attitude about the discussion.
Five, Rob makes three observations about the New Jerusalem described in the end of Revelation.
He begins by making the point that Revelation, though full of violence, ends with a new city that is quite peaceful by comparison. And Rob observes:
First, the city allows for no sin or injustice. Everything is perfect. People are completely free to resist God and rebel but not in this city. (pp. 111-114)
Second, Rob observes that the gates of the city are open, not closed, implying that the door way to God remains open. And this is where Rob allows for the possibility that hell can last forever for those who choose to stay there.
Will everybody be saved, or will some perish apart from God forever because of their choices? Those are questions, or more accurately those are tensions we are free to leave fully intact. We don't need to resolve them or answer them because we can't, and so we simply respect them, creating space for the freedom that love requires. (p. 115)
Third, Rob makes the point that this final city is "New" and that implies "potentials" and "possibilities" that couldn't be imagined in the "Old." Therefore…
Hard and fast, definitive declarations then, about how God will or will not organize the new world must leave plenty of room for all kinds of those possibilities. (p. 116)
And he assures us that this in no way requires a bending of the rules or minimizing of sin:
This doesn't diminish God's justice or take less seriously the very real consequences of sin and rebellion, it simply acknowledges with humility the limits of our powers of speculation. (p. 116)
And finally:
Six, Rob adds a question to the one that titled this chapter.
Not, "Does God Get What God Wants?" but "Do we get what we want?" and the answer, Rob says:
Is a resounding, affirming, sure, and positive yes. Yes, we get what we want. p. 116)
That's chapter 4. Next is Rob's discussion on the life-death-life cycle, "Dying To Live."
Get the book inexpensively at Amazon
. Read it for yourself and THINK!AboutIt.
See the review of Chapter 5 here.
See a review of chapter 1, here.
Check out what Rob Bell believes here.
See a discussion on the "Age of Accountability" here.
The Love Wins Companion
offers valuable information for anyone wanting to explore further: insights and commentary by qualified individuals, in-depth exploration of significant Bible passages, detailed chapter summaries of Love Wins with questions and guides for discussion, historical evidence demonstrating the breadth and diversity of Christian ideas about heaven and hell and more.
In The Reason For God
Timothy Keller confronts head on the questions that skeptics are asking, yet without a confrontational style. It is sensible, rational and engaging. A must read for every thinking person, Christian or not. His approach to hard questions about God not only provides answers it encourages us to develop analytical thinking skills. Also available is a DVD with discussion guide
for small group interaction.
 
Establishing a Link Between Prescription Drug Abuse and Illicit Online Pharmacies