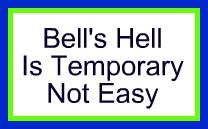 Rob's Hell
Chapter 3
In Chapter 3 of Love Wins
Rob attacks conventional ideas about hell and that gets him a lot of flack. Hell is one area of theology which is clearly stamped "no discussion allowed" at the top of the page.
But not to worry, Rob doesn't deny hell or suggest it is less intense than people say and he speaks of it as a reality no further away than heaven.
There is hell now, there is hell later and Jesus teaches us to take both seriously, p.79
Where Rob differs with convention is he says a person's time in hell may only last for a temporary period during which they are trimmed and pruned, making them more ready for heaven. In other words, hell may exist forever but it isn't final. The option to get saved after death, even from hell is possible, according to Rob's interpretation of Scripture.
Again, he doesn't lighten hell's intensity or the sin that puts anyone there. Hell, he says, is the outcome of your choices in this life and it starts in this life. If you want it, you get it now and later. Which means, the roots of the hell you get in the next life are laid down in this one.
To make his argument Rob begins by pointing out that our ideas about hell may not be as well founded as we think. He says…
The word used for "hell" in the Old Testament only hazily refers to life after death and is often used to signify the grave (sheol).
There are only a few references to hell in the New Testament. Rob mentions them all, naming every Greek word: Gehenna, Tartarus and Hades, and then invokes the rule of insufficient evidence concluding, "…that's it. Anything you have ever heard people say about the actual word 'hell' in the Bible they got from those verses…"
The word used most, Gehenna, literally refers to the city dump not the place of the damned.
But after insinuating that hell might not be what we think it is, Rob makes it clear that he does believe in a literal hell and says it is the consequence of sinful choices on our part. As Rob says, "we are terrifyingly free to do as we please," p. 72, and hell is the unquestionable outcome of bad choices.
Get a FREE Kindle Reading App for any device (PC, Mac, Smartphones, Tablets) Amazon.com
However, all the examples he offers are from this life and the people he refers to as experiencing hell are innocents.
Children mutilated during the Rwandan genocide.
Wives who discovered their husbands were unfaithful for years.
Family members written out of a will only to cause them pain and make them angry.
Children repeatedly molested over several years by a relative.
All are victims of abuse not sinners getting their just rewards. The hell they met with was the result of unlucky timing and bad choices by others. How can their experience illustrate the hell one chooses, on earth or anywhere else, and what possible solace can these guiltless individuals get from Jesus' warnings about hell?
In fairness to Rob though, rather than minimize sin, he emphasizes the domino effect. The person who chooses hell spreads it to others along the way.
He doesn't suggest we should rethink the boundaries or expect less than a reasonable consequence for sinful behavior. There is nothing easy about Rob's hell even if he paints it a little differently.
Rob does give a lot of attention to one Bible story: the Rich Man and Lazarus. He dedicates six pages in his book to this story (pp. 74-79). He never refers to it as "analogous" or a "parable" or just an "allegory" but refers to the story as "nuanced" and focuses more on the secondary meanings than on paradise or hell.
In Rob's interpretation the rich man was unrepentant. For him, death changed nothing so he expected his need for a drink of water to be fulfilled in hell as it was before, by the servant…Lazarus…the one he neglected before he died. (p. 75)
Death had completely reversed the social order but the rich man couldn't see it. He was as delusional after death as he was before.
He's dead but he hasn't died…the kind of death that actually brings life, p. 76-77.
He was materially better off before death but he wasn't better for it and he couldn't see that, even after his fortunes had changed.
Rob doesn't say it exactly but the refusal to grant the Rich Man's request for a drink of water was an act of mercy.
The Prodigal Son illustrates this truth well – chapter 7, "The Good News Is Better Than That." The Prodigal became repentant only because he suffered the consequences of his sins. The Rich Man's request for a drop of water to cool his tongue was more a command than an expression of repentance. He was suffering for his sins but wasn't ready to confess them just yet. He was asking for relief from pain – not forgiveness. Providing relief would only retard the process. Refusing it, therefore, was an act of mercy.
This is the Bible's version of tough love.
In Rob's nuanced version he implies that the manner in which people from higher social levels relate to the less fortunate is a reflection of their heart's condition. In this case the rich man abused his neighbor, instead of loving him, by ignoring his desperate situation.
The point? The distance between social levels may be natural but the disconnection is immoral.
Who can disagree with that?
But, can you really make that a determining factor in one's salvation? Wealthy people donate generously to charitable causes all the time but we don't assume they are saved because of it. Isn't it possible for a very wealthy man to be sensitive to the poor but still be unsaved? Sure. Isn't it also possible for saved individuals to be sensitive to the poor but do very little about it? Absolutely!
He doesn't say it exactly but Rob seems very close to suggesting that engaging social issues is a means of salvation. Because he says very little about "how" a person gets saved, and spends a lot of time questioning what people do say about it, it is easy to assume he is suggesting a salvation by works. That also generates a lot of trouble for Rob.
Fortunately, Rob says plenty elsewhere to indicate he thinks Jesus paid for all our sins. If nothing else the title of the book says it, so we shouldn't put words in his mouth.
Truth? Social justice can save a culture or, to put it another way, individual lives this side of death, but it shouldn't be tied directly to one's salvation. Much of what Rob said agrees with that statement but he is accused of saying something different.
Is it also fair to say that Rob doesn't imply that the greater your wealth the more likely you are to end up in hell. If that were the case, a good evangelistic strategy would be to keep the poor poor and join them as soon as you can. Rob didn't say that.
Jesus, Rob says, used the rich man's example because his attitude mirrored that of the religious leaders in his day. Jesus was helping them see what they were like.
Jesus ended the story with a twist about resurrection.
The rich man wanted Abraham to send Lazarus – another servant allusion – to warn his brothers about hell and Abraham refused saying that a resurrection wouldn't convince anyone to believe if they were not already inclined to accept teachings from the Old Testament Prophets.
Of course, Rob points out that Jesus' resurrection would happen in the near future and the very people he was addressing, hardened religious leaders, weren't convinced before or afterward.
What Rob doesn't do in this discussion is focus on the agonies of hell or the bliss of paradise, but that shouldn't be read as a denial of either.
Disclaimer: There is nothing wrong with finding nuanced meanings in Scripture. It is a common practice. Related teachings can be extracted from every story in the Bible and it is generally understood that these delicate distinctions aren't the primary points of the story. They neither deny nor trump the obvious. The Rich Man was literally in hell, Lazarus was literally in bliss and any subtleties you extract from the text have no meaning outside of these two realities.
What difference would a resurrected person's warning to the Rich Man's brother be if there wasn't a hell to avoid?
Rob understands this but his discussion up to this point is preparing us for a surprise ending: hell may not be final or forever.
What we see in Jesus's story about the rich man and Lazarus is an affirmation that there are all kinds of hells, because there are all kinds of ways to resist and reject all that is good and true and beautiful and human now, in this life, and so we can only assume we can do the same in the next, p. 79.
And to argue this point he moves from references to the word "hell" to passages that talk about "judgment." Introducing this change of direction he says…
First, a political answer, then a religious answer, and then we'll look at a few of those passages (on judgment), p. 79.
Let's take each one in order:
A Political Answer
The political answer relates to the passages in which Jesus mentioned the coming destruction of the Temple in Jerusalem. This was a specific judgment for a specific group of people that signaled a specific transition in history. It was a temporary judgment not one that is eternal.
He was preparing us for the idea that "judgment" isn't by nature forever. A point that isn't always highlighted.
A Religious Answer
His religious answer is closely connected to the political one. All the remarks Jesus made about hell were made to religious people, the ones who thought hell was for others not them. The ones who thought they were safe because of their national identity and heritage, kind of like Christians in the west today. Jesus was pronouncing hell on the ones who thought they were safe.
Jesus, Rob says…
…Talked about hell to very religious people to warn them about the consequences of straying from their God-given calling and identity to show the world God's love, p. 82.
And, yes, religion can turn people into hard hearted indifferent souls but, to whom else could Jesus make these remarks? He was in close proximity only to the Jewish people. And the statements of judgment didn't target only the Jews. He mentioned judgements on the surrounding communities also. The Jewish communinty could expect the greatest degree of judgment – because they had more knowledge and did little with it – but they weren't the only ones to be judged.
What better way to emphasize the universal nature of judgment than to suggest that even religion can't safe guard you from the demands of righteousness.
Specific Passages On Judgment
Then Rob points to five instances of judgment, which in each case, was only the beginning of what ended in restoration. The judgment was corrective not punitive and Rob's point is, judgment is a process not an end.
No matter how painful, brutal, oppressive, no matter how far people find themselves from home because of their sin, indifference, and rejection, there's always the assurance that it won't be this way forever.
The five instances of judgment Rob uses to prove his point are:
Sodom and Gomorah, about which the prophet Ezekiel says God will "restore the fortunes of Sodom and her daughters."
Israel, about whom references to restoration, past and future, are too numerous to list.
Egypt, which according to Isaiah will have an altar to the Lord in the day of restoration.
Hymenaeus and Alexander, whom Paul turned over to Satan so they would learn not to blaspheme.
The Corinthian man turned over to Satan for judgment and hopefully correction. This "turning-over" results in the destruction of his flesh if he doesn't change but even then his spirit will be saved in the Day of the Lord.
Of the five cases, the first three were national or cultural entities that can be restored without the restoration of the specific individuals who corrupted them.
Germany was restored following World War II. Hitler was not.
Only the last two cases involved individuals and there is every reason to think they were believers before being turned over to Satan. Because they were saved before the judgment, their salvation was secure, their restoration was certain.
This, of course, brings up the concept of "Eternal Security."
Eternal security – the idea that once saved a person can never be lost – is neither mentioned nor alluded to in Rob's writing. So, on top of insinuating a salvation based on works, he also seems to suggest salvation can be lost but re-obtained once you've had a taste of judgment.
He may or may not be saying that but it does seem to be implied.
Jesus taught something quite different. He said blasphemy in some cases can be forgiven but in one case it can't – against the Holy Spirit (Matt. 13). Blasphemy against the Father or Son can be forgiven. Blasphemy against the Holy Spirit can't and there is no time limit or condition placed on the unforgive-ability. He just said it wouldn't be forgiven in this world or the next.
The idea of unforgive-ability resonated strongly with the Jews who thought any sins that weren't forgiven in this world, during this life, would be forgiven in the next one, the one that immediately followed death.1
The idea that God uses consequences in this life as corrective judgments to bring about learning, growth and restoration has been around for a long time. But because some judgment serves a temporary purpose, are we to believe that all judgment is short lived?
What Rob doesn't mention are the many other cases of judgment that seem to be stamped as final:
The entire world in the flood with the exception of Noah and his family.
The Pharaoh who resisted Moses. I doubt he will be restored to lead the new Egypt.
The death of Herod (Acts 12).
The angels who left their first estate (2 Peter & Jude).
And more.
Rob doesn't stop there though.
In chapter 2 – Rob's Heaven – he emphasized two ideas about the Greek word "aion."
One, he emphasized that part of the definition which is actually secondary2: a period of time, it has a beginning and an ending, differentiating it from "Forever" or "Eternal."
Two he further defines it – "describes" might be a better word – as an experience the intensity of which transcends time.
In most cases, however, the context in which "aion" is used gives the word endless and/or eternal dimensions. The following are good examples:
John 4:14 – But whosoever drinketh of the water that I shall give him shall never thirst; but the water that I shall give him shall be in him a well of water springing up into everlasting life.
And…
John 5:24 – Verily, verily, I say unto you, He that hears my word, and believes on him that sent me, has everlasting life, and shall not come into condemnation; but is passed from death unto life.
In chapter 3 Rob introduces two more words: olam and kolazo to further promote his ideas about "aion," p. 91.
Olam is the Hebrew equivalent of "Aion" and in Rob's words means…
To the vanishing point, in the far distance, a long time, long lasting or that which is beyond the horizon, p. 92.
Then he calls attention to Jonah's use of the word "olam" to describe his stay in the whale's belly, which turned out to be only three days.
However, Jonah used the word in the prayer he prayed while he was in the belly of the fish and it was describing what he saw as hopeless. He expected to be in the fish "olam" as in forever and miraculously got a resurrection, symbolically speaking.
Context is very critical in determining the nuanced meaning of a word and it works against Rob in this case.
In spite of this Rob combines his recommended, but secondary, meaning of "aion" – a period of time – with "kolzao" – as it is used in Matthew 25 to further his point. The goats of Matthew 25 are sent away he says…
…To an "aion" of "kolazo," p. 91.
The second word, "Kolazo," Rob says…
…Is a term from horticulture. It refers to the pruning and trimming of the branches of a plant so it can flourish, p. 91.
And Rob assumes the judgment on these goats is corrective and therefore temporary. They will be sent to an intense period of corrective pruning following which they will return to favor and bliss.
Well, in this case if the people are the branches being removed, not the trees being pruned, the judgment may be final.
Get the book
. Read it for yourself. And THINK!AboutIt.
See the review of Chapter 4 here.
1According to John Gill the Jews had a prayer which expressed this idea.
2 The Thayer and Smith Greek Lexicon entry for Aion is: "for ever, an unbroken age, perpetuity of time, eternity, the worlds, universe, period of time, age."
The Love Wins Companion
offers valuable information for anyone wanting to explore further: insights and commentary by qualified individuals, in-depth exploration of significant Bible passages, detailed chapter summaries of Love Wins with questions and guides for discussion, historical evidence demonstrating the breadth and diversity of Christian ideas about heaven and hell and more.
In The Reason For God
Timothy Keller confronts head on the questions that skeptics are asking, yet without a confrontational style. It is sensible, rational and engaging. A must read for every thinking person, Christian or not. His approach to hard questions about God not only provides answers it encourages us to develop analytical thinking skills. Also available is a DVD with discussion guide
for small group interaction.
 
What information will I need to fill my prescription through Kamarga home delivery