Easy To Find
Hard To Leave
Literally! You can't miss Scrumpy Jack's. It fronts on the road and sits on a hill.
It's also on the way to just about anywhere you're going in the Central Drakensberg (7 kilometres south of the Thokozisa information centre on the R600, opposite the turn off to the Ardmore Guest Farm, just after the entrance to The Nest if you're headed south).
What that long winded description means is it's right in the middle of anywhere you want to be in the Central Berg.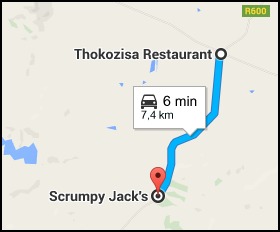 But the visibility and easy access aren't the most important bits of information.
I wouldn't say this shop has everything – no shop does – but it has a very diverse and personalized assortment of offerings: Bee tours, pony rides, a cafe and more. It even has a pet pig named Porky who lazily – sometimes snoringly – welcomes all visitors to the shop.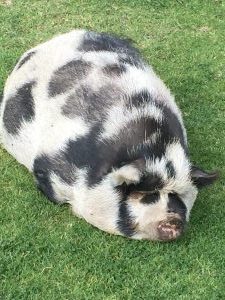 The shop has a range of delectables to browse and buy: chocolates, nougat, nuts, biltong, jams, brittles, biscuits, teas, coffees and hot chocolate to name a few. I even noticed corn chips and a cool drink cooler.
If you're snackish or ready for a meal, no worries. Seating is available and they offer puddings or light meals with hot or cold drinks to order.
But there's more. This is not just another been-there-done-that tourist shop. What makes Scrumpy Jack's unique are the high quality, locally produced and packaged products that you'll rarely find any where else.
Chili Creations
Displayed in the front of the shop are five concentrated chili based products:
Chili essence
Fresh chili relish
Pickled rare scorpion chili
Coconut chili dressing and
Chili rub (stick form)
We bought three: essence, rub and relish.
One drop of the essence in a cup of coffee provides a distinct but bearable twinge of heat and chili flavor. For a bigger kick, you can add more. Really nice!
The chili products are made from the Guinness World Record hottest chili on earth and the benefits are desirable, one of which is it reduces the possibility of blood clots and increases heart function without increasing blood pressure.
Since these products are produced locally, this shop is the primary source.
Locally Harvested Honey
Bees are a passion of Deon, one of the proprietors of the shop, and the passion is shared. He works with a couple of scientists in the study and development of local bee hives. They have a very hands-on approach.
The bee tour takes place at the hives situated just behind Scrumpy's.
They harvest and process their own honey, without irradiation, and sell the raw product in the shop. We bought some. It's tasty!
They also incorporate the honey in several products. The assorted brittles are made using only their honey. They offer honey fudge, propolis drops and a propolis balm that is labeled "pure propolis-wax." It's not the diluted stuff.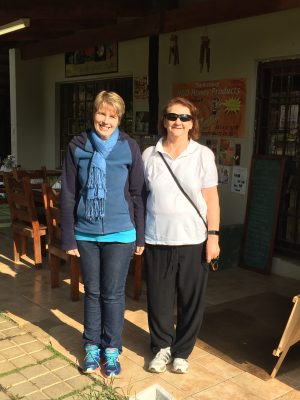 But best of all is the honey baked cheesecake. This cake is made by the shop owner and manager, Marelize Stewart, and is entirely homemade. She even makes her own cream cheese. My wife says it is the creamiest baked cheesecake she's ever had and she makes a highly sought after cheesecake.
We bought one take-out slice of this cheesecake on our first visit to the shop. After tasting it, we had to go back for more. In the end, we visited the shop four times over three-and-a-half days and bought a whole cake to take home on the last day.
Most importantly, this cake reflects the local, personal philosophy of this shop. Great products produced locally and with care.
My wife begged Marelize for the recipe but, understandably, she wouldn't budge.
If you are going to the Central Berg, which is without question the best Berg to visit, you'll easily come across Scrumpy Jack's. If you happen to stop in for a visit, you'll find it hard to leave!
Try the honey baked cheesecake. You'll love it! Say hello to Marelize for us.
THINK!AboutIt
What information will I need to fill my prescription through Kamarga home delivery