Berghaven Holiday Cottages
Rates 4 Stars
Out Of 5
Before visiting the Central Berg in May 2016, we asked friends for recommendations on where to stay and Berghaven Holiday Cottages was mentioned. I also searched online and discovered it was very competitively priced.
We booked four nights and weren't disappointed.
In the category of self catering accommodations, I can't say Berghaven is the best but we discovered a few particulars that definitely make it an attractive choice.
The Negatives
No place is absolutely perfect so we rarely give any rating higher than a 4. In the case of Berghaven, most of the negatives were fixable and not worth mentioning. There were a few issues you need to be aware of, though.
Berghaven offers a free in-house wifi, which is nice, but I could never get connected.
I did connect easily using my iPhone 6 as a hotspot, which is usually a very reliable connecting point, but the connection was intermittent even with an iPhone. I think the problem is likely the lack of signal in the area so we can't fault Berghaven entirely for that.
If you aren't an internet junkie like me, you won't have a problem, but if you need a daily connection fix, take your smart phone.
Remember, this is likely an area issue. You might have the same problem anywhere you stay.
TV programming was the usual dumbed down resort version and the TV was small but that is to be expected. No place, even five star hotels, offers any better.
Our Cottage
We stayed in cottage number eight, a two sleeper with an en suite bathroom (shower, toilet, basin) and open plan bedroom, kitchen, dining/lounge area. There's also a fireplace, a sliding door that opens onto a patio and a braai. The braai was sturdily made. I appreciated that.
I paced off the inside dimensions and found it to be approximately 9 metres long and 5 metres wide.
That doesn't tell the story, though. What made it really nice was the setting.
General Description
There are eight cottages. All are situated in a large mostly open area with trees scattered throughout, a forest on one side and beautiful views of the mountains on the other. There were flower gardens, a beautiful pool with covered picnic area, a playground, dams, farm animals grazing in an adjacent pasture and the bird life was amazing. We even saw a couple duikers grazing in the next door mealie fields.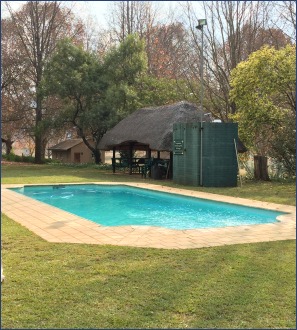 Four cottages face the forest and four face the mountains.
The reception office is a short walk away and stocks wood and charcoal for your convenience at fair prices.
There were three dogs, one of which was a Golden Lab (Buddy). Beautiful dog and very friendly. He rubbed up against you so hard it was like he was trying to give you a hug. He accompanied my wife on her several walks and made sure she was safe.
The Positives
There were actually several really nice features.
The lights and heater were on when we arrived. That's a service issue and it speaks volumes to the proprietors interest in the clients comfort.
The lighting was great throughout the cottage. It was the in-ceiling style of lighting which is decorative and provides brilliant light. Even the bathroom was well lit. This is well beyond the norm.
The shower stall was upmarket and actually worked. You could turn around without bumping into fixtures and the doors sealed properly. Water didn't leak everywhere.
There was plenty of hot water!
There was a small corner shelf in our bathroom that was so very helpful. You always need shelving of some kind in a bathroom but for contact wearers it is critical to have an easily accessed shelf for contact cases. You don't see so well when your contacts are out. It's like trying to find something with your eyes closed. I know it must seem like a non-issue for many but if you wear contacts you know how big this small touch is.
There were plug points galore, both three and two prong types!
The bed was kingsized.
The price was competitive!
We woke up to gorgeous mountain views and the music of birds every morning. We fed the birds and apparently others have as well. If the bread crumbs weren't on the patio early enough, they pecked on the sliding door and did the aggravated where's-my-breakfast-dance. Very entertaining! What's not to like about that.
You can find more details on the Berghaven website and in our experience they responded very quickly to our messages.
THINK!AboutIt
What information will I need to fill my prescription through Kamarga home delivery